Forgot Your Username
If you have forgotten your username, please provide your email address in the box below. We'll send you an email with your requested username. If you are having trouble, please call us toll-free at 1-800-221-0814.
Email Sent
You'll receive an email in a few minutes. Please check this email to find your requested username.
If you do not receive an email or you are having trouble logging into My Account, please call us at 1-800-221-0814.
ALBANIA
Rugged Albania has been invaded and conquered by one army after another—with two long periods of isolation in between. The first was the four-century rule of the Ottoman Turks, which ended in 1912; the second was the communist rule of Enver Hoxha during the second half of the twentieth century. When Albania emerged into freedom in 1991, it began a whirlwind of reinvention that still continues today.
Albania is now an official candidate for the European Union, and while it is still one of Europe's poorest countries, foreign investment is pouring in. Thriving capital city Tirana embodies the word vibrant, and the Adriatic and Ionian coastline is one of Europe's new Rivieras. However, there are plentiful reminders of the past—whether it's the windswept ruins of Butrint, the Ottoman mansions of Gjirokaster, or the Communist bunkers that sprout like mushrooms across the entire country. The craggy Albanian Alps loom over it all, and a turquoise sea laps at the edges of this fascinating Balkan outpost.
Most Popular Films
Films featuring Albania from international, independent filmmakers
Mushrooms of Concrete
Discover Albania's concrete bunkers—sites that, though built for potential warfare, have more creative uses today.
Produced by Martijn Payens
Out of Sight
Meet four children from Albania and discover their big dreams for the future.
Produced by Paul Kurti
Gjirokaster and Libohove, Albania
Soar above Gjirokaster for a unique perspective on the Albanian hillside town's Ottoman-era historic structures.
Produced by Ervin Habazaj
Albania Interactive Map
Click on map markers
below to view information about top Albania experiences
Click here to zoom in and out of this map
Featured Reading
Immerse yourself in Albania with this selection of articles, recipes, and more
ARTICLE
Travel back to antiquity to discover the legendary history of the Albanian city of Butrint.
ARTICLE
Can you guess what country is sprinkled with about 750,000 unused military bunkers—some decorated and some untouched?
Compare Our Adventures
Click 'Select to Compare' to see a side-by-side comparison of up to adventures below—including
activity level, pricing, traveler excellence rating, trip highlights, and more
18 DAYS FROM $4,295 • $ 239 / DAY
Small Group Adventure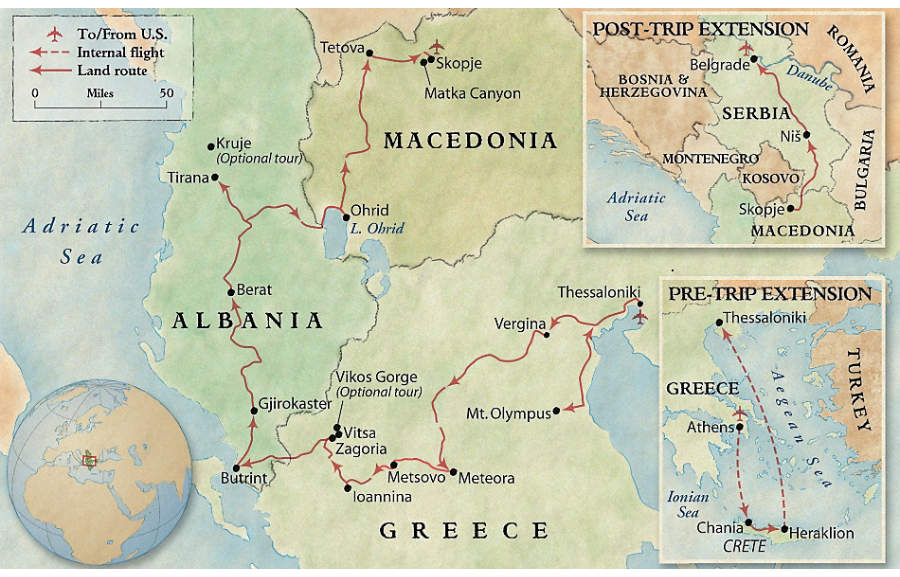 Greece: Thessaloniki, Meteora, Zagoria • Albania: Gjirokaster, Tirana • Macedonia: Ohrid, Skopje
36 meals—daily breakfast, 10 lunches, and 10 dinners (including 1 Home-Hosted Lunch)
Peruse the ancient Greek, Roman, and Venetian ruins of Butrint, a UNESCO World Heritage Site
Stroll the cobblestone streets of Gjirokaster and enjoy a community lunch
Wander through Old Town Berat and its hilltop castle
Explore colorful Tirana and its excellent National History Museum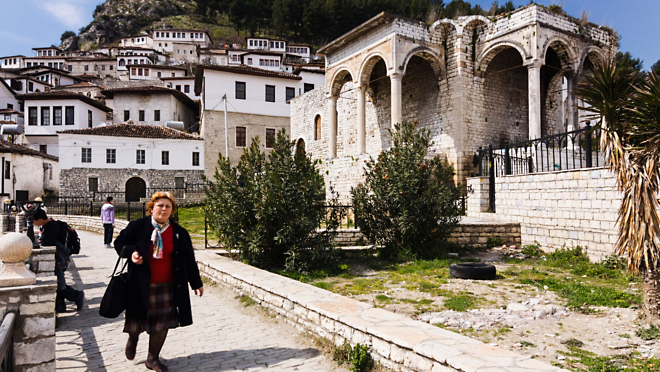 4 NIGHTS FROM $945
PRE-TRIP EXTENSION
Tirana, Albania
DAYS IN ALBANIA
4
Stand in the heart of Tirana, Skanderbeg Square
Wander through Old Town Berat and its hilltop castle
Enjoy views over all of Tirana on a cable car ride into the mountains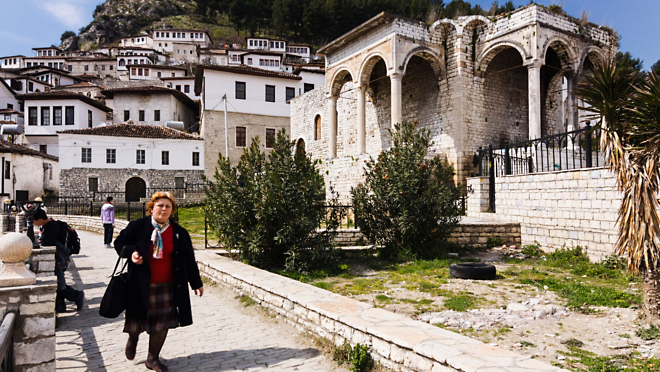 Not Applicable*
Not Applicable*
8 meals—4 breakfasts, 3 lunches, and 1 dinner
Stand in the heart of Tirana, Skanderbeg Square
Wander through Old Town Berat and its hilltop castle
Enjoy views over all of Tirana on a cable car ride into the mountains
16 DAYS FROM $5,845 • $ 366 / DAY
Small Ship Adventure
Croatia: Zagreb, Plitvice Lakes, Split, Hvar, Korcula, Dubrovnik, Gromaca • Montenegro: Kotor, Perast • Albania: Butrint, Saranda • Greece: Corfu, Delphi, Athens
37 meals—daily breakfasts, 11 lunches, and 12 dinners (plus all onboard house beer & wine, as well as soft drinks)
Explore the ancient Greek, Roman, and Venetian ruins of Butrint, a UNESCO World Heritage Site
Compare Adventures
Find the Adventure That's Right for You
Our Activity Level rating system ranks adventures on a scale of 1 to 5 to help you determine if a trip is right for you. See the descriptions below for more information about the physical requirements associated with each rating.
Activity Level 1:
1 2 3 4 5
Easy
Travelers should be able to climb 25 stairs consecutively, plus walk at least 1-2 miles over some uneven surfaces without difficulty. Walks typically last at least 1-2 hours at a time. Altitude can range from zero to 5,000 feet.
Activity Level 2:
1 2 3 4 5
Moderately Easy
Travelers should be able to climb 40 stairs consecutively, plus walk at least 2-3 miles over some uneven surfaces without difficulty. Walks typically last for at least 2-3 hours at a time. Altitude can range from zero to 5,000 feet.
Activity Level 3:
1 2 3 4 5
Moderate
Travelers should be able to climb 60 stairs consecutively, plus walk at least 3 miles over some steep slopes and loose or uneven surfaces without difficulty. Walks typically last for 3 or more hours at a time. Altitude can range from 5,000 to 7,000 feet.
Activity Level 4:
1 2 3 4 5
Moderately Strenuous
Travelers should be able to climb 80 stairs consecutively, plus walk at least 4 miles over some steep slopes and loose or uneven surfaces without difficulty. Walks typically last for 4 or more hours at a time. Altitude can range from 7,000 to 9,000 feet.
Activity Level 5:
1 2 3 4 5
Strenuous
Travelers should be able to climb 100 or more stairs consecutively, plus walk at least 8 miles over some steep slopes and loose or uneven surfaces without difficulty. Walks typically last for 4 or more hours at a time. Altitude can range from 10,000 feet or more.
Hide Acivity Level
TRAVELER EXCELLENCE RATING
PRICE
including international airfare
HIGHLIGHTS & ACTIVITIES IN ALBANIA
*This information is not available for our trip extensions. You must reserve the main trip to participate on this extension.
**This information is not currently available for this trip. Please check back soon.
Butrint—Albania's Time Machine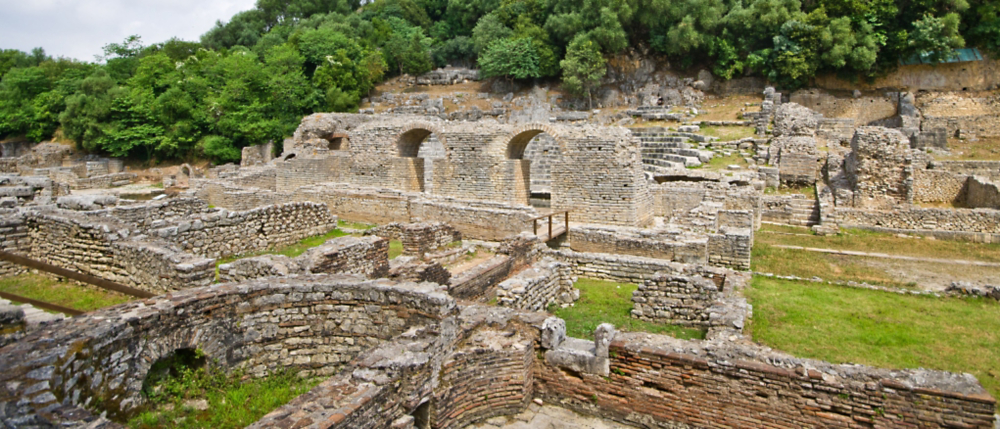 for O.A.T.
If you look at Butrint's ancient ruins as a core sample of Albania's history—indeed, of the entire history of the Mediterranean—you will quickly see how these remote grounds yield up timeless treasures from ages immemorial. The numerous archaeological digs in and around Bouthrōtios (as it was referred to by the ancient Greeks) have even exhumed evidence of human habitation from Neolithic times; tools of stone and flint long buried in silt and clay as the landscape shifted drastically over thousands of years.
The Importance of Connections
It is clear why this site was inhabited, coveted, and disputed over by so many people. Located on a hill in the middle of a peninsula, the site was a significant port on the way from Greece to Italy. It was valued for its safe anchorage and easy access to major bodies of water, inland cities and trade routes; for cultural and strategic purposes; and for the exchange of commercial goods and new ideas. The activity on the top of the hill was constant and ever-changing: from the small settlement of Stone Age fishermen into the occupancy of the tribal Chaonians, to the Greeks and the Romans, through Christianization, Byzantium, the coming of the Venetians, and the conquering Ottomans. Butrint is not only an important place of connection geographically but also in the flow of events called "history." Visiting the site is becoming a witness to, and a link in, a chain that reaches back to prehistory, through today and into the future.
A Legend is Born
Some currently believe that Buthrotum (Latin for Butrint) was derived from an Illyrian word rendered in Greek as bouthos, which is related to the Albanian buzë, meaning "shore." Others believe Buthrotum means "place with much cattle and grazing land." However, the giants of antiquity had other ideas, as evidenced in the interpretation of Buthrotum that suggests a bull sacrifice.
Not satisfied with the modest beginnings of the city, both the Greeks and the Romans had a little fun embellishing of Butrint's origin story. The Roman poet, Virgil, wrote that Butrint was founded by the hero Helenus—son of Troy's King Priam, twin brother of the prophetess Cassandra, brother to the hero Hector, and husband to Hector's widow Andromache. As Virgil's telling goes, while fleeing the destruction of Troy, Helenus landed on the island of Korkyra (modern Corfu) and decided to sacrifice an ox to the god Apollo. Wounded, the animal escaped and swam to the mainland, whence Helenus followed by boat. There he slaughtered the ox, and took it as a sign from Apollo that this was the site on which his "new Troy" should be built.
Both the Greek historian Dionysius of Halicarnassus and Virgil wrote that Aeneas (Trojan hero of The Aeneid fame) visited the city proceeding his flight from the destruction of Troy and preceding his legendary journey that would bring him to Italy and lead to the eventual founding of Rome.
Early Days
Not a lot of information is established about the earliest settlers of Butrint. From archaeological discoveries, we know that Neolithic settlements were both at the epicenter of the site and in the surrounding areas. When kingdoms began to form, Butrint was occupied by a tribe known as the Chaonians. The Chaonians were one of the dominant tribes of the kingdom of Epirus. Experts disagree if it was the twelfth century BC or the eighth, but at some point, Butrint came under Greek rule. The polis that proves this stands on top of the remains of the original hamlet.
The Classical Period to Late Antiquity
This vast period of time captures the imagination in a way nothing else does: shifting alliances, brutal wars, an unprecedented flourishing of art and knowledge. But it was still a time when gods and goddesses could be as vengeful as they were solicitous; involving themselves in human affairs; and whose divine disputes spilled down from on high, throwing the mortal world into chaos. Greek occupation brought with it expansion, stronger fortifications, a theatre, a gymnasium, processional roads, sacred fountains, temples and the cult of Asciepius, to whom a healing sanctuary surrounding a hot spring was dedicated.
Butrint became a Roman protectorate in 228 BC. In 48 BC, Julius Caesar harbored in the city during the civil war against Pompey. As a reward to his soldiers, he later established it as a colony for veterans. Augustus contributed to the city's prosperity further by investing heavily in its success. This is conspicuously also the point of time when court-sponsored poet Virgil created his story The Aeneid which gave special significance to the port both in Greek and Roman history and mythology.
It's not all Ancient History
With Christianization of the Roman Empire, Butrint became a bishopric. Shortly thereafter, the Byzantine Empire absorbed the municipality. A huge earthquake struck in AD 365 causing extensive structural damage from which it never fully recovered. Nonetheless, the dogged city rebuilt and in the following century it gained a massive baptistery and basilica, though the palace was deserted and transformed into workshops.
While the Roman Empire began to fall, the eastern half of the empire survived for another millennium. There were changes to tradition, art, literature and learning. Social change led to different ways people lived and built. A rising sea level contributed to the shrinking of Butrint, and perhaps even its ultimate abandonment. The city came under the rule of the Venetians in the 14th century and eventually it came into the hands of the Ottoman Empire in the late 18th century.
Remnants from all these time periods, evidence of the fascinating differences and developments in art, architecture, culture, and technology, are scattered around the hill and pristine woodlands of this spellbinding site. Especially with its new museum, a trip to Butrint is not just a discovery of an interesting space, it's an adventure through time.
Underground Oddities
from The Inside Scoop
Question: Which country's landscape is dotted with more than 750,000 abandoned military bunkers?
Answer: Albania
Stroll along any sandy beach, rolling hill, or city street in Albania, and you'll see them: weathered concrete bunkers swelling unnaturally from the earth. These dystopian domes—all 750,000 of them—are the handiwork of one man: Enver Hoxha, the Communist dictator who lorded over Albania for nearly 40 years.
Hoxha rose to power at the end of 1944 when much of Eastern Europe was reeling from World War II and embracing communist ideologies. From the onset, Hoxha adopted a hardline style of communism that made even his closest political allies squirm. Over time, his radical ideology drove him to break with more moderate communist governments—including the Soviet Union and China—and to be openly hostile toward neighboring countries, including Yugoslavia and Greece.
As Albania became more and more isolated, Hoxha began to fear that it would be invaded by its enemies and former allies, so he initiated a policy of "bunkerization" in 1967 so the nation would be prepared to defend itself. Over the next 19 years, domed concrete bunkers with narrow gun slits—most of them only large enough to hold one or two people—were installed across Albania … and as the countryside was militarized, so, too, were Albanian citizens. Children as young as 12 were taught how to station themselves in the nearest bunkers to fight off invaders, and local families were expected to maintain and defend the bunkers on their property. By the time the bunkerization project ended in 1986 (shortly after Hoxha's death), there was one bunker in Albania for every four people—and not a single one had ever been used.
Today, the bunkers are a fixture in Albanian life, and they're not going away anytime soon: The cost to remove them would overwhelm Albania's emerging free-marking economy, and so they sit—on sandy beaches, rolling hills, and city streets—reminding residents and visitors alike of Albania's paranoid political past and fueling the country's desire to leave it behind.
In the independent documentary below, you'll hear how locals perceive these curious domes—as well as the paranoid political atmosphere that gave rise to them. From the financial impact of national militarization to the creative ways the bunkers are being used today, find out what it's like to live among these martial mushrooms.