Forgot Your Username
If you have forgotten your username, please provide your email address in the box below. We'll send you an email with your requested username. If you are having trouble, please call us toll-free at 1-800-221-0814.
Email Sent
You'll receive an email in a few minutes. Please check this email to find your requested username.
If you do not receive an email or you are having trouble logging into My Account, please call us at 1-800-221-0814.

AUSTRIA
From the Alpine vistas made famous by the opening of the Sound of Music to the elegant concert halls where Mozart first orchestrated his waltzes, Austria has long served as a muse for Western culture. It's not surprising that the playground of the legendary Habsburgs contains so many treasures—from the Lipizzaner stallions at the Spanish Riding School to the fine arts of the Kunsthistorisches Museum and the incomparable State Opera House. Whether it's the glittering beauty of Melk Abbey or the verdant vineyards of the Wachau Wine Valley, Austria is steeped in splendor. Its Baroque treasures have been carefully preserved to keep the past gloriously alive, even while its capital has become a modern dining destination and a hub of contemporary arts. But much of the action still takes place outside of the cities: 50% of the country is forested, a haven for whitewater rafters, hikers, and cyclists who don't mind braving the mighty, unforgettable Alps.
However history hasn't always been kind to Austria. The nation was part of the Holy Roman Empire before its independence, and the country's fate as Austria-Hungary became deeply entwined with World War I after the assassination of Archduke Ferdinand and the "July Crisis" set off global conflict. At the dawn of World War II, the Nazis seized control, outlawed Austrian nationalism, and created the first concentration camp outside of Germany. But Austria endured and has been a sovereign gem again since 1955.
Most Popular Films
Films featuring Austria from international, independent filmmakers
Wandering in Vienna
Take a virtual stroll through today's Vienna—and discover its seamless blend of modern style and Old-World allure.
Produced by Emeric Visuals
Verruckt: The Snail Farmer of Vienna
Learn why a successful Viennese businessman chose to become a snail farmer in this 5 minute film.
Produced by Kevin Longa
Tasting Vienna's Culinary Delights
Satisfy your sweet tooth and cultural curiosity on this food tour of Vienna.
Courtesy CNN
Austria Interactive Map
Click on map markers
below to view information about top Austria experiences
Click here to zoom in and out of this map
Featured Reading
Immerse yourself in Austria with this selection of articles, recipes, and more
ARTICLE
Vienna's turn-of-the-century artists find freedom
Compare Our Adventures
Click 'Select to Compare' to see a side-by-side comparison of up to adventures below—including
activity level, pricing, traveler excellence rating, trip highlights, and more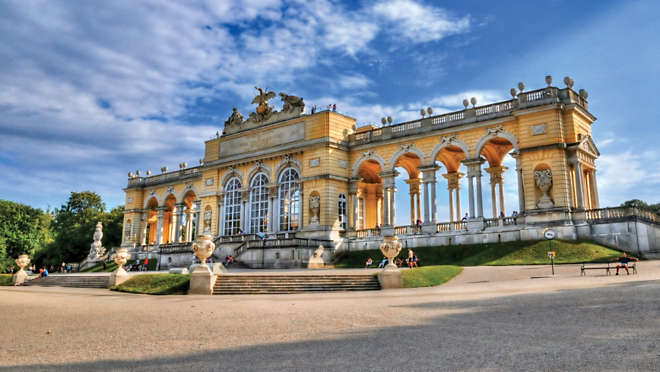 5 NIGHTS FROM $1,395
POST-TRIP EXTENSION
Vienna, Austria
Days in Austria
5
Explore the magnificent galleries and gardens of Belvedere Palace
Tour Schoenbrunn Palace—the Habsurg's summer estate and a UNESCO World Heritage Site
Stroll through Vienna's beloved boulevard, the Ringstrasse
Walk in the footsteps of Austria's legendary composers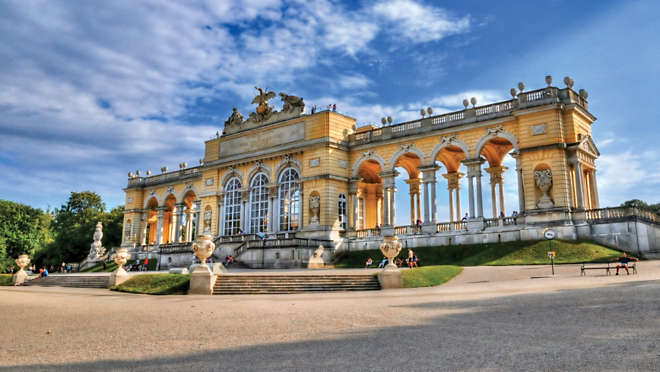 Not Applicable*
Not Applicable*
10 meals—5 breakfasts, 2 lunches, and 3 dinners
Explore the magnificent galleries and gardens of Belvedere Palace
Tour Schoenbrunn Palace—the Habsurg's summer estate and a UNESCO World Heritage Site
Stroll through Vienna's beloved boulevard, the Ringstrasse
Walk in the footsteps of Austria's legendary composers
15 DAYS FROM $3,495 • $ 233 / DAY
Small Group Adventure
Czech Republic: Prague, Cesky Krumlov, Slavonice • Slovakia: Bratislava • Hungary: Budapest
30 meals—daily breakfast, 9 lunches, and 8 dinners (including 1 Home-Hosted Dinner)
Trace Austrian history during a visit to the Carnuntum Archaeological Park
Compare Adventures
Find the Adventure That's Right for You
Our Activity Level rating system ranks adventures on a scale of 1 to 5 to help you determine if a trip is right for you. See the descriptions below for more information about the physical requirements associated with each rating.
Activity Level 1:
1 2 3 4 5
Easy
Travelers should be able to climb 25 stairs consecutively, plus walk at least 1-2 miles over some uneven surfaces without difficulty. Walks typically last at least 1-2 hours at a time. Altitude can range from zero to 5,000 feet.
Activity Level 2:
1 2 3 4 5
Moderately Easy
Travelers should be able to climb 40 stairs consecutively, plus walk at least 2-3 miles over some uneven surfaces without difficulty. Walks typically last for at least 2-3 hours at a time. Altitude can range from zero to 5,000 feet.
Activity Level 3:
1 2 3 4 5
Moderate
Travelers should be able to climb 60 stairs consecutively, plus walk at least 3 miles over some steep slopes and loose or uneven surfaces without difficulty. Walks typically last for 3 or more hours at a time. Altitude can range from 5,000 to 7,000 feet.
Activity Level 4:
1 2 3 4 5
Moderately Strenuous
Travelers should be able to climb 80 stairs consecutively, plus walk at least 4 miles over some steep slopes and loose or uneven surfaces without difficulty. Walks typically last for 4 or more hours at a time. Altitude can range from 7,000 to 9,000 feet.
Activity Level 5:
1 2 3 4 5
Strenuous
Travelers should be able to climb 100 or more stairs consecutively, plus walk at least 8 miles over some steep slopes and loose or uneven surfaces without difficulty. Walks typically last for 4 or more hours at a time. Altitude can range from 10,000 feet or more.
Hide Acivity Level
TRAVELER EXCELLENCE RATING
PRICE
including international airfare
HIGHLIGHTS & ACTIVITIES IN AUSTRIA
*This information is not available for our trip extensions. You must reserve the main trip to participate on this extension.
**This information is not currently available for this trip. Please check back soon.
Counter Culture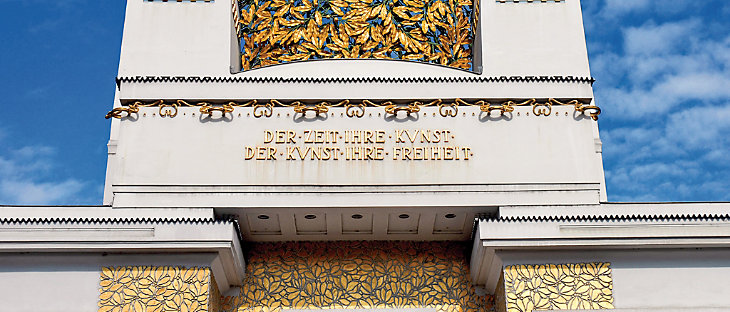 Of imperfect castles and perfect strolls
by Gigi Ongun, Program Director, Germany
The term "fin de siecle" most often conjures up images of Paris, where artists reacted against a supposedly decadent, morally bankrupt society created by industrialization, Art Nouveau thrived, and the seeds of modernism were sown. But the Austrian capital of Vienna had its own turn-of-the-century renaissance, too.
It was there where a population boom and the rise of the middle class fueled an economy of ideas and art that included contributions from such luminaries as Sigmund Freud, Gustov Klimt, and composer Arnold Schoenberg. The city's monetary and intellectual wealth led to the rise of an artistic epoch reflected in all aspects of society, from architecture to fashion.
In 1900, Vienna was the European capital of the Austro-Hungarian Empire, in which the House of Hapsburg ruled over the remains of the ancient Holy Roman Empire, with 51 million subjects spread over a geographical area stretching roughly from the Balkans to Ukraine. Between 1870 and 1910, Vienna's population more than doubled—reaching 2 million as citizens from all over the Empire moved to the thriving capital. They were drawn by opportunities for employment created during the massive civic-building program instituted by Emperor Franz-Joseph in the 1860s.
The Ringstrasse
This building boom resulted in the dozens of impressive neoclassical buildings that today line Vienna's Ringstrasse, a circular boulevard built to replace the capital's crumbling medieval walls and pay tribute to the Hapsburg family's power and wealth. The ornate and immense buildings created during this project include the Austrian Parliament Building, the Rathaus (Town Hall), and the University of Vienna, which visitors may still admire during a stroll along this 3.3-mile loop.
Almost all of the Ringstrasse buildings and their interior artwork harken back to historical eras—ancient Rome and Renaissance Italy, for example. But the classical, academic, and (given the scale of the Ringstrasse project) monolithic nature of the works being produced led the city's prominent artists to chafe against what they saw as an old-fashioned, unimaginative mind-set.
A new school
In 1897, dissatisfied with the conservative views of the Association of Austrian Artists and the private Künstlerhaus Genessenschaft exhibition society, a group of painters, sculptors, and architects resigned their memberships and created the Vienna Secession. At the time, the Academy and Künstlerhaus controlled Vienna's two main exhibition halls and was responsible for choosing the vast majority of art displayed in the city. Artists went before artistically traditional committees that often rejected impressionist and modernist works in favor of naturalism. The frustrated artists were left with no way to exhibit their contemporary works.
The Secessionists saw the beginnings of the Modernist movement taking hold elsewhere in Europe and worried that Austria's presumed preference for classical art was leaving their country behind the curve. So they organized and dedicated themselves to creating and exhibiting innovative art and design. The group built an exhibition house that became known simply as The Secession. They stated their desire to push boundaries and break from historical styles in the motto emblazoned above the door: "To every age its art, to every art its freedom."
The Secession building, with its starkwhite, windowless exterior topped by an oversized round cupola of golden metal-work, could not have broken more strongly from the Ringstrasse style. It was equal parts admired and ridiculed, with the cupola providing its most popular nickname: "The golden cabbage." Mocked or not, the new exhibition space was much needed. The Secessionists' first exhibition, for which they rented out the Horticultural Society building, drew 57,000 visitors, including the Emperor himself.
But for all of their new ideas, the Secessionists were not out to dismantle the art establishment. Almost all of them were already well-established in their fields, with painter Gustov Klimt the best known for his work as decorator of many Ringstrasse buildings. They were employed artists, interested in making a living from their craft as well as following the avant-garde, so they didn't so much rage against the machine as build their own, slightly edgier machine.
The buyers for their work came from Vienna's burgeoning bourgeoisie, merchants and traders who thrived in the prosperous city. This new middle-class embraced the avant-garde aesthetic as an outlet for expressing their individuality and flaunting their newfound wealth and social status. The market became quite competitive, with collectors vying to have the newest, most progressive pieces.
Life as art
The public embrace of the new aesthetic and the artists' concept of creating works that touched every aspect of daily life, from architecture to kitchen utensils, produced the philosophy of "Gesamtkunstwerk" or the "total work of art." The idea behind Gesamtkunstwerk is that a person's entire life should be lived in alignment with the Art Nouveau aesthetic—their art, their house, their furniture, and even the clothes they wore would be designed by artists. Their life itself would be lived as a work of art.
Gesamtkunstwerk resulted in the establishment of the Wiener Werkstatte (Vienna Workshop) in 1903. Its founders, Josef Hoffmann and Koloman Moser, applied their designs to everyday objects from picture frames to trash cans. They took a page from the arts and crafts movement in England, which rejected industrialization and focused on the value of handmade objects and extolled individual craftsmanship and effort, with the workshop's motto "Better to work 10 days on one product than to manufacture 10 products in one day.
The Workshop maintained separate facilities for metalwork, leatherwork, bookbinding, woodworking and a paint shop, and employed 100 artists in its heyday. With such diverse artisans available, the Workshop was able to take on projects that involved designing every aspect of a place like the Cabaret Fledermaus theater, from the floors to the menus.
The success of a concept as philosophical and involved as Gesamtkunstwerk seems less outlandish when viewed together with the constant, open public discourse that thrived in fin de sciele Vienna. The artists who formed the Secession didn't meet in private homes or salons, but in public cafes that were the heart and soul of intellectual debate and new ideas.
Coffeehouse culture
They gathered in the Café Zum Blauen Freihaus and the Café Sperl (which today still serves coffee in Ringstrasse-style opulence), which functioned more as open clubs than places of commerce—the purchase of a single cup of coffee entitled you to as much time in the cafe as you wanted. Some establishments even allowed patrons to store a change of clothes on the premises.
Part of the cafes' allure was their large collection of international newspapers, bringing in new ideas for artists to debate daily from across the continent. The flow of international information was a key part of the Secessionist movement. Klimt, for example, was influenced by the flat planes, strong colors and patterned surfaces of Japanese woodblock prints as well as the intricate patterns of Byzantine mosaics. These influences can be seen in many of Klimt's most iconic works, including The Kiss.
Another aspect of the cafes' wide popularity was their willing embrace of art and artists. Musical performances and literary events were held in the evenings. Writers who spent their days composing in the cafes were affectionately nicknamed "coffeehouse poets." One writer, Peter Altenberg, spent so much time at the iconic Cafe Central that he had his mail delivered there.
The cafes were also favored by future leaders and revolutionaries, drawn, perhaps, by their open exchange of new ideas. Cafe Central was visited by Vladimir Lenin, Leon Trotsky, and Josip Broz Tito. In designating "Viennese Coffee House Culture" as a recognized part of Austria's Intangible Cultural Heritage, UNESCO noted poetically that cafes were places "where time and space are consumed, but only the coffee is found on the bill."
Musicians of note
The city's avant-garde spirit extended to musicians and composers, as well. Reflecting the same sort of break from classical modes of expression that the Secessionists embraced, Viennese composer Arnold Schoenberg developed a new system for composition. The "twelve-tone technique" for composing atonal pieces became widely used throughout Europe and America.
Also known as dodecaphony or twelvetone serialism, Schoenberg's technique provided composers of atonal pieces with an alternative structure to the traditional strictures of tonal harmony. The twelve-tone technique holds that each of the twelve tones of the chromatic scale must be used equally often in a piece of music, thus preventing an emphasis on any one note.
The technique replaced the classical structural tonal harmony with the new structure of thematic oneness—in other words, parts of the piece don't have to sound the same, they simply have to be structured the same. Schoenberg's method influenced composers throughout the first half of the 20th century, including masters like Igor Stravinsky.
Sudden change
Vienna's golden age was brought to an abrupt and violent end with the assassination of Archduke Franz Ferdinand, heir to the Austro-Hungarian throne, and the advent of World War I. The wealth that financed and encouraged Vienna's artists was drained by the war and the dissolution of the Empire. Klimt perished in a flu pandemic that swept Europe in 1918, and the Vienna Workshop was forced into bankruptcy and closure in 1932.
Thankfully, much of the fine art produced during Vienna's creative heyday remains. The Secession Building continues to exhibit contemporary art, as well as being the permanent home of Klimt's stunning Beethoven Frieze. Prints of posters designed by the Vienna Workshop can be found throughout the city. And for the price of a single cup of coffee, visitors may still linger in the same cafes that inspired talented young artists at the turn of the century.
Vienna's turn-of-the-century artists find freedom