Forgot Your Username
If you have forgotten your username, please provide your email address in the box below. We'll send you an email with your requested username. If you are having trouble, please call us toll-free at 1-800-221-0814.
Email Sent
You'll receive an email in a few minutes. Please check this email to find your requested username.
If you do not receive an email or you are having trouble logging into My Account, please call us at 1-800-221-0814.

CAMBODIA
In the tropical jungles of Southeast Asia, a skyline of temples boasts evidence not only of ancient culture's religious devotion but its unparalleled engineering skills and wealth. This is Cambodia, where 21 centuries of history have played out against verdant landscapes. Known as Funan in its first six centuries, Cambodia's ascendance began in earnest in the 9th century, under the Angkor Empire's King Jayavarman II. For the next six hundred years, the empire expanded, but its heart remained in Siem Reap, where 100 temples rose, masterworks of artistry and faith. The same era saw the creation of canal systems, vast man-made lakes, and an irrigation system that was the envy of Asia.
Like many of its neighboring countries, Cambodia was desired by European powers hoping to expand in the 18th and 19th centuries. For nearly a hundred years, Cambodia was a French protectorate, an influence still seen in elegant colonial-era buildings in cities like Phnom Penh. But in 1953, King Sihanouk won his nation full independence, which led to peace and prosperity for two decades. The 1970s saw the darkest days of the nation's history: when the Khmer Rouge overthrew the government, a four-year nightmare ensued, and 1.7 million citizens lost their lives.
Today, Cambodia is again a free nation, with a parliamentary system and a new constitution adopted in 1993. Visitors from around the globe are able to not only fall under the spell of the stunning temple complexes, but to appreciate all of the gifts that Cambodia is known for: friendly welcomes, delicious food, and unforgettable natural diversity from glittering coast to jungles where elephants roam free.
Most Popular Films
Films featuring Cambodia from international, independent filmmakers
Travelogue: Angkor Wat, Cambodia 1945
Travel back in time, to Angkor Wat in 1945, a spot you can visit today on our trip extension.
Produced by David Conover & Paul Villanova
Soy Houy: A 365 Docobites Film
Meet Soy Houy, a Cambodian man who preserves his family's tradition of making rice paper.
Produced by Epiphany Morgan
Children of Cambodia
Glimpse many facets of life in Cambodia, from Angkor Wat's temples to Tonle Sap Lake.
Produced by Christophe Hamon
Cambodia Interactive Map
Click on map markers
below to view information about top Cambodia experiences
Click here to zoom in and out of this map
Featured Reading
Immerse yourself in Cambodia with this selection of articles, recipes, and more
ARTICLE
Discover the significance of Buddhist acts and ideas—like karma—that determine your fate in this life and the next.
ARTICLE
Not sure what to do when visiting a Buddhist temple? Here are seven disrespectful acts you should avoid.
Cambodia: Month-by-Month
There are pros and cons to visiting a destination during any time of the year. Find out what you can expect during your ideal travel time, from weather and climate, to holidays, festivals, and more.
Cambodia in January-February
January and February offer a respite from the humidity Cambodia is known for—this is the driest time of year. Sunning on the southern beaches is particularly comfortable as temperatures have not yet risen to their highs later in the year.
Peak tourism season began ramping up in November with lower temperatures and humidity. Popular destinations such as Angkor Wat will be crowded. Bustling Phnom Penh—year-around an energetic hub of commerce and culture—will be even more crowded with tourists from around the world.
With high water levels, this is the best time to visit Tonle Sap Lake and the Mekong River. Even lower temperatures near bodies of water means sailing by paddle boat or river cruise lend to a more adventurous experience.
Holidays & Events
February 16: Chinese and Vietnamese New Year
Must See
Chinese and Vietnamese New Year is arguably the largest celebrations in Eastern Asia with ornate parades, music, and breathtaking fireworks displays.
Cambodia in March-April
Temperatures in March are quickly on the rise, and by April they have hit average highs of 93 degrees. Tourism season starts to wane, so exploring Phnom Penh and other urban areas will be a more authentic and less expensive experience. Navigating the city's frenetic streets, you'll see more traditional food, less souvenir stands, and less crowding. Take advantage of the value of your tourism dollars and delve into a city which at this time becomes quintessentially Cambodian.
Holidays & Events
April 14: Khmer New Year
Must See
Khmer New Year is celebrated both in Cambodia and throughout the world among the Cambodian diaspora. With ornate traditional costumes, games, and even street parties and gatherings, this is one of the most exciting times for the Khmer culture.
Cambodia in May-June
The humidity of the previous couple of months breaks in May and June with the wet season's heavy downpours. Robust excursions into the Cambodian countryside are more manageable with lower temperatures—on clear days, the wide expanses of bright green rice paddies under stunning blue skies come together like a beautiful painting.
As peak season has ended, this is a great time to explore the breathtaking scale of Angkor Wat and Banteay Srei's ornate sculptures honoring women. These popular sites, as well as the urban areas, are not crowded with tourists.
Holidays & Events
May 3: The Royal Ploughing Ceremony
Must See
The Royal Ploughing Ceremony is celebrated all over Southeast Asia, marking the beginning of the rice-growing season. Traditionally, the country's monarch will drive a plow in ceremonial land, followed by priests planting seeds to ensure a bountiful harvest.
Cambodia in July-September
Monsoons cover southwestern Cambodia in quick bursts of torrential rains. Road closures are common as many are simple mud paths, and mosquitoes are more prevalent.
The countryside is particularly striking, with the previous season's steady rains fostering lush green vegetation. The thunderstorms are famous at this time of year, especially in rural Cambodia. The rivers are also best at their peak—Tonle Sap Lake begins to fill up again, making for great cruising opportunities.
As this is low season, prices for goods and tours are lower.
Holidays & Events
September 19: Pchum Ben is a 15-day festival in which families honor deceased relatives, sometimes from up to seven generations past. Food offerings for Buddhist monks and ancestor spirits are made in hopes of generating merit for passed relatives.
Must See
Rains have refreshed the waters around Angkor Wat, making the temple's reflection—a site in itself—clear and stunning.
Cambodia in October-December
From October to the end of the year, Cambodia enters a calm and comfortable season. The rains have subsided, and temperatures stay within a range of 70-80 degrees. Blue skies dotted with clouds make for incredible views in the countryside. This is the time for hiking the rugged northern highlights and going off the beaten path.
Many people spend Christmas in Cambodia because of cooler temperatures and exotic adventures. Peak tourism season begins ramping up in November, so slowly crowds will build in popular destinations such as Phnom Penh and Angkor Wat.
Holidays & Events
November 3: Bon Om Touk, otherwise known as the Water Festival, marks the end of the rainy season. People in Cambodia and diaspora communities across the world celebrate with boat races and water games. Steaming street food, water fights, and joviality fill the streets of cities and towns. The festival marks the reversal of the Tonle Sap River's flow, draining into the Mekong River.
Must See
Tonle Sap Lake is at its highest level. With the flow reversal of the Tonle Sap River from the lake, the water levels of the Mekong River increase slowly. Fishing in the Tonle Sap is illegal at this time to avoid disruption of the breeding season. This means boating on the lake is a more pleasant and serene experience.
Average Monthly Temperatures
Compare Our Adventures
Click 'Select to Compare' to see a side-by-side comparison of up to adventures below—including
activity level, pricing, traveler excellence rating, trip highlights, and more
Compare Adventures
Find the Adventure That's Right for You
Our Activity Level rating system ranks adventures on a scale of 1 to 5 to help you determine if a trip is right for you. See the descriptions below for more information about the physical requirements associated with each rating.
Activity Level 1:
1 2 3 4 5
Easy
Travelers should be able to climb 25 stairs consecutively, plus walk at least 1-2 miles over some uneven surfaces without difficulty. Walks typically last at least 1-2 hours at a time. Altitude can range from zero to 5,000 feet.
Activity Level 2:
1 2 3 4 5
Moderately Easy
Travelers should be able to climb 40 stairs consecutively, plus walk at least 2-3 miles over some uneven surfaces without difficulty. Walks typically last for at least 2-3 hours at a time. Altitude can range from zero to 5,000 feet.
Activity Level 3:
1 2 3 4 5
Moderate
Travelers should be able to climb 60 stairs consecutively, plus walk at least 3 miles over some steep slopes and loose or uneven surfaces without difficulty. Walks typically last for 3 or more hours at a time. Altitude can range from 5,000 to 7,000 feet.
Activity Level 4:
1 2 3 4 5
Moderately Strenuous
Travelers should be able to climb 80 stairs consecutively, plus walk at least 4 miles over some steep slopes and loose or uneven surfaces without difficulty. Walks typically last for 4 or more hours at a time. Altitude can range from 7,000 to 9,000 feet.
Activity Level 5:
1 2 3 4 5
Strenuous
Travelers should be able to climb 100 or more stairs consecutively, plus walk at least 8 miles over some steep slopes and loose or uneven surfaces without difficulty. Walks typically last for 4 or more hours at a time. Altitude can range from 10,000 feet or more.
Hide Acivity Level
TRAVELER EXCELLENCE RATING
PRICE
including international airfare
HIGHLIGHTS & ACTIVITIES IN CAMBODIA
*This information is not available for our trip extensions. You must reserve the main trip to participate on this extension.
**This information is not currently available for this trip. Please check back soon.
Making Merit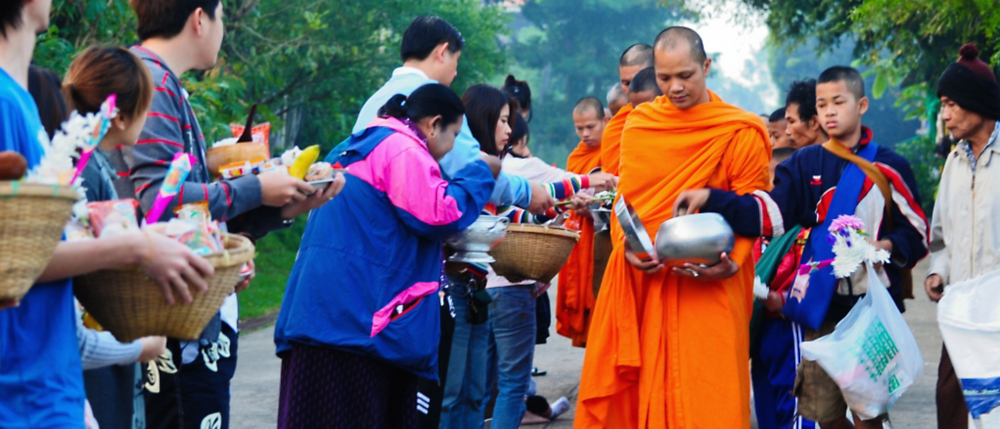 How the meaning of karma influences Buddhists in Southeast Asia
Lyette Mercier, for O.A.T.
If you do good you will receive good; if you do evil you will receive evil.
— Thai proverb
Making merit—doing good—is a vital part of Buddhist life in Southeast Asia, and the proverb above elegantly illustrates why. In Buddhist teaching, you accumulate merit throughout your life to bring future happiness, strength, and peace—and to carry it into your next life.
Making merit, giving alms
In Thailand, Laos, and Cambodia, where the majority of the population is Buddhist, the most common form of merit-making is giving alms to Buddhist monks, who take to the streets each morning in their bright saffron robes holding "begging bowls" into which people can place goods. The most common gift is food, but flowers, money, soap, and other goods useful to the monastery are also accepted. The amount of merit a giver receives is determined by many variables. First, the giver must have pure intentions, a clear mind, and not give anything that is not theirs to give. The quality of the gift also contributes to the merit received. Home-cooked foods are more merit-worthy than ones bought pre-prepared, and giving your leftovers to the monks is considered both rude and unworthy of merit. Finally, the more observant the monk being given alms (with the most observant perfectly obeying all 227 precepts of Buddhism), the more merit granted the giver.
In daily life, people can also gain merit through honoring others, offering help and service, involving others in good deeds, and being thankful for others' good deeds. This focus on aiding and appreciating the people around you shows in the friendliness and spirit of fellowship among the people of Southeast Asia. After all, when you can bring a bit of good into your current or future life simply by smiling at a stranger or acknowledging a kindness, why not make a habit of it?
Candles for good eyesight
Of course, Buddhists understand that they may not see the results of their merit in this life and generally do not expect immediate results from their good deeds. But certain types of gifts are sometimes thought to accumulate specific kinds of merit for a giver's next life. For example, giving textbooks to children is said to ensure that you will be intelligent in your next life, and offering candles or lights will give you bright eyes and good eyesight. Merit can also be "transferred" to the person of the giver's choosing (often a deceased loved one) to lessen that person's suffering in their next life.
Holidays and festivals provide opportunities for celebratory merit-making. The birthday of Thailand's king, for example, is celebrated annually with ceremonies in which citizens give alms to monks on behalf of the king, donating the accumulated merit to the monarch as a birthday gift. Another common form of birthday merit-making is to release fish. The tradition stems from saving creatures stranded in rice paddies by receding floods. In the coastal province of Samut Prakan, one million shrimp were released into the river for the king's birthday in 2011.
Karma
The practice of gaining merit stems from the Buddhist concept of karma, which means "doing." Everything a person does, says, and thinks is a karma, and the accumulation of good and bad karma influences both this life and the next. Two stories from the Buddha's life form the basis of the tradition. In the first tale, two merchants came upon the newly-enlightened Buddha and were so impressed by his virtue that they spontaneously gave him their provisions. The second story tells of the Buddha carrying a begging bowl as he traveled, with those who passed giving him food and goods so that he could continue to spread his teachings.
Almost 2,500 years later, the Buddha's lessons of kindness, giving, and gaining merit continue to have a profound influence on the actions and culture of people throughout Southeast Asia.
How the meaning of karma influences Buddhists in Southeast Asia
7 Things You Should Never Do in a Buddhist Temple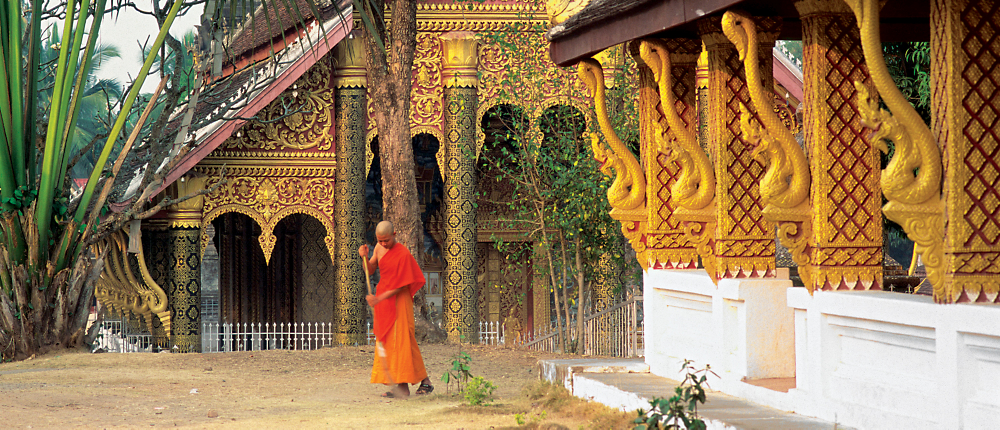 by Maryclaire Dugre
From Bangkok's glittering Grand Palace to the stone spires of Angkor Wat, Southeast Asia's temples are stunning in scale and complexity. But even more intricate than the bejeweled stupas is the unique code of conduct for temple-goers. Here's what not to do at a Buddhist place of worship:
1. Wear shoes or a hat
Always remove your shoes and hat before entering the main worship area—look where others have dropped theirs, and add yours to the pile.
Temple tip: Wear slip-on flats or no-fuss sandals for easy removal.
2. Show too much skin
Even in sweltering Southeast Asia, Buddhists dress conservatively, especially at religious sites. Avoid shorts, sleeveless tops, and dresses or skirts that fall above the knee. If you forget, many temples will lend you a cover-up, sometimes for a small fee.
Wardrobe win: For women, a scarf or shawl is a versatile travel essential. In a bind, it can be draped over your shoulders or tied as a long skirt.
3. Touch the Buddha
Buddha statues can be dazzling, alluring works of art, but be sure to appreciate them with your eyes, not your hands. Getting too close or leaning on the platform is also a sign of disrespect.
Buddha boundaries: Unsure of how close you can get? Take your cue from the monks or worshippers around you—never walk in front of them while they're praying.
4. Point
Pointing at people or things is considered rude in many Asian cultures. In a temple, it's an even graver offense when the subject is a monk, nun, elder, or the Buddha statue itself.
The proper point: To gesture at something, extend your right hand with the palm facing upwards. When sitting, tuck your feet under you or angle them away from the Buddha.
5. Touch or hand something to a monk (women)
Women should never touch, get too close, or pass something to a monk. At the slightest brush against their robes, a monk must perform a cleansing ritual (even if the woman is his mother).
Monk manners: If you'd like to make an offering to a monk, pass it first to a man or set it down before him.
6. Kill an insect
For a Buddhist, purposely destroying a living being—even a creepy crawler—promises bad karma. Try to wave away (rather than kill) any that buzz by you in a temple.
Brush away the bugs: When you see a monk sweeping the entrance stairs, chances are he's not tidying the temple—he's brushing away—and protecting—any insects that may be trampled by visitors.
7. Snap a photo without permission
Many temples do allow photography—but always confirm before using your camera. Never take a photo of the Buddha statue during worship, and as a general rule, turn your flash off.
A thoughtful thank you: After taking your photos, making a small donation is always appreciated (but not mandatory).