Forgot Your Username
If you have forgotten your username, please provide your email address in the box below. We'll send you an email with your requested username. If you are having trouble, please call us toll-free at 1-800-221-0814.
Email Sent
You'll receive an email in a few minutes. Please check this email to find your requested username.
If you do not receive an email or you are having trouble logging into My Account, please call us at 1-800-221-0814.

CHINA
China may not be the oldest civilization in the world, but it's the longest, most continuous one. Stretching back some 5,000 years, Chinese civilization slowly emerged from the fertile flatlands of the middle Yellow River and eventually developed into what is now the most populous nation on Earth. With a land mass slightly less than that of the United States, China clocks in as the fourth-largest country in the world—and many predict the Asian giant is poised to overtake the U.S. as the world's largest economy in the upcoming decades.
Beginning in 221 BC and over the next 2,000 years, China was ruled by emperors—more than 500 in all. While its entire span of history has been rich and tumultuous, China was especially turbulent during the twentieth century. After the last of the Manchu emperors, Pu Yi, was overthrown in 1912, a revolution led to the establishment of the Republic of China. Further revolutions and civil wars ensued, and in 1949 Communists with Mao Zedong as head of state established the People's Republic of China—while a rival government was established off China's coast on the island of Taiwan under the leadership of Chiang Kai-shek. As mainland China transformed into a socialist society—and remained isolationist—the United States backed Chiang Kai-shek. To consolidate power, Mao embarked on a disastrous, decade-long Cultural Revolution, which ended in 1976. Shortly thereafter, the U.S. began establishing formal diplomatic relations with the People's Republic of China, and officially ended ties with Taiwan in 1979.
With its vast size and remarkable breadth of landscapes, iconic sites such as the seemingly infinite Great Wall, Beijing's Forbidden City, the Terra Cotta Army of Xian, Guilin's limestone pinnacles, and the Yangtze gorges are just a tiny fraction of China's myriad wonders.
Most Popular Films
Films featuring China from international, independent filmmakers
36 Hours in Chengdu
Watch things heat up in Chengdu, China, from hot pots to giant panda pens.
Produced by Jonah M. Kessel, Max Duncan, Sarah Li, Will Lloyd and Dominic Yip
Saving China's Elephants
Learn how China is striving to protect its shrinking population of Asian elephants.
Produced by Andrew Jacobs
©2014 The New York Times
Chengdu's Monastery Food Haven
Get a taste of Chinese culture as locals lead you to food markets, an outdoor tea café, and an opera house.
Produced by CNN
Earth Diaries - Wild Horse Racing
Catch the excitement of traditional Tibetan horse racing as skilled riders compete in China.
Produced by Cynthia Younker
China Interactive Map
Click on map markers
below to view information about top China experiences
Click here to zoom in and out of this map
Featured Reading
Immerse yourself in China with this selection of articles, recipes, and more
RECIPE
Jiaozi dumplings are the perfect appetizers or snacks. Find the recipe for this traditional Chinese dish here.
ARTICLE
Find out how China's one-child policy has changed since its enactment in 1979.
China: Month-by-Month
There are pros and cons to visiting a destination during any time of the year. Find out what you can expect during your ideal travel time, from weather and climate, to holidays, festivals, and more.
China in December-February
China is a vast country, and winter weather varies dramatically from the north to the south, and east to the west. Northern cities like Beijing and Xian are very cold in these winter months, with temperatures averaging below freezing (and well below freezing in Tibet), while places such as Hong Kong are very mild, with little rain and temperatures averaging around 60º F. And although it may seem that the entire nation is traveling during Chinese New Year, winter months see far fewer crowds at the Great Wall, Beijing, Xi'an, Chengdu, and other iconic destinations.
Holidays & Events
January 5: Harbin Ice & Snow Sculpture Festival begins. The world's largest ice and snow festival lasts an entire month and takes place in the northern Chinese city of Harbin, known as the "Ice City."
February 16: Chinese New Year begins.
Must See
Chinese New Year: The country's most important traditional festival, Chinese New Year (also known as Spring Festival) is a week-long celebration of family and friends, and includes cultural activities, temple fairs, dragon dances, concerts, and parades throughout the country.
China in March-May
Spring is one of the best times to explore China. Fruit trees begin to blossom and temperatures slowly rise into the 70s (ºF)—except in the extreme northeast and northwest parts of the country. And it's still dry in northern cities such as Beijing and Xian, while summer rains have already begun in the south. Major sites are still relatively uncrowded throughout China, although with temperatures also warming up in Tibet, May is the start of the tourist season there.
Holidays & Events
March 2: Lantern Festival is a tradition that dates back 2,000 years and takes place on the last day of Chinese New Year. Activities vary regionally, but most include floating lanterns, fireworks, and dragon dances.
April 5-7: Qingming Festival (also known as Pure Brightness Festival or Tomb-Sweeping Day) is a seasonal celebration relating to spring and respecting ancestors. Activities include tomb sweeping, spring outings, and kite-flying.
May 1-3: Labor Day (International Worker's Day). During Labor Day celebrations, travel volume is high and dense crowds can be expected at major attractions and in many Chinese cities.
Must See
Must See: Spring flowers in bloom. With some 600 species of rhododendron native to China (some of which can grow to 30 feet high) spring is the time to view clusters of these flowers carpeting the meadows and mountains in vivid colors. In March, large peach orchards come into bloom in China's southern city of Guilin. And every April, millions of brightly colored tulips and lilies are on display at the Tulip Cultural Festival in Beijing's Shunyi District.
China in June-August
Summers are hot and humid in China, and daytime temperatures can reach 95+°F in all but the northeast and mountainous areas. Summer rains are often brief but heavy, making the flora vibrant and high water levels in the Yangtze and other rivers. It's also a great time to visit places like Tibet and the beaches of southern China, although bear in mind that typhoon season begins in August in the south.
Holidays & Events
June 18: Dragon Boat Festival is an ancient Chinese celebration known for rice dumplings (zongzi) and dragon boat races.
China in September-October
Considered the best time to visit China, these are the months when the summer rains have ceased (except in Hong Kong) and the weather is at its optimum. Cooler weather also makes this an ideal time to climb the Great Wall, and fall colors start to appear in parts of the countryside.
Holidays & Events
September 24-26: Mid-Autumn Festival
October 1-7: Chinese National Day (Golden Week) commemorates the founding of the People's Republic of China.
Must See
The Mid-Autumn Festival in Beijing (also called the Moon Festival) is China's second most important festival (after Chinese New Year). Traditions center on family life, eating sweet pastries called mooncakes, and releasing festive red lanterns.
China in November
This is still a great time to explore China, with temperatures cooling down and smaller crowds at popular destinations. Plus, it's the best time to see fall colors at their peak across the country, including gingko trees turning a beautiful golden color in the south.
Must See
Fall foliage is at its peak in places like the Great Wall, the Yellow Mountains, and the Yangtze River, and clear skies add to the colorful display and dazzling views.
Average Monthly Temperatures
Compare Our Adventures
Click 'Select to Compare' to see a side-by-side comparison of up to adventures below—including
activity level, pricing, traveler excellence rating, trip highlights, and more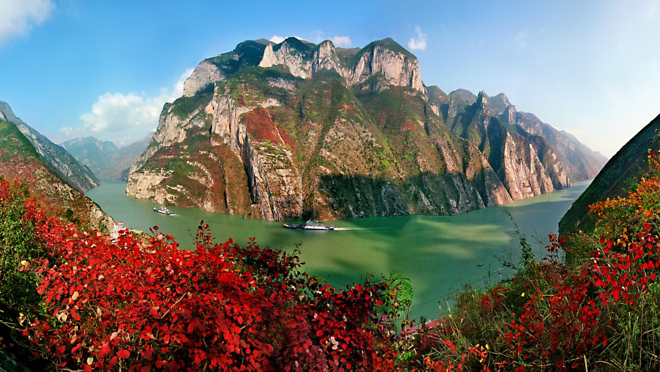 22 DAYS FROM $4,495 • $ 205 / DAY
Small Ship Adventure
China: Beijing, Xian, Chengdu • Tibet: Lhasa • China: Yangtze River, Wuhan, Hong Kong
50 meals—daily breakfast, 14 lunches, and 16 dinners (including 2 Home-Hosted meals)
Explore a section of the Great Wall that hasn't been rebuilt for tourists
View the Three Gorges Dam during a 3-night Yangtze River cruise
Stroll along the narrow lanes of Beijing's hutongs
Witness the 2,200-year-old Terra Cotta Army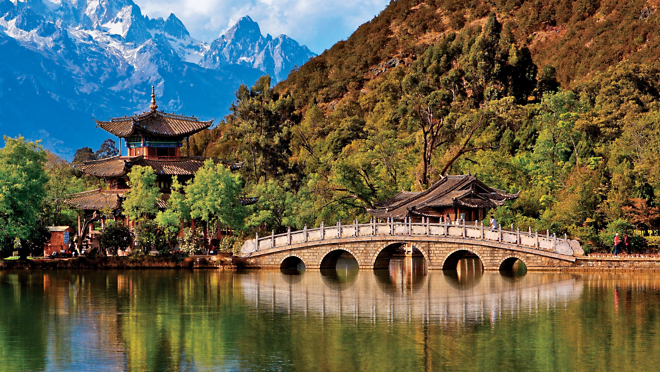 8 NIGHTS FROM $2,195
PRE-TRIP EXTENSION
Mystical Yunnan: Kunming, Dali & Lijiang
DAYS IN CHINA
8
Marvel at the landscapes of Shilin, the Stone Forest
Browse the Bai handcrafts in Dali's Old Town
Wander the maze-like lanes of Lijiang's remarkably-preserved Old Town
Take a boat ride on the crystalline waters of Erhai Lake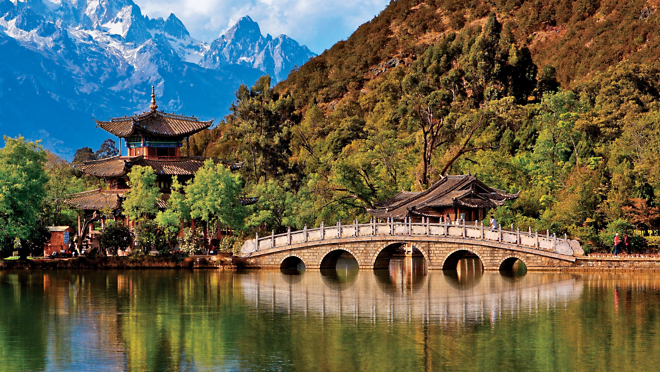 Not Applicable*
Not Applicable*
17 meals—8 breakfasts, 5 lunches, and 4 dinners (including 1 Home-Hosted Lunch)
Marvel at the landscapes of Shilin, the Stone Forest
Browse the Bai handcrafts in Dali's Old Town
Wander the maze-like lanes of Lijiang's remarkably-preserved Old Town
Take a boat ride on the crystalline waters of Erhai Lake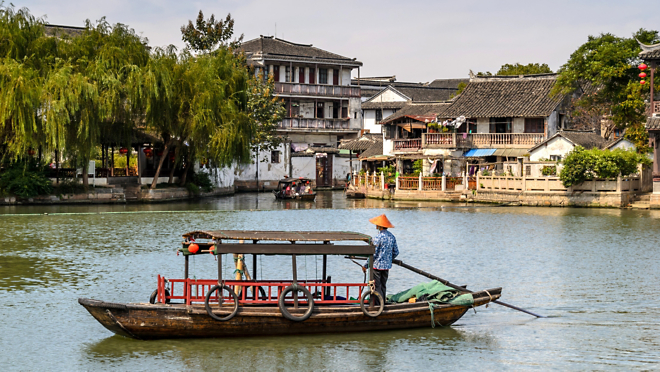 6 NIGHTS FROM $1,795
PRE-TRIP EXTENSION
Eastern China: Shanghai & Suzhou
DAYS IN CHINA
5
Stroll along the Bund overlooking the Huangpu River
Discover the Yu Gardens
Cruise the canals of Suzhou, called the "Venice of the Orient"
Visit a traditional fishing village on the Yangtze Delta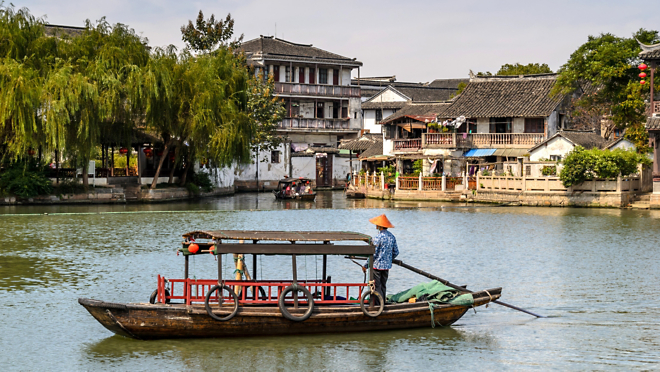 Not Applicable*
Not Applicable*
12 meals—6 breakfasts, 4 lunches (including a Home-Hosted Lunch), and 2 dinners
Stroll along the Bund overlooking the Huangpu River
Discover the Yu Gardens
Cruise the canals of Suzhou, called the "Venice of the Orient"
Visit a traditional fishing village on the Yangtze Delta
Compare Adventures
Find the Adventure That's Right for You
Our Activity Level rating system ranks adventures on a scale of 1 to 5 to help you determine if a trip is right for you. See the descriptions below for more information about the physical requirements associated with each rating.
Activity Level 1:
1 2 3 4 5
Easy
Travelers should be able to climb 25 stairs consecutively, plus walk at least 1-2 miles over some uneven surfaces without difficulty. Walks typically last at least 1-2 hours at a time. Altitude can range from zero to 5,000 feet.
Activity Level 2:
1 2 3 4 5
Moderately Easy
Travelers should be able to climb 40 stairs consecutively, plus walk at least 2-3 miles over some uneven surfaces without difficulty. Walks typically last for at least 2-3 hours at a time. Altitude can range from zero to 5,000 feet.
Activity Level 3:
1 2 3 4 5
Moderate
Travelers should be able to climb 60 stairs consecutively, plus walk at least 3 miles over some steep slopes and loose or uneven surfaces without difficulty. Walks typically last for 3 or more hours at a time. Altitude can range from 5,000 to 7,000 feet.
Activity Level 4:
1 2 3 4 5
Moderately Strenuous
Travelers should be able to climb 80 stairs consecutively, plus walk at least 4 miles over some steep slopes and loose or uneven surfaces without difficulty. Walks typically last for 4 or more hours at a time. Altitude can range from 7,000 to 9,000 feet.
Activity Level 5:
1 2 3 4 5
Strenuous
Travelers should be able to climb 100 or more stairs consecutively, plus walk at least 8 miles over some steep slopes and loose or uneven surfaces without difficulty. Walks typically last for 4 or more hours at a time. Altitude can range from 10,000 feet or more.
Hide Acivity Level
TRAVELER EXCELLENCE RATING
PRICE
including international airfare
HIGHLIGHTS & ACTIVITIES IN CHINA
*This information is not available for our trip extensions. You must reserve the main trip to participate on this extension.
**This information is not currently available for this trip. Please check back soon.
Jing Cuisine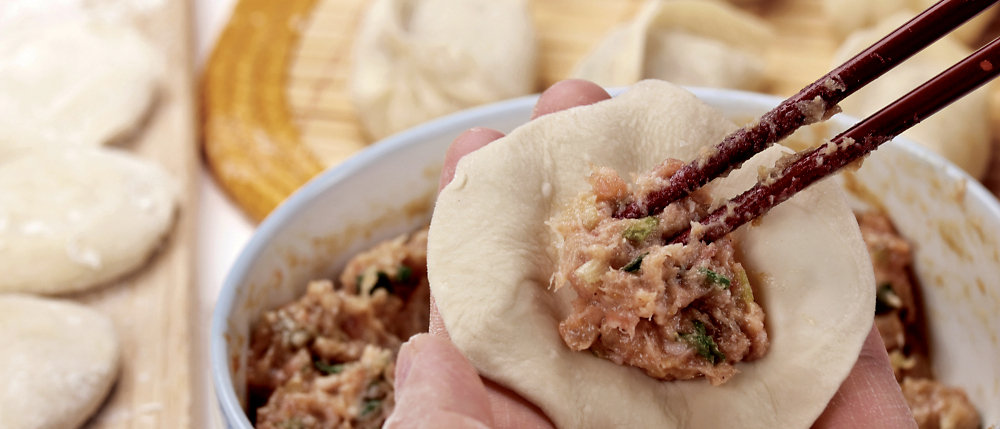 Recipes from Chinese Imperials
by Meredith Rommelfanger, from Dispatches
You'll notice that the dishes in Beijing are often not dependent on rice—which isn't grown locally in northern China—and more likely to employ the region's bounty of wheat. That's why you'll find jiaozi dumplings on so many menus. Boiled or pan-fried, jiaozi are pockets of dough filled with meat or vegetables and then pinched together so that they resemble little half-moons. Today, the definitive northern dumplings are popular all year round, but especially at New Year's festivities.
We've included one of our favorite recipes for jiaozi, avoiding the most difficult aspect of dumpling preparation by using store-bought wrappers, available in Asian grocery stores or sometimes frozen in large supermarkets. (Don't try to substitute wonton wrappers—they're the wrong shape and not thick enough.) Once your dumplings are wrapped and sealed, the cooking method is up to you: steamed, pan-fried, boiled, or simmered in soup. You can even freeze for later use. We prefer to serve ours with a flavorful dipping sauce—that recipe follows as well.
Pork and Leek Jiaozi
Ingredients:

¾ lb ground pork
2 cups leeks, roughly
chopped
½ cup Napa cabbage,
roughly chopped
1 ½ tbsp corn starch
1 tbsp soy sauce
Ground pepper, to taste
1 package store-bought
Chinese dumpling wrappers
Preparation:
In a food processor, combine pork, vegetables, corn starch, soy sauce, and pepper. Pulse until smooth.
To fill, use a heaping teaspoon of filling for each dumpling. Place a wrapper in the palm of one hand and place the filling in the center. In China, sealing dumplings can be a complex art, but they taste just fine the easy way: Dip your finger in water and run it along the inside edge of your dumpling wrapper.
Fold the wrapper in half. Press the edges tightly together.
To boil dumplings, cook until dumplings float. To steam, place in a bamboo steamer over boiling water for about 10 minutes. Or shallow-fry in oil for about 2 minutes on each side.
Jiaozi Dipping Sauce
Ingredients:
½ cup soy sauce
2 tbsp rice wine vinegar
1 tbsp fresh grated ginger
Sesame oil to taste
Optional: minced garlic, chili oil, chopped scallions
Preparation:
Stir to combine ingredients and allow sauce to sit at least one hour before serving.
Makes about 50 dumplings
Recipes from Chinese Imperials
No Longer an Only Child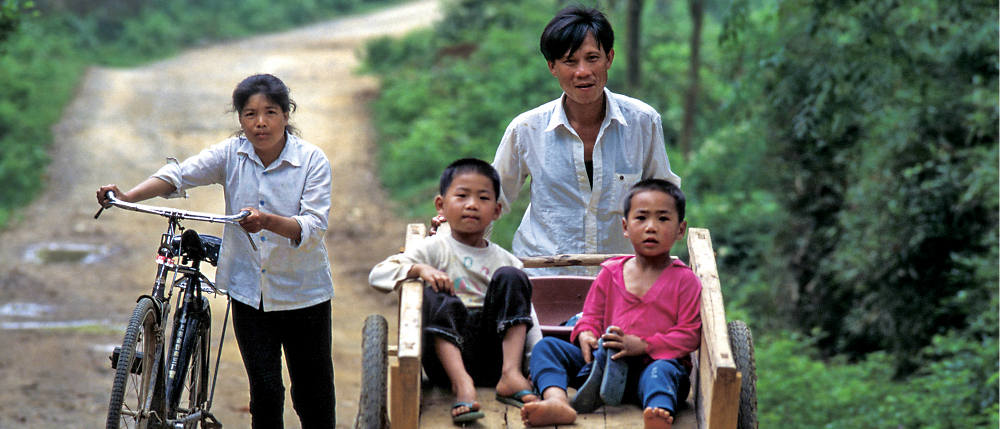 China relaxes its one-child policy
by Jesse Logan, from Dispatches
A new generation of Chinese girls and boys may soon know what it's like to have a brother or sister. Unlike their parents—many of whom were the only child in their family—these children will experience the promise of China's recent decision to ease its controversial one-child policy and transition into a two-child policy nation.
Having a second child is already permitted if both the husband and wife were only children. But the relaxation of the one-child limit will now allow couples to have up to two children if either spouse is an only child—as opposed to both—without being fined.
China hopes the policy change will address dwindling population growth, low birth rates, and a looming shortage of young people entering the workforce. While it may not spell another baby boom, Chinese officials say the change could mean an additional one million births—on top of 15 to 16 million babies born each year—and help bolster the country's place as the world's second largest economy.
Even more significant though for families and the population at large is the possible emergence of a slow paradigm shift for the Chinese government. For decades, the communist state has been reluctant to make changes to any of its policies. However, the easing of the one-child policy is among a suite of 60 proposed social, economic, and legal reforms—including the abolishment of labor camps—that could represent the government's attempts to overhaul some of its most notorious policies amid growing public scrutiny.
By the time the one-child policy was enacted in 1979 by China's Communist Party, the population had soared to more than 975 million people (compared to 807 million in 1969). In the early 1970s, birth rates in China reached nearly five children per woman, according to the United Nations. And the government feared that a surging population rate in the country's largest municipalities would put a strain on the availability of food and other natural resources.
As a consequence of the one-child policy's population control methods, officials estimate 250 to 400 million births were prevented over the last three decades. In cities like Guangzhou, Shanghai, and Beijing, many couples were restricted to having one child, and were forced to pay exorbitant fines if they had more. More than 500,000 paid employees from China's National Population and Family Planning Commission enforced the policy by levying fines on those they deemed in violation of the strict mandate. By 2011, the birth rate dipped to 1.64 children.
Wealthier couples simply went ahead, had more children, and paid the fine, whereas middle-income families didn't have that luxury. In less populated rural areas, the family planning rules were more relaxed if the first child was a girl or if the couple was from an ethnic minority.
But the bureaucratic enforcement of the policy has not been without human and moral costs. The fines, or "social compensation fees," as the Chinese government calls them, could be three to ten times a household's annual income. And the fees have been widely criticized for leading to rampant abandonment of baby girls by poor couples who could not afford to pay the fines for a second female child, let along raise them, and feed themselves.
In a historically patriarchal society, where sons not only carry the family name but are primary breadwinners for the family, the policy has exacerbated a gender imbalance with boys outnumbering girls by about 117 to 100, according to the latest Chinese census numbers. As a result, some reports claim that as many as 40 million Chinese men haven't been able to marry or have children of their own, because of the imbalance.
Calls to end the one-child policy have also grown, following reports of forced and sex-selective abortions, involuntary sterilizations, and female infanticide. Opponents of the policy, including human rights groups working in the U.S. and in Hong Kong, are urging the Chinese government to dismantle the system because of its brutal effects on women and children. On the bright side though, many of these children have found homes in the U.S. China has reportedly placed more than 80,000 children (91% female) with families abroad—70% of which are American.
Despite reports that the new administration will lift all birth restrictions by 2020, senior officials with China's National Health and Family Planning Commission tell The New York Times that there are no plans to further relax the policy to allow for more than two children.
However, there is progress. And with time comes more hope for Chinese families. China's provinces are beginning to set their own timeframes for implementing the new reforms, with the Chinese government encouraging them to do so posthaste. While couples nationwide will have the added liberty to welcome a second child without scrutiny, they will have to apply for a permit. Some couples may choose not to have a second child—despite being eligible—because of economic constraints and the pressures to be successful and prosperous in Asia's competitive market. But the silver lining is that now with the two-child policy, they at least have a modicum of flexibility to expand their family. And of course, there's still hope expressed around the world that China will eventually scrap limitations on family size altogether.
China relaxes its one-child policy