Forgot Your Username
If you have forgotten your username, please provide your email address in the box below. We'll send you an email with your requested username. If you are having trouble, please call us toll-free at 1-800-221-0814.
Email Sent
You'll receive an email in a few minutes. Please check this email to find your requested username.
If you do not receive an email or you are having trouble logging into My Account, please call us at 1-800-221-0814.

COSTA RICA
Costa Rica may be a small Central American country, occupying just .03% of the world's landmass, but the country boasts 5% of the world's biodiversity. Situated between the Caribbean Sea and the Pacific Ocean, Costa Rica boasts lush mountains, active volcanoes, and verdant valleys. The country's nutrient-rich soil is ideal for cultivating cash crops like coffee, pineapples, sugar, and bananas. In fact, Costa Rica is the third largest exporter of bananas in the world.
While the agricultural industry dominates Costa Rica's economy, it also emits large amounts of carbon dioxide into the atmosphere. As a result, the nation has been implementing new agricultural practices and making strides toward becoming the first carbon-neutral country in the world by 2021.
Costa Rica's former president, Jose Figueres, sparked the country's passion for environmental change in 1948 when he eliminated the nation's military. This bold move boosted funds for environmental protection, healthcare, and education. Costa Rica provides universal healthcare to all residents and expatriates living in the country, and the healthcare system ranks higher than the United States. Funding for education has also proved beneficial. Costa Rica is one of the most literate Latin American countries in the Western Hemisphere with a 96.3% literacy rate. This sustainable way of life, and these economic and environmental efforts, are why Costa Rica was named the world's happiest country in 2016 by the New Economics Foundation.
Most Popular Films
Films featuring Costa Rica from international, independent filmmakers
Pura Vida
We've been working with independent international filmmakers to provide you with films that portray the people, culture, and lifestyles of the countries you're interested in visiting. We believe this film offers a unique perspective on Costa Rica.
Produced by Franck Pinel
Costa Rican Rodeo
We've been working with independent international filmmakers to provide you with films that portray the people, culture, and lifestyles of the countries you're interested in visiting. We believe this film offers a unique perspective on Costa Rica.
Produced by Jordan Lee
Drone de Costa Rica
We've been working with independent international filmmakers to provide you with films that portray the people, culture, and lifestyles of the countries you're interested in visiting. We believe this film offers a unique perspective on Costa Rica.
Produced by Sebastien Duhem
Costa Rica Interactive Map
Click on map markers
below to view information about top Costa Rica experiences
Click here to zoom in and out of this map
Featured Reading
Immerse yourself in Costa Rica with this selection of articles, recipes, and more
ARTICLE
These strange, but lovable creatures are more complex than one might think. Learn more about these slow animals.
ARTICLE
Costa Rica's pacifist practices have been put to the test over the years—discover how this country has kept the peace.
ARTICLE
It's as if an artist took every color from his palette and painted Costa Rica's landscape with a colorful array of birds.
ARTICLE
O.A.T. associate Lauren McIsaac recounts some stand-out moments from her Real Affordable Costa Rica trip.
Compare Our Adventures
Click 'Select to Compare' to see a side-by-side comparison of up to adventures below—including
activity level, pricing, traveler excellence rating, trip highlights, and more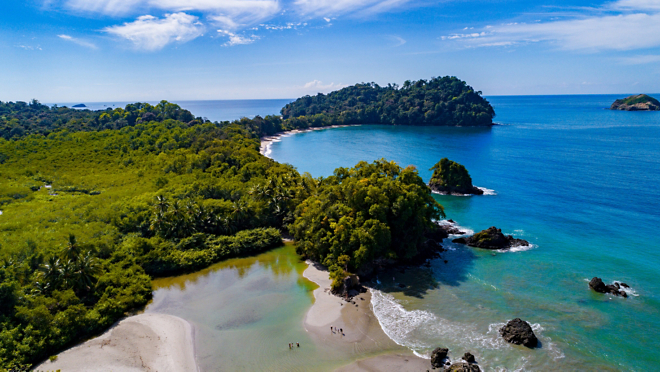 14 DAYS FROM $2,995 • $ 214 / DAY
Small Group Adventure
Costa Rica: Santa Ana, Sarapiquí, La Fortuna, Guanacaste, Pacific Coast
32 meals—daily breakfast, 9 lunches, 10 dinners (including 1 Home-Hosted Lunch)
Experience the cultural and natural wonders of Poás National Park
Discover Manuel Antonio National Park's biologically diverse landscape
Enjoy the therapeutic thermal pools in Guanacaste
White water raft down the Sarapiqui rapids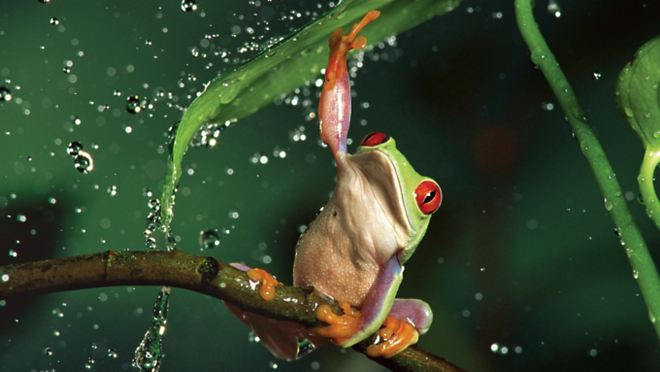 13 DAYS FROM $2,995 • $ 231 / DAY
Small Group Adventure
Costa Rica: San José, San Carlos, Arenal, Monteverde, Manuel Antonio, San Gerardo de Dota
29 meals—daily breakfast, 9 lunches, and 8 dinners (including 1 Home-Hosted Lunch)
Discover Manuel Antonio National Park's wondrous wildlife
Witness the natural diversity of Monteverde Cloud Forest Biological Reserve
Set out to San Gerardo de Dota to spot the legendary Quetzal
Get acquainted with San José during a sightseeing tour of the city's highlights
Compare Adventures
Find the Adventure That's Right for You
Our Activity Level rating system ranks adventures on a scale of 1 to 5 to help you determine if a trip is right for you. See the descriptions below for more information about the physical requirements associated with each rating.
Activity Level 1:
1 2 3 4 5
Easy
Travelers should be able to climb 25 stairs consecutively, plus walk at least 1-2 miles over some uneven surfaces without difficulty. Walks typically last at least 1-2 hours at a time. Altitude can range from zero to 5,000 feet.
Activity Level 2:
1 2 3 4 5
Moderately Easy
Travelers should be able to climb 40 stairs consecutively, plus walk at least 2-3 miles over some uneven surfaces without difficulty. Walks typically last for at least 2-3 hours at a time. Altitude can range from zero to 5,000 feet.
Activity Level 3:
1 2 3 4 5
Moderate
Travelers should be able to climb 60 stairs consecutively, plus walk at least 3 miles over some steep slopes and loose or uneven surfaces without difficulty. Walks typically last for 3 or more hours at a time. Altitude can range from 5,000 to 7,000 feet.
Activity Level 4:
1 2 3 4 5
Moderately Strenuous
Travelers should be able to climb 80 stairs consecutively, plus walk at least 4 miles over some steep slopes and loose or uneven surfaces without difficulty. Walks typically last for 4 or more hours at a time. Altitude can range from 7,000 to 9,000 feet.
Activity Level 5:
1 2 3 4 5
Strenuous
Travelers should be able to climb 100 or more stairs consecutively, plus walk at least 8 miles over some steep slopes and loose or uneven surfaces without difficulty. Walks typically last for 4 or more hours at a time. Altitude can range from 10,000 feet or more.
Hide Acivity Level
TRAVELER EXCELLENCE RATING
PRICE
including international airfare
HIGHLIGHTS & ACTIVITIES IN COSTA RICA
*This information is not available for our trip extensions. You must reserve the main trip to participate on this extension.
**This information is not currently available for this trip. Please check back soon.
Costa Rica's Sloths
Are these the rain forest's strangest creatures?
by Catherine Groux, from Dispatches
When Spanish writer and historian Gonzalo Fernandez de Oviedo y Valdes first saw sloths on a 16th-century visit to Central America, he wrote that he had never seen such ugly and useless creatures. Modern explorers often meet sloths with the same level of confusion and hesitation—after all, sloths are one of the rain forest's most peculiar creatures. While they are related to anteaters and armadillos, sloths look like neither one, and further separate themselves from other mammals with their lower body temperatures, slow metabolism, and unique skeletal structure. Simply put, there is no creature quite like a sloth.
Sloths are found in the rain forest canopies of Central and South America. While there were once many species of sloths roaming the Earth—including ground-dwelling sloths roughly the size of an adult elephant—today there are five species, which are divided into two families: two-toed and three-toed. Costa Rica in particular houses both two- and three-toed sloths, which can be found in areas like La Fortuna, Monteverde, Tortuguero, and Corcovado, lounging in treetops and feasting on leaves, twigs, and fruit.
With this nutritionally poor diet, sloths conserve their energy by digesting their food very slowly, boasting the slowest digestive rate of any mammal. In fact, their multi-chambered stomachs can take months to digest plant matter. At the same time, sloths preserve energy with their relatively low body temperatures, which, at night, can decline enough to match that of the environment. This low, variable body temperature is highly unusual in mammals, which tend to maintain a constant, higher body temperature.
And of course, moving only when necessary also helps sloths save energy. Known simply as perezosos ("lazy") in Spanish, sloths are famous for their lethargic lifestyle—and for good reason. The average sloth sleeps or rests for about 15 to 20 hours a day, although their specific sleeping schedules vary. Two-toed sloths, for example, are nocturnal, but three-toed sloths may be active at any point during the day or night. However, regardless of the species, these creatures tend to be motionless even when they're awake, only moving when absolutely necessary. In addition to helping them conserve energy, this also allows sloths to hide from predators, blending into the forest canopy with their brown fur, which is often tinged green from algae growth.
However, when sloths need to be on the lookout for predators, they have another interesting advantage: their unusual number of neck vertebrae. While all but a few mammals have seven neck vertebrae, three-toed sloths can have as many as ten. With this unique evolutionary trait, three-toed sloths can rotate their heads up to 270 degrees. This means that a sloth can easily move its head to scan for danger without having to move the rest of its body—yet another method of saving precious energy.
While these qualities make sloths well equipped for life in the treetops, they don't spend their entire lives in the canopy: Sloths climb down from their high-up homes about once a week to defecate and urinate. During this weekly custom, they descend to the base of the tree, dig a small hole, void themselves, and cover their droppings. This 30-minute ritual not only uses a lot of energy, but it also puts sloths at great risk of being captured by predators, such as jaguars and ocelots, which are far better suited to life on the forest floor than the arboreal sloths. For this reason, biologists are still confused about why sloths would continue their risky trips to the ground.
Sloths are not natural fighters, but when they find themselves cornered by a predator on the forest floor, they are forced to rely on their only method of defense: their razor-sharp claws. These three- to four-inch-long claws are designed to help sloths hang upside down from tree branches for days at a time, but if a sloth feels threatened—either by a predator or a fellow sloth trying to infringe on its space—it will fight for its life with these sharp claws.
As Oviedo y Valdes wrote in the 16th century, sloths are certainly not the most attractive or active animals in the rain forest. But throughout time, they have evolved to become perfectly suited for a lethargic life in the canopy, where they can still be seen today—lazing in the trees with a quiet smile, blissfully unaware that they are one of the world's strangest creatures.
Are these the rain forest's strangest creatures?
Costa Rica's Hard-Fought Peace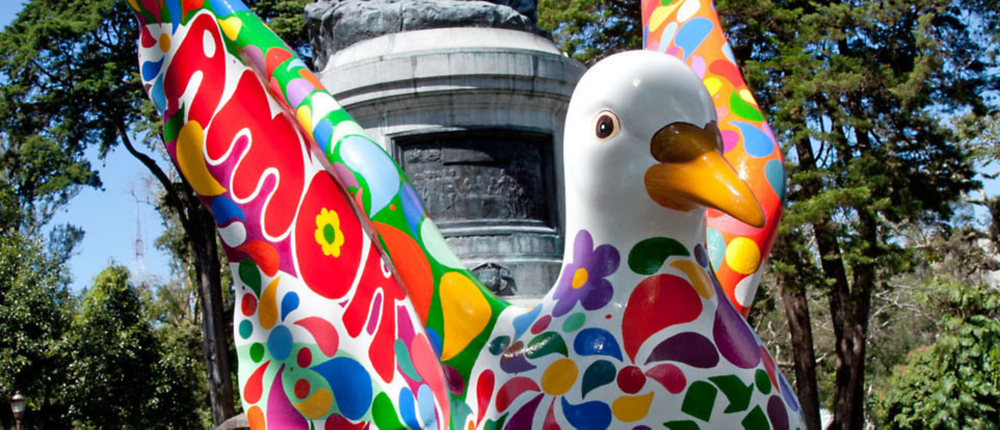 60 years without an army
by David Valdes-Greenwood, for O.A.T.
On a university campus in Costa Rica, there is a plaque on a concrete wall that might catch your eye if you were strolling by. It bears a simple message only three lines long, but its words are powerful: "Happy is the mother who knows her son will never have to be a soldier."
If you headed into the countryside to visit a rural elementary school just a few miles away, you'd be greeted by a colorful hand-painted sign quoting Pope Paul VI: "Peace is great; Peace is necessary; Peace is the object of much search and much devotion. It is very difficult—extremely difficult—but not impossible."
Fighting for peace
From early childhood onward, Costa Ricans—Ticos as they prefer to be called—are taught to value peace and to see the benefits of pacifism. And they don't have to look far: Their country has no standing army, so funds that once would have gone to the military are funneled into education and social programs instead. The result is that Costa Rica is routinely rated the safest country in Central America, with the longest life expectancy in Latin America, and in 2012, it ranked first among all nations in three different "happiness index" lists.
But it wasn't always that way. The grandparents of today's schoolchildren may still remember when it took bloodshed to bring on this era of pacifism.
For more than 120 years, Costa Rica had an army. From the time of the nation's independence in 1821 onward, the military had been an arm of the government, both for good—such as when it repelled an invasion from Nicaragua—and for ill, including when it supported an early 20th-century dictatorship. But in 1948, when the military backed the annulment of democratic elections, and then surrounded the house where the popularly elected candidate was meeting supporters (one of whom was shot), the nation erupted into a civil war lasting 44 days and killing thousands.
Leading the charge of the opposition was José Figueres, an MIT-trained engineer whose force of 700 volunteers had been undermining the government for the previous two years. With deep support from the citizenry, Figueres earned the endorsement of the United States and eventually expelled the old regime. On his watch, a new, more democratic constitution was drafted, allowing women and black Ticos to vote. But its most famous provision was one in which the standing army was disbanded for good.
This made Costa Rica one of the few independent nations in the world that had no military. The idea of a peace as a national value made it a magnet for pacifists from other parts of the globe. Among them were a group of American Quakers, led by Wilford Guindon, who settled in Monteverde and became successful dairy farmers—as some of their descendants remain to this day.
Preserving pacifism
Remaining pacifist has not always been easy for Costa Rica. During the 1980s, with civil wars playing out in several neighboring countries at once, some wondered if Costa Rica might have no choice but to re-arm. Instead, the citizens elected peace advocate Óscar Arias as president. He went on to draft accords between his country and Guatemala, El Salvador, Honduras, and Nicaragua that stabilized the entire region (and won him the Nobel Peace Prize).
In light of recent provocations from neighboring Nicaragua, Costa Rica's current president Laura Chinchilla—Arias' successor and Costa Rica's first female president— faces fresh doubts about how long the nation's pacifist status can be maintained. But for now, her opinion is firm. As she said in a recent speech to the U.N. General Assembly, "Peace must go beyond action. To educate for peace is to vaccinate against war."
60 years without an army
Birds of Costa Rica
An extraordinary diversity of winged wildlife
by Tom Lepisto, for O.A.T.
Costa Rica, although a small country, is home to more kinds of birds than the entirety of the United States and Canada: a total of 857 species, according to the official list of the country's Ornithological Association. This avian abundance is due to the fact that Costa Rica has a large variety of habitats—ranging from the Caribbean and Pacific coasts to mountaintops more than 11,000 feet high—and is located at a spot where species from South and North America converge. As a result, there is feathered wildlife of every size, shape, and color in the country, including some of the world's most dazzling tropical birds.
Every shape and size
One indication of this tremendous diversity is the range of sizes among Costa Rica's birds. The smallest is the two-inch-long scintillant hummingbird, a mountain resident weighing less than one-tenth of an ounce that you might spot whirring around on a coffee plantation. The largest bird native to the country is the jabiru, a stork with a black head and white wings that can stand five feet tall with a wingspan of nine feet. You might take the scintillant hummingbird for a bumblebee as it flits by, but the sight of a jabiru spreading its huge wings as it takes flight from a river or pond could remind you more of an airplane.
Nature's kaleidoscope
The range of colors to be found among Costa Rica's birds spans every hue on the painter's palette—and in the case of the scarlet macaw, which has brilliant red, blue, and yellow tints, it seems as if they're all present at once. The resplendent quetzal is another large bird with eye-catching colors. The male has a crimson breast, a bright green "cloak" with a forked tail longer than his body, and stripes of white under the tail that add a decorative touch a fashion designer might envy. The female's feathers are a plainer solid green, but sparkle with an iridescence that adds a bit of glitter to the tropical mountain forests where these birds live.
Protecting Costa Rica's birds
Many of Costa Rica's colorful birds are faring well due to the country's dedication to preserving natural habitats—about 25% of its land is protected in parks or nature reserves. That has helped birdwatchers catch many splashes of bright color, from the orange rump on the Passerini's tanager in Guanacaste National Park to the red brow of the crimson-fronted parakeet in the Caño Negro Refuge and the scarlet head of the red-capped manakin in La Selva Reserve.
You can pick any part of a bird and find it diversified in Costa Rica. Take the beak—extended to impressive proportions (and with varied colors) in the country's six species of toucans. Among water birds, the boat-billed heron's broad beak is notable. This fascinating array of adaptations reflects the variety of food sources the birds have evolved to use: plucking fruit for the toucans, scooping shrimp from underwater mud for the heron.
In a country filled with brilliantly colored winged fauna, you might think that a bird like the quetzal would be the one chosen to represent the nation. But in fact, Costa Rica's national bird is the rather gray clay-colored robin, for reasons rooted in the country's agricultural history. The spring singing of the male robin coincides with the time of year when the rains arrive to water the crops planted by local farmers. So this grayish-brown bird was chosen as an appropriate symbol for a country where agriculture has long been a mainstay of the economy.
The sheer diversity of Costa Rica's birds is mind-boggling, and their rainbow of colors is a feast for the eyes.
An extraordinary diversity of winged wildlife
Just Back: Costa Rica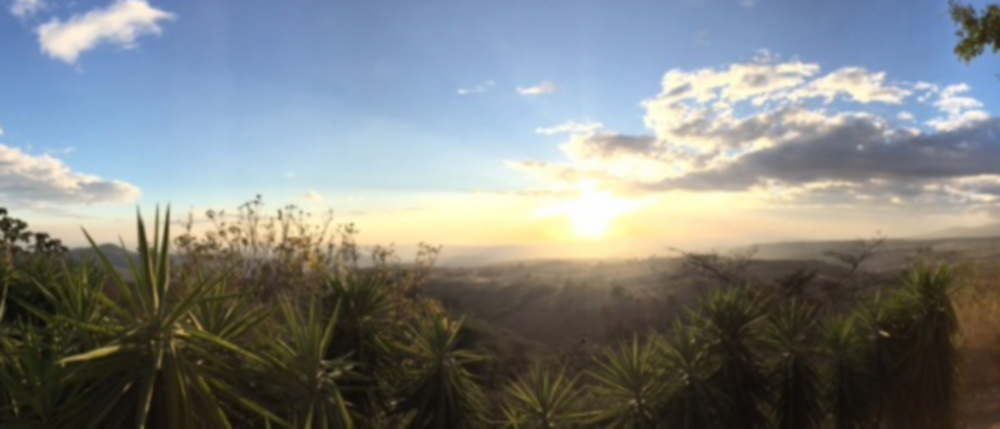 O.A.T. associate Lauren McIsaac talks trip highlights
by Rachel Fox
What do OAT associates do when they're not working? They travel. Just back from Real Affordable Costa Rica, 3-year associate, Lauren McIsaac, shares memorable moments, how she overcame a fear of heights, and why holding a sloth turned out to be a bad idea.
Why did you choose this trip?
After a record-breaking winter, I was eager to get somewhere warm. With the ease of getting to Costa Rica from the northeast, it was the perfect location to thaw out.

Biodiversity and the country's natural landscape play a starring role in the trip. How did that influence your experience?
To be honest, I've never considered myself much of a nature person, yet I loved everything from soaking in the natural hot springs in Guanacaste to watching the sunset every night. And spotting all of the brightly colored birds, reptiles, and monkeys while hiking through the rain forest was an unforgettable experience.

What was your favorite part of the trip?
It had to be white-water rafting down the Sarapiquí River. It was thrilling! And I also loved one of the optional tours to Limoncito Beach—we took outrigger boats to what felt like paradise.

Did you have any powerful first-time experiences?
I have a terrible fear of heights … as in the ugly cry comes out. But I knew there would be an opportunity to go zip-lining over the rain forest canopies, and getting up there would require pushing myself out of my comfort zone. When that moment arrived, I was petrified, but I looked around at my group—people of all ages and physical abilities—and just went for it. It was exhilarating and beautiful and I'm glad I crossed it off my bucket list—but I don't know that I'll be doing it again!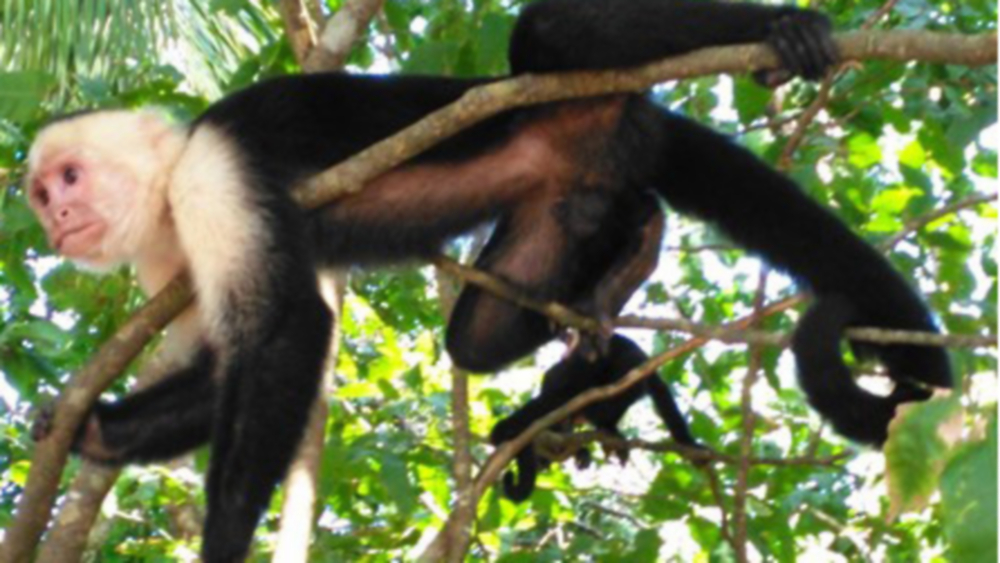 What were you most looking forward to in Costa Rica?
At the beginning of our trip, everyone wrote down their must-have experiences. This may sound strange, but more than anything, I wanted to hold a sloth. Well, that dream was quickly shut down—and for good reason. Our Trip Leader explained that sloths basically have an entire ecosystem living on them because they move so slowly. That meant numerous bugs, moths—you name it—living in their fur. So after learning that, I was quite satisfied to admire them from a safe distance.
[Photo Image 5]
Any final thoughts?
Pura Vida (Pure Life).
O.A.T. associate Lauren McIsaac talks trip highlights