Forgot Your Username
If you have forgotten your username, please provide your email address in the box below. We'll send you an email with your requested username. If you are having trouble, please call us toll-free at 1-800-221-0814.
Email Sent
You'll receive an email in a few minutes. Please check this email to find your requested username.
If you do not receive an email or you are having trouble logging into My Account, please call us at 1-800-221-0814.

EL SALVADOR
El Salvador, home to rugged mountain settings, rich coastal lands, and 23 active volcanoes, is the smallest Central American country—covering 8,000 square miles. Despite being labelled as the "Land of Volcanoes" and having a small land mass, El Salvador is home to around six million people, which is 18 times the size of Belize's population.
The country's turbulent history stretches back to 2000 BC when the Olmecs inhabited the land, followed by the Mayans, then the Toltec Empire, and finally the Pipil (descendants of the Aztecs). The Pipil people enjoyed a brief period of peace until Spanish conquistadors invaded the land in the early 16th century. The Spanish used the land to grow their wealth by cultivating crops like cotton and indigo. After a revolt against Spain in 1821, Central America gained its independence and El Salvador gained full independence in 1841.
But, the country's complicated history didn't end there. Throughout the 20th century, El Salvador suffered from political and economic unrest, which led to a forceful military government, coups, and a civil war. Today, El Salvador has a democratic government in place, but the economy is still recovering. The people of El Salvador utilize the fertile soil to grow coffee, sugar, corn, and rice—the country's main economic contributors.
El Salvador is still a small country of immense beauty. The country is famous for its long Pacific Ocean coastline which offers renowned surfing beaches and picturesque ocean-swept mountains. The Ruta de las Flores, one of the best ways to see the multi-faceted landscape of El Salvador, passes by coffee fields, markets in several small towns, and the rustic blend of colonial and indigenous architecture.
El Salvador, with its complicated past and stunning natural and developed beauty, is a rich destination off the beaten path. Its history, people, and landscapes give the traveler a panoramic view of all Central America has to offer.
El Salvador Interactive Map
Click on map markers
below to view information about top El Salvador experiences
Click here to zoom in and out of this map
Featured Reading
Immerse yourself in El Salvador with this selection of articles, recipes, and more
ARTICLE
The Mayan empire fell centuries ago, but their legacy is still felt throughout Central America.
ARTICLE
The ancient group painted human sacrifices head to toe in "Mayan blue." Discover more about the Mayans.
Get the Details On Our El Salvador Adventure
Find out more about the adventure, including activity level, pricing, traveler excellence rating, included meals, and more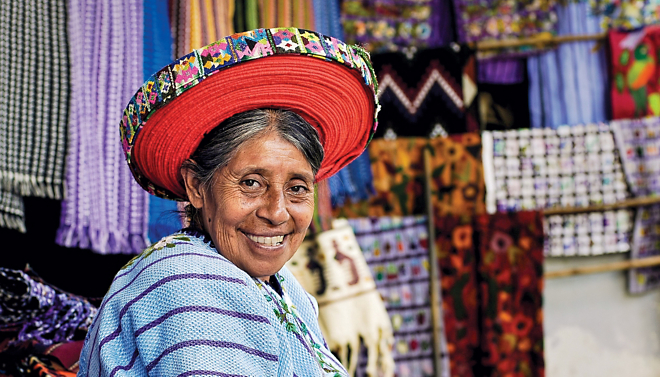 16 DAYS FROM $3,395 • $ 213 / DAY
Small Group Adventure
El Salvador: San Salvador • Honduras: Copán Ruinas • Guatemala: Guatemala City, Panajachel, Antigua • Belize: Belize City
35 meals—daily breakfast, 11 lunches, and 9 dinners (including 1 Home-Hosted Lunch)
Explore the charming colonial city of San Salvador
Take in the breathtaking San Salvador Cathedral and Boquerón Park
Investigate the everyday life of ancient natives at Joya de Cerén
Adventure Details
Find the Adventure That's Right for You
Our Activity Level rating system ranks adventures on a scale of 1 to 5 to help you determine if a trip is right for you. See the descriptions below for more information about the physical requirements associated with each rating.
Activity Level 1:
1 2 3 4 5
Easy
Travelers should be able to climb 25 stairs consecutively, plus walk at least 1-2 miles over some uneven surfaces without difficulty. Walks typically last at least 1-2 hours at a time. Altitude can range from zero to 5,000 feet.
Activity Level 2:
1 2 3 4 5
Moderately Easy
Travelers should be able to climb 40 stairs consecutively, plus walk at least 2-3 miles over some uneven surfaces without difficulty. Walks typically last for at least 2-3 hours at a time. Altitude can range from zero to 5,000 feet.
Activity Level 3:
1 2 3 4 5
Moderate
Travelers should be able to climb 60 stairs consecutively, plus walk at least 3 miles over some steep slopes and loose or uneven surfaces without difficulty. Walks typically last for 3 or more hours at a time. Altitude can range from 5,000 to 7,000 feet.
Activity Level 4:
1 2 3 4 5
Moderately Strenuous
Travelers should be able to climb 80 stairs consecutively, plus walk at least 4 miles over some steep slopes and loose or uneven surfaces without difficulty. Walks typically last for 4 or more hours at a time. Altitude can range from 7,000 to 9,000 feet.
Activity Level 5:
1 2 3 4 5
Strenuous
Travelers should be able to climb 100 or more stairs consecutively, plus walk at least 8 miles over some steep slopes and loose or uneven surfaces without difficulty. Walks typically last for 4 or more hours at a time. Altitude can range from 10,000 feet or more.
Hide Acivity Level
TRAVELER EXCELLENCE RATING
PRICE
including international airfare
HIGHLIGHTS & ACTIVITIES IN EL SALVADOR
*This information is not available for our trip extensions. You must reserve the main trip to participate on this extension.
**This information is not currently available for this trip. Please check back soon.
From Ancient Empire to Contemporary Culture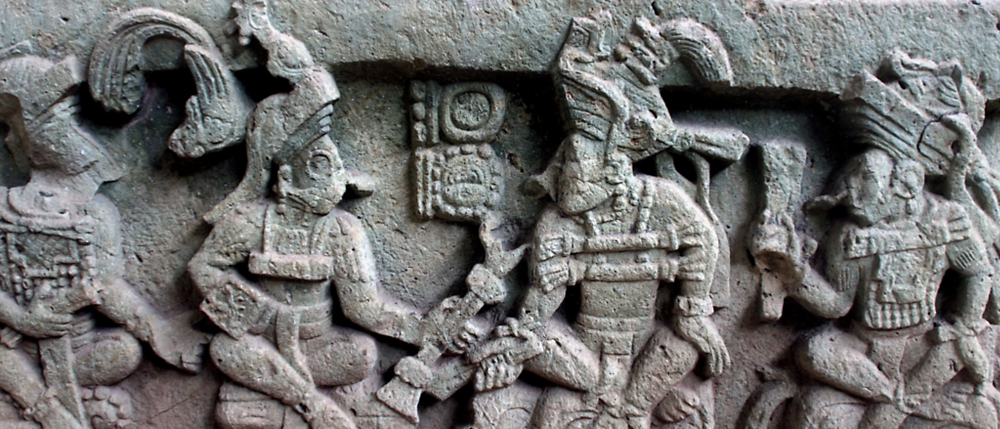 The Maya then and now
for O.A.T.
Although the Mayan Empire ended, the Maya continued to thrive in agricultural villages throughout the mountains of Central America ...
When Hammurabi ruled Babylonia and the ancient Egyptians were under Hyksos influence in the 13th Dynasty, another great empire was forming in the Americas. The ancient Maya began as farmers but went on to develop some of the most advanced forms of architecture, mathematics, language, and religion known to the Americas at the time. Even after the end of their 2,700-year reign of power in the region, the Maya continue to wield their influence on contemporary Central American culture, particularly in Guatemala, where modern Maya people comprise approximately 40% of the population.
Using glyphs to understand the past
It is through ancient Maya monuments, art, and architecture that scholars learned about the system of Maya writing, which many suspect is ancient Mesoamerica's first writing system and the only ancient language in this region to be comprehensively translated. One of the landmark examples of Maya writing is the Hieroglyphic Stairway, consisting of 1,800 ascending glyphs in Copán, an ancient Maya city in western Honduras. While ancient Maya scribes created glyphs both in stones and in paper texts, the Spanish conquistadors burned most of the paper texts in the 16th century while converting the Maya to Christianity, and discouraged the use of Maya script. After the last of the Maya scribes died out, the text remained untranslated until Western explorers in the 1880s renewed interest in the glyphs.
The glyphs themselves were not fully translated until the 1980s—and a world of dynastic succession and a society beset with violent conquest and gruesome religious sacrifice came to life. The texts and stone carvings also illustrate vivid mythologies, the most seminal of which involves mortal twin brothers fighting gods in the underworld, eventually going on to feed the Maya and then transforming into the sun and moon.
Uncovering the world of everyday Maya
While ancient cities like Copán and Tikal harken to a golden age of architecture, art, and ideology in Maya civilization, our understanding of ancient Maya life greatly improved with the 1976 discovery of the village of Cerén, located in western El Salvador. Called "the Pompeii of the New World" because it was enveloped in volcanic ash in AD 590, the site serves as a time capsule for daily life in a small village of that era. Though it appears the residents had time to escape the eruption, they left behind an impeccably preserved village. Excavations revealed that cassava was widely grown. Some archaeologists have posited that this hardy, nutritious tuber—which remains a staple to this day—may have enabled the Maya Empire to accommodate up to two million subjects at its peak.
Although the Maya Empire ended, the Maya continued to thrive in agricultural villages throughout the mountains of Central America—and their cultural heritage still lives on today. Throughout Spanish conquest, they maintained the spoken language of their ancestors, of which there are dozens of dialects spoken in Guatemala alone. Maximón, the ancient Maya god of the underworld, was reincarnated as San Simón after hundreds of years of forced conversion of the Maya people to Roman Catholicism. In addition to a name change, Maximón also got a bespoke makeover and is usually seen in 18th-century European clothes. Many handcrafts produced in the region today reflect the art of their ancient ancestors, such as jade carvings and intricate textiles. The historic and contemporary legacy of the Maya serves as a window to their civilization at its peak, a haunting reminder of the impermanence of great empires, and a reminder of how the roots of the past give shape to a vibrant modern existence.
The Maya then and now
7 Things You Never Knew About the Maya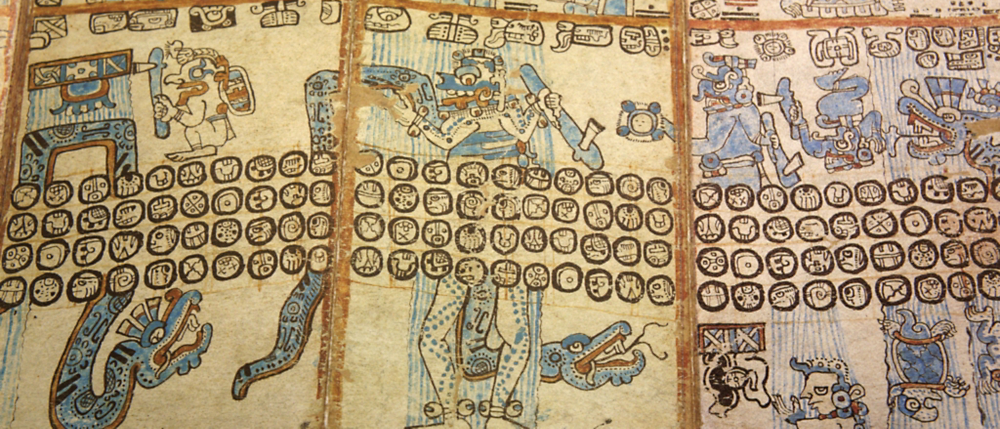 Shedding light on an ancient empire
by David Valdes Greenwood, for O.A.T.
Between 250 and 900 AD, the Maya reigned in Central America. But by 1000 AD, they had vanished—taking many of the keys of their culture with them.
Still, some fascinating facts have been gathered, and below, you can test your knowledge of this once-thriving civilization:
1. They had their own Farmer's Almanac
You probably knew the Maya created a written language (the only one in Mesoamerica), but did you know they wrote books, too? These codices—one of which was 122 pages long—included predictions for the tides, eclipses, weather patterns, and sun cycles. Sadly, when the Spanish conquistadors arrived, they burned all but four of these books.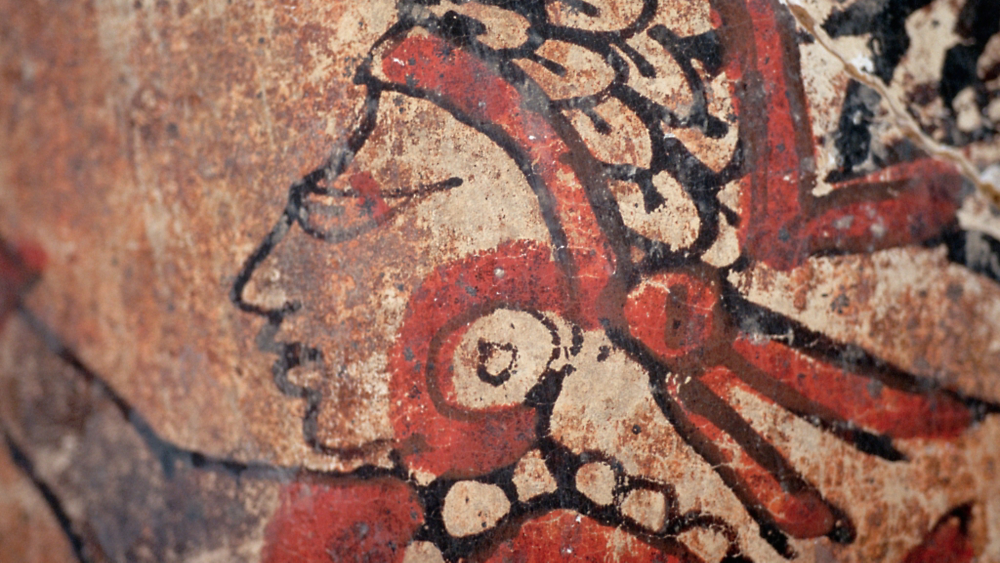 2. They were never satisfied with their looks
From an early age, the Maya tried to change their features: They hung little balls close to babies' faces to make them cross-eyed, attempted to flatten their children's foreheads by strapping boards upon them, and modified adult teeth to keep up with local beauty notions—adding inset gems and precious stones for personal style.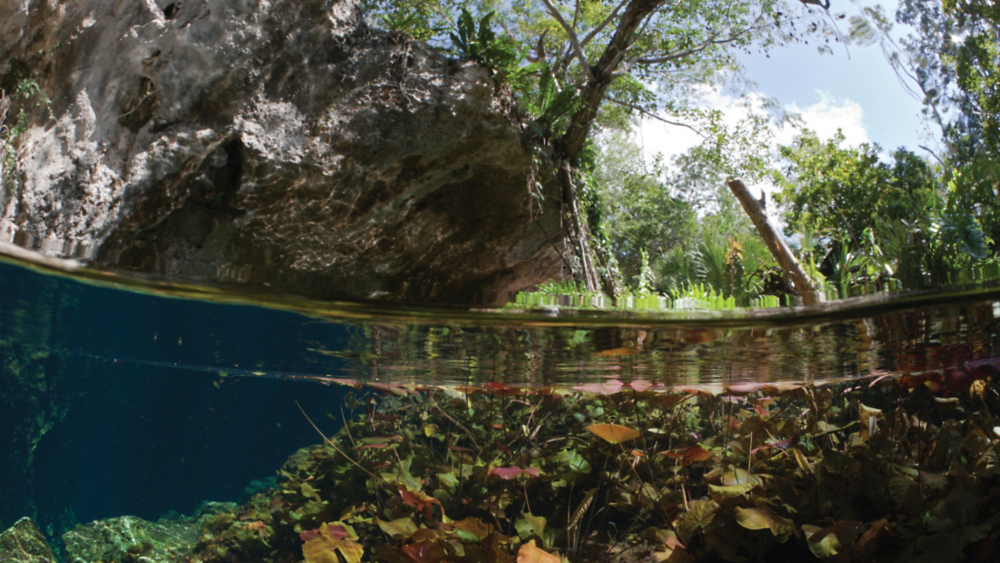 3. The Mayan underworld was literally under foot
The underworld was known as Xibalba, and it could be entered easily: A massive waterway flowed beneath Mayan territory, with 2,500 natural entrances (known as cenotes) leading to subterranean cave networks. The Maya believed they could feel the pull of the underworld by standing in a cenote–which explains why it was a site for human sacrifices.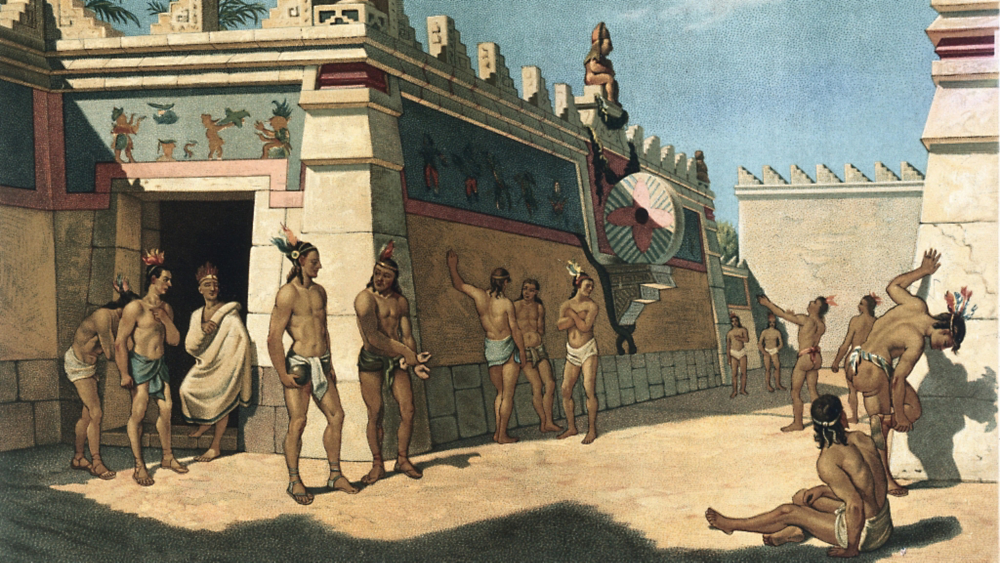 4. They lost their minds over sports
At Copán and elsewhere, they built massive courts for a game similar to racquetball—only the ball they used was much heavier. And depictions of the game are disturbing: Decapitation is a common element, leaving experts unsure if the hefty ball could knock the players' heads off, or whether actual skulls were used in game play.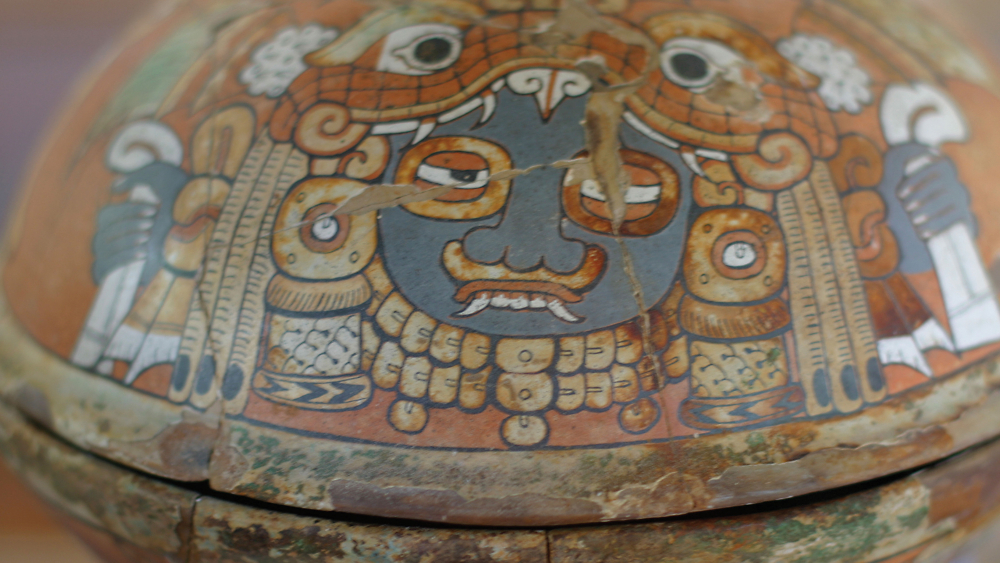 5. "Mayan Blue" was a color to die for
The Maya created a blue pigment that was almost indestructible—in fact, it's still visible in pottery and murals more than 1,500 years later. But some uses of the color were intended to be literally perishable: at Chichen Itza, human sacrifices were painted Mayan Blue head to toe before being offered to the gods.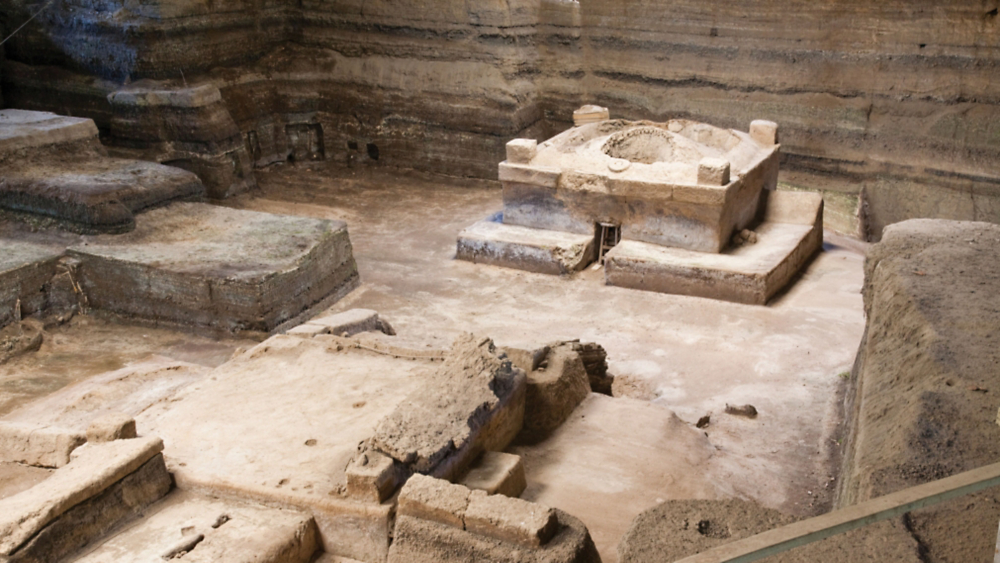 6. Pregnancy earned women spa days
The Maya loved spending time in a zumpul-ché, a vented stone chamber where water was poured over hot rocks, yielding steam to bask in. Similar to a modern sauna and used for restorative purposes, they were popular with expectant mothers in need of a boost.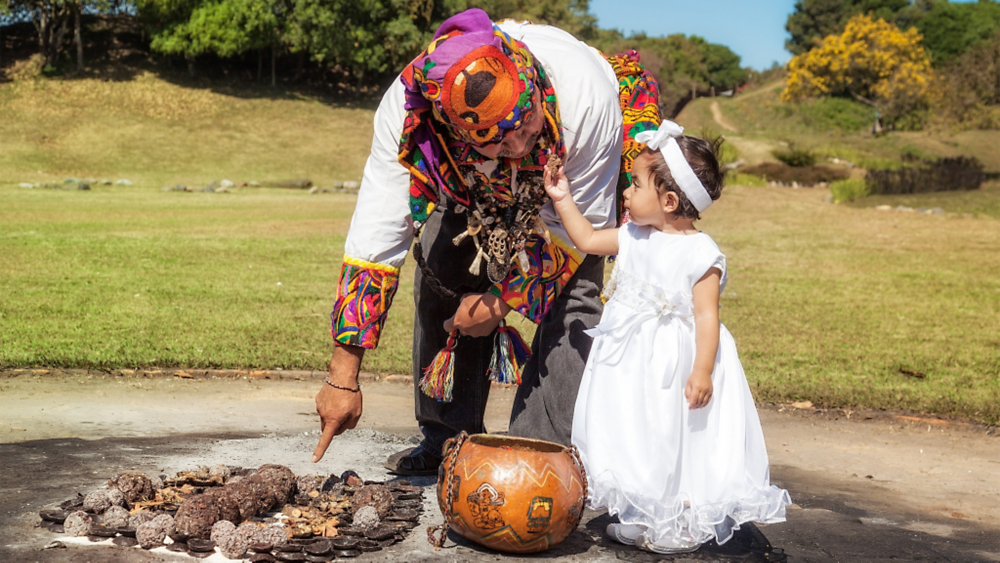 7. Some cherished traditions live on
In Hetzmek, the ancient Maya version of a christening, a child of three or four months was carried on a godparent's hip, the infant's legs straddling either side. The open legs symbolized the community preparing the child to walk through life. Hetzmek was being practiced when the Spanish arrived, and the tradition is still observed by many of the seven million Maya who still live in the region today.
Shedding light on an ancient empire