Forgot Your Username
If you have forgotten your username, please provide your email address in the box below. We'll send you an email with your requested username. If you are having trouble, please call us toll-free at 1-800-221-0814.
Email Sent
You'll receive an email in a few minutes. Please check this email to find your requested username.
If you do not receive an email or you are having trouble logging into My Account, please call us at 1-800-221-0814.

FINLAND
Finland is a country of endless pine forests, surreal winter landscapes, and a modern culture respectful of her nature. With nearly 75 percent of the country covered in trees and nearly 190,000 lakes, 5.5 million Finns maintain an exemplary instance of balance between man and the elements.
With the receding of massive glaciers from the last Ice Age around 8500 BC, people began populating Finland. Until the twelfth century, a separate Finnish culture—with a distinct language born around the first century—thrived with other Scandinavian peoples until conquest by Sweden through a series of religious crusades. During the Protestant Reformation of the 16th century, the official religion of Finland became Lutheranism: Today, more than 70 percent of the population is members of the Lutheran Church.
It was during the "Wraths"—two major wars between Sweden and Russia in the 18th century—and the Finnish War in the early 19th century that eventually made Finland a territory of the Russian Empire. It's during this time the Russian Tzar rebuilt a destroyed Helsinki, leaving his architectural footprint on Finland's capital that exists to this day.
Since claiming independence from Russia in 1917, Finland has become a major manufacturing center as well as a mecca for music, art, and design. Yet its natural wonders—the swirling luminescence of the Northern Lights in Lapland to the north, the complex system of lakes used as transportation today, and the mythical home of Santa Claus at Korvatunturi to name a few—place Finland as both a land of wondrous nature as well as fascinating culture.
Whether enjoying a relaxing sauna or drinking a beer under the "midnight sun", Finland is a place where the sweetness of life takes center stage.
Most Popular Films
Films featuring Finland from international, independent filmmakers
Welcome To Helsinki
Glide above peaceful, picturesque Helskini—from its boat-filled ports to its grand cityscape.
Produced by www.skycam.ee
Sense the Silence
Escape to Finland in this film to experience the tranquility of snow-covered landscapes and night sky wonders.
Produced by Riku Karjalainen
Intersection: Helsinki
Quirky, stylish, and above all friendly—meet some of the young locals of Helsinki's Kallio neighborhood.
Produced by Shern Sharma
©2014 THE NEW YORK TIMES
Finland Interactive Map
Click on map markers
below to view information about top Finland experiences
Click here to zoom in and out of this map
Featured Reading
Immerse yourself in Finland with this selection of articles, recipes, and more
ARTICLE
Learn about the evolving roles of Scandinavia's Sami women
ARTICLE
Discover the influences and innovators that established Finland's capital as a global design destination.
Compare Our Adventures
Click 'Select to Compare' to see a side-by-side comparison of up to adventures below—including
activity level, pricing, traveler excellence rating, trip highlights, and more
17 DAYS FROM $6,495 • $ 383 / DAY
Small Ship Adventure
First departure: 4/26/18
Days in Finland
4
Norway: Oslo, Flam, Bergen, Alesund, Trondheim, Rorvik, Bodo, Svolvaer, Tromso, Kirkenes • Finland: Ivalo, Helsinki
38 meals—15 breakfasts, 11 lunches, and 12 dinners
Investigate Lapland culture at the Siida Museum in Ivalo
Learn about the ancient Sami people by visiting one of their families
Enjoy a Home-Hosted dinner to learn about Finnish culture
Take a tour of Helsinki, Finland's capital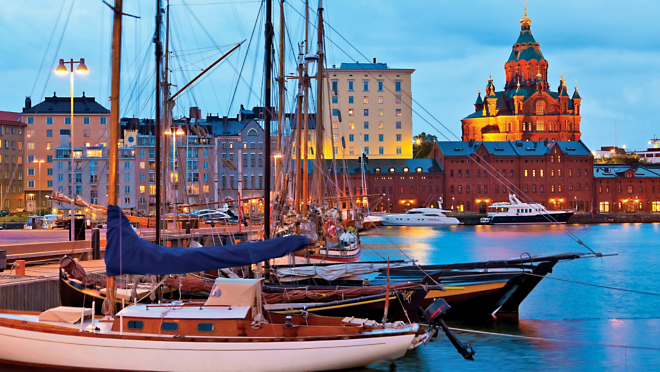 Please call for pricing
Small Ship Adventure
Denmark: Copenhagen, Ronne • Poland: Gdansk • Sweden: Visby, Stockholm • Latvia: Riga • Estonia: Tallinn • Russia: St. Petersburg • Finland: Helsinki
40 meals—16 breakfasts, 12 lunches, and 12 dinners (plus all onboard house beer & wine, as well as soft drinks)
Visit Hakaniemi Market Hall
Take a city tour including a stop at the Sibelius Monument
Enjoy a free afternoon to explore beautiful Senate Square
Compare Adventures
Find the Adventure That's Right for You
Our Activity Level rating system ranks adventures on a scale of 1 to 5 to help you determine if a trip is right for you. See the descriptions below for more information about the physical requirements associated with each rating.
Activity Level 1:
1 2 3 4 5
Easy
Travelers should be able to climb 25 stairs consecutively, plus walk at least 1-2 miles over some uneven surfaces without difficulty. Walks typically last at least 1-2 hours at a time. Altitude can range from zero to 5,000 feet.
Activity Level 2:
1 2 3 4 5
Moderately Easy
Travelers should be able to climb 40 stairs consecutively, plus walk at least 2-3 miles over some uneven surfaces without difficulty. Walks typically last for at least 2-3 hours at a time. Altitude can range from zero to 5,000 feet.
Activity Level 3:
1 2 3 4 5
Moderate
Travelers should be able to climb 60 stairs consecutively, plus walk at least 3 miles over some steep slopes and loose or uneven surfaces without difficulty. Walks typically last for 3 or more hours at a time. Altitude can range from 5,000 to 7,000 feet.
Activity Level 4:
1 2 3 4 5
Moderately Strenuous
Travelers should be able to climb 80 stairs consecutively, plus walk at least 4 miles over some steep slopes and loose or uneven surfaces without difficulty. Walks typically last for 4 or more hours at a time. Altitude can range from 7,000 to 9,000 feet.
Activity Level 5:
1 2 3 4 5
Strenuous
Travelers should be able to climb 100 or more stairs consecutively, plus walk at least 8 miles over some steep slopes and loose or uneven surfaces without difficulty. Walks typically last for 4 or more hours at a time. Altitude can range from 10,000 feet or more.
Hide Acivity Level
TRAVELER EXCELLENCE RATING
PRICE
including international airfare
HIGHLIGHTS & ACTIVITIES IN FINLAND
*This information is not available for our trip extensions. You must reserve the main trip to participate on this extension.
**This information is not currently available for this trip. Please check back soon.
Reindeer People
The evolving roles of Scandinavia's Sami women
by Pamela Schweppe, for Grand Circle
As they are assimilated into modern society, the Sami are becoming more involved in world politics.
In the language of the Sami people, the word gaba means "capable and independent woman." For the northernmost indigenous population of Europe, hardy self-reliance and the ability to thrive in an inconsiderate environment are germane to the Sami identity. Consciously living off nature is simply an environmental and economic necessity.
The Sami, who number around 75,000, make their homes in the remote areas of Norway, Sweden, Finland, and the Kola Peninsula in northwestern Russia. Fishing and fur trapping are vital to the economy, as is their most distinctive livelihood: reindeer herding. But this long-cherished practice—and much of the culture that surrounds it—is slowly being phased out by assimilation and modernization.
With global connectedness slowly replacing collective family units (known as siida), and with small-scale reindeer herding becoming less viable economically in the modern age, fewer and fewer Sami engage in this traditional practice. Currently, approximately 10% of Sami are active herders. As elements of their indigenous language, culture, and history are lost, gender roles and norms slowly disappear as well.
A woman's dissipating domain
For centuries, women's domain as primary caretakers was imparting indigenous cultural knowledge, in addition to crafting warm fur clothing so crucial for surviving Scandinavian winters. The post-World War II policy of rationalization put pressure on the Sami to adopt mainstream Norwegian culture, which marginalized many indigenous practices. In addition, the increasing availability of consumer goods has nearly erased the need for hand-sewn fur clothing, creating an empty space where women once made significant contributions.
Today, many young, educated Sami women are leaving their close-knit rural communities to live and work in urban areas. To counteract this trend, Sami leaders are taking measures to increase the desirability of rural work, including job placement assistance, entrepreneurial training, and small business financing. However, larger and more ambitious reforms, such as Norway's "High North" policy, still focus predominantly on traditionally male-dominated industries such as construction and mining, providing fewer outlets for traditionally female career paths.
Older generations of Sami looked to a number of female deities for comfort and guidance. Mattarahkko, the primeval mother, and her three daughters—Sarahkka, Juksahkka, and Uksahkka—once helped women through different stages of their lives. In this spirit, Sami women have organized a group called Sarahkka to bring their plight to the national stage. It's indicative of a growing trend of political activism to protect and preserve Sami culture.
The rise of Sami feminism
A burgeoning feminist movement was sparked in the 1970s in an attempt to equalize the rights shared by male and female reindeer herders. The World Council for Indigenous People (WCIP), founded in 1975 in part by Sami people, has also helped bring an international perspective to the plight of the Sami. Additionally, the Norwegian Council for Cultural Affairs has established programs to preserve and celebrate Sami culture.
The identity of Sami women still exists at a crossroads. No longer required to maintain traditional reindeer-herding practices, they are tasked with finding more modern means of contributing. Existing outside the boundaries of what you've known for centuries, however, is never an easy transition. Half of the Sami people now live in urban areas such as Oslo, Norway (you can visit this scenic city during our Norwegian Coastal Voyage & Lapland Small Ship Cruise Tour). As they are assimilated into modern society, the Sami are becoming more involved in world politics. With greater access to resources and media, previously out of reach because of geographic constraints, they are better poised to assume more power and control over their representation—and therefore their identities.
The Lappekodicillen Peace Treaty of 1751 established legal boundaries for sustainable reindeer herding, granting exclusive rights in many areas to the Sami. Though they are no longer reliant on this practice to survive, their "capable and independent" spirit will surely guide them as they create a space for themselves in the 21st century.
The Evolving Roles of the Sami
Helsinki's Superlative Style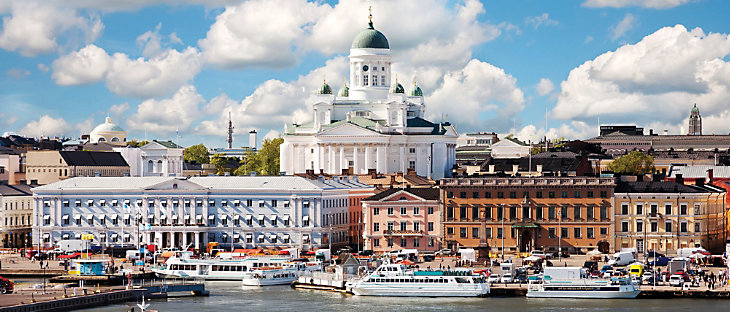 The influences and innovators behind Finland's global design destination
by Danielle Ossher
Finland is home to vast expanses of awe-inspiringly pure landscapes, where water infuses its way into any and all scenes and quietly reflects the imposing mountains and thick towering forests that surround. In a land of such famed beauty, it's only fitting that its cutting-edge capital is at one with the Baltic, effortlessly melding its cityscape to its harborside location, curving around bays and sprawling across islands.
Helsinki is a singular European capital, considered both Scandinavian and the embodiment of Nordic country—and a humble destination that's rightfully earned the titles of 2012 World Design Capital and UNESCO City of Design.
Thoughtful compositions
Within the city's architecture lies a living tale of its past and future. Helsinki's Swedish and Russian influences remain evident in the facades that line its streets, and the conscientious city plan is credited to its relatively late designation as a capital (Finland's previous capital, Turku, was changed to Helsinki in 1812).
Standing in perfect harmony with these enduring nods to history are champions of modernity—world-class designs that are so more than just how they appear. This of-the-century architecture brings to fruition a deeply held regional ethos that good design should be practical, collaborative, and above all, available to everyone. Thoughtful design can improve lives, after all.
At the core of Helsinki's superlative design are two iconic names—Saarinen and Aalto. These Finnish architects pioneered and inspired, and between the two of them, are responsible for many of the city's notable sites.
Founding father
Eliel Saarinen made himself known by expressing his country's own identity in his work, establishing the Finnish National Romantic style at the turn of the 20th century. These designs reflected the Finnish traditions—a modern interpretation of peasant and medieval architectural—rather than the neo-classical styles prevalent at the time, which felt tied to their Russian heritage.
Both the National Museum of Finland and the Helsinki Central railway station are works of Saarinen—and both remain an integral part of life in the city to this day. The National Museum was his first major success, a project he designed with his partners at the time after winning the architectural competition, and its frescoed ceilings and medieval-inspired exterior exemplify his newly coined National Romantic style.
He won the contract for the train station two years later, and its massive Finnish granite façade, soaring clock tower, and ornate detailing marks a subtle transition into Art Nouveau. Saarinen went on to have illustrious career, both in Finland and later in the United States. And his design legacy spans generations—he's also the father of Eero Saarinen, the famed architect (Gateway Arch in St. Louis) and mid-century modern furniture designer (Knoll's Tulip and Womb chairs).
Holistic approach
The beginning of the 20th century saw one architectural visionary, the end of the century another—Modernist Alvar Aalto. The brilliant Finlandia Hall is undoubted his most famous work: Geometric shapes and long, sweeping lines comprise the fascinating structure, which is coated in bright-white Carrera marble. Completed in 1971, the hall seats up to 1,700 people and the epicenter features a defining sloping roof.
Lauded not only for his architecture but also his design, Aalto saw a project as a total work of art, the sum of the whole, much like Frank Lloyd Wright. This meant he immersed himself in the complete design, from the structure to the finishes, including furniture, lighting, and accessories. His creations of captured an air of simplicity and sophistication, and become so sought-after that in 1935, he and his wife opened store Artek, which is remains ever popular—and some of his most iconic work, like the ubiquitous birch three-legged stool, can be found there or at auction, for those seeking original runs.
The influences and innovators behind Finland's global design destination