Forgot Your Username
If you have forgotten your username, please provide your email address in the box below. We'll send you an email with your requested username. If you are having trouble, please call us toll-free at 1-800-221-0814.
Email Sent
You'll receive an email in a few minutes. Please check this email to find your requested username.
If you do not receive an email or you are having trouble logging into My Account, please call us at 1-800-221-0814.

HUNGARY
Tucked in the corner of Eastern Europe, the oft-overlooked Hungary is a wellspring of unexpected grandeur and glorious contradictions. From the gently rolling hills and trickling rivers of the countryside to the stately bridges and boulevards of Budapest, Hungary enchants visitors with its fairytale architecture and vibrant folk traditions. This small but fiercely proud nation warms both the body and soul: take a dip in one of Hungary's rejuvenating thermal baths, or tuck into a piping hot plate of the country's famed national dish, goulash.
A glance at Hungary's recent history, however, proves more chilling: Large swaths of the country were decimated during World War II, and liberation by the Soviets from Nazi rule brought only a decades-long foray into communism. Countless bread lines and protests later, communism's grip upon this Bohemian country was relinquished, and in 1989 Hungary became an independent democracy, free to forge its own path into the future.
Most Popular Films
Films featuring Hungary from international, independent filmmakers
Budapest, Belvárosi, Nagyboldogasszony, Plébánia
We've been working with independent international filmmakers to provide you with videos that portray the people, culture, and lifestyles of the countries you're interested in visiting. We believe this video offers a unique perspective on Budapest.
Produced by Andras Deak
How to Make Hungarian Goulash
Watch this professional chef pepper up the perfect Hungarian goulash made from veal and mushrooms and more.
Produced by Epicurious
Prague and Budapest
Join travel expert Rudy Maxa to discover the Old World splendor on display in Prague and Budapest.
Produced by Small World Productions
Hungary Interactive Map
Click on map markers
below to view information about top Hungary experiences
Click here to zoom in and out of this map
Featured Reading
Immerse yourself in Hungary with this selection of articles, recipes, and more
RECIPE
Hungry for a Hungarian meal? Traditional goulash is the perfect main dish, followed by sweet Rigo Jansci for dessert.
ARTICLE
Let writer Albert C. Doyle guide you in navigating Prague's pristine streets—including where to find the best beer.
Get the Details On Our Hungary Adventure
Find out more about the adventure, including activity level, pricing, traveler excellence rating, included meals, and more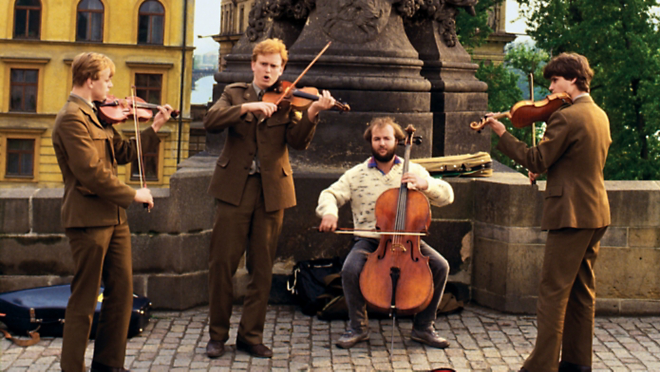 15 DAYS FROM $3,495 • $ 233 / DAY
Small Group Adventure
Czech Republic: Prague, Cesky Krumlov, Slavonice • Slovakia: Bratislava • Hungary: Budapest
30 meals—daily breakfast, 9 lunches, and 8 dinners (including 1 Home-Hosted Dinner)
Budapest City Tour
Evening cruise on the Danube River
Free time to explore Budapest
Admire the Baroque and neoclassical architecture in pedestrian-only Gyor
Adventure Details
Find the Adventure That's Right for You
Our Activity Level rating system ranks adventures on a scale of 1 to 5 to help you determine if a trip is right for you. See the descriptions below for more information about the physical requirements associated with each rating.
Activity Level 1:
1 2 3 4 5
Easy
Travelers should be able to climb 25 stairs consecutively, plus walk at least 1-2 miles over some uneven surfaces without difficulty. Walks typically last at least 1-2 hours at a time. Altitude can range from zero to 5,000 feet.
Activity Level 2:
1 2 3 4 5
Moderately Easy
Travelers should be able to climb 40 stairs consecutively, plus walk at least 2-3 miles over some uneven surfaces without difficulty. Walks typically last for at least 2-3 hours at a time. Altitude can range from zero to 5,000 feet.
Activity Level 3:
1 2 3 4 5
Moderate
Travelers should be able to climb 60 stairs consecutively, plus walk at least 3 miles over some steep slopes and loose or uneven surfaces without difficulty. Walks typically last for 3 or more hours at a time. Altitude can range from 5,000 to 7,000 feet.
Activity Level 4:
1 2 3 4 5
Moderately Strenuous
Travelers should be able to climb 80 stairs consecutively, plus walk at least 4 miles over some steep slopes and loose or uneven surfaces without difficulty. Walks typically last for 4 or more hours at a time. Altitude can range from 7,000 to 9,000 feet.
Activity Level 5:
1 2 3 4 5
Strenuous
Travelers should be able to climb 100 or more stairs consecutively, plus walk at least 8 miles over some steep slopes and loose or uneven surfaces without difficulty. Walks typically last for 4 or more hours at a time. Altitude can range from 10,000 feet or more.
Hide Acivity Level
TRAVELER EXCELLENCE RATING
PRICE
including international airfare
HIGHLIGHTS & ACTIVITIES IN HUNGARY
*This information is not available for our trip extensions. You must reserve the main trip to participate on this extension.
**This information is not currently available for this trip. Please check back soon.
Hungarian Cuisine: Going Beyond Goulash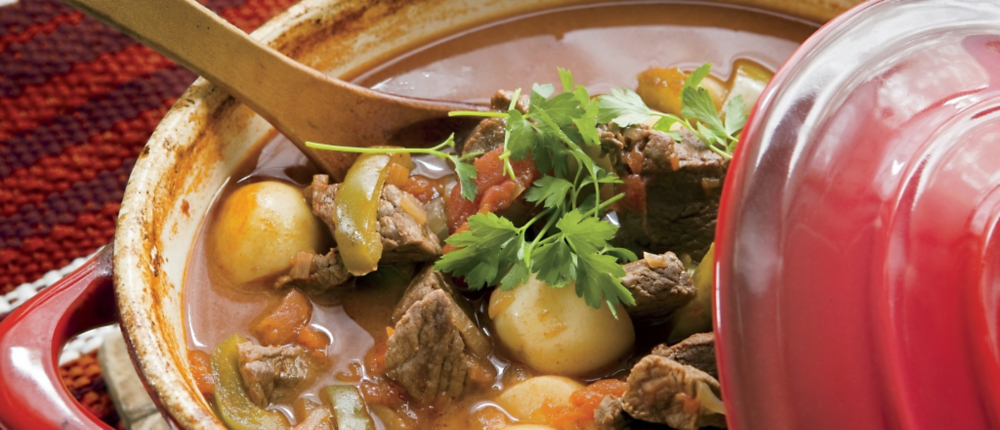 by Laura Graff, from Insider
When you think of Hungarian food, goulash and paprika are likely the first things that come to mind. But did you know that Hungary has thriving viticulture and pastry-making traditions as well?
Gulyas, the Hungarian word from which "goulash" originates, means herdsman, and this dish originated with the cowboys (csikos) who roamed the Great Hungarian Plain (puszta) with their cattle. Originally slow-cooked over an open flame in a cast-iron pot called a bogracs, traditional goulash consisted of onions fried in lard, paprika—a spice made of dried, ground capsicum pepper that first arrived in the Hungarian city of Szeged in the 17th century—meat, water and potatoes, along with perhaps some carrots and parsnips, if they were available.
As this hearty dish made its way back to the towns and villages, different variations were born. Goulash morphed into two popular dishes: a soup, leves, and a stew, porkolt. These days, goulash typically refers to a beef and potato soup, flavored with paprika and onions. Sometimes tomatoes are included but in traditional recipes, there are no tomatoes—the reddish hue comes from paprika alone. The most common variety of paprikash (a variation of porkolt, distinguished by the presence of sour cream) is paprikas csirke, chicken cooked in paprika sauce, and typically served over galuska (pasta dumpling) or noodles.
The "is it a soup or is it a stew?" debate rages on in another of Szeged's signature dishes: Szegedi halaszhe. In restaurants, it's called fish chowder, soup, or stew. Among the locals, it's known as fish goulash, since the flavors of sweet and hot paprika— there are at least six different varieties—are an integral component of this much-loved dish. Since Hungary is completely landlocked, the fish soups of Hungary are made with fresh water fish, such as carp, pike, sturgeon, and catfish from the Danube and Tisza rivers and Lake Balaton, near the Croatian border.
In the vineyards near Lake Balaton grow grapes used to make a nectar-like dessert wine called Tokaji Eszencia. This extremely sweet wine was favored by composers like Beethoven, Haydn, and List, as well as numerous members of European royalty during the 18th and 19th centuries. Another wine for which Hungary is famed is Egri Bikaver, a hearty red wine from the north widely known as "Bull's Blood." The legend of this wine dates back to Suleyman the Magnificent's invasion of Hungary with his Turkish troops. The townspeople of Eger were able to defend their home with such gusto, a rumor spread among the Turks that the wine they drank was mixed with bull's blood, which gave them strength to fend off the attacks. Typically served with game dishes, Bull's Blood also pairs well with goulash and paprikash.
And for dessert? You'll find two of Hungary's favorites, Dobos torte and Rigo Jansci, in the coffeehouses of Budapest, Hungary's capital city which straddles the Danube River. Steeped in culinary lore, each confection traces its origins to the end of the 19th century. Dobos torte is a five-layer sponge cake, interspersed with chocolate buttercream (likely a Parisian-inspired innovation), and topped with caramel. It was created by Hungarian pastry chef Jozsef Dobos, and presented Budapest's National General Exhibition, where Franz Joseph I was among the first to taste it. Dobos kept the recipe a secret for more than 20 years, until he retired.
Rigo Jansci was created by, and named for, a violin-playing Hungarian gypsy who wooed an American heiress away from her husband, the Prince of Belgium. According to the story, he collaborated with a pastry chef to create the cake— spongy chocolate layer cake with rich chocolate cream in the middle—for her.
From the savory to the sweet, and the shores of Lake Balaton to the banks of the Danube, Hungary's culinary delights are deeply rooted in its traditions—and ultimately delicious. Jo etvayat! (Bon appetit!)
Prague: The Preservation of Perfection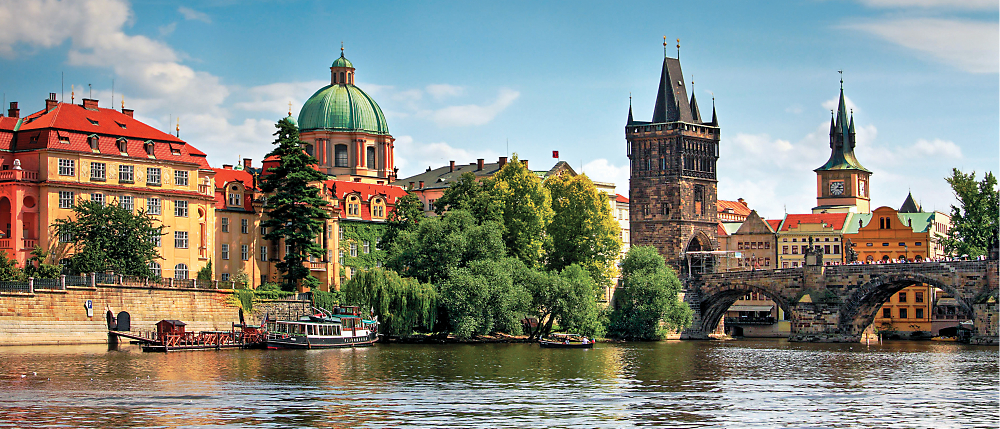 by Albert C. Doyle, from Insider
The citizens of Prague didn't feel very lucky on the morning of March 16, 1939. In prior months, Britain and France had agreed to Hitler's demands to cede the Sudetenland, southern Slovakia, and several northern Czech towns. The Czechs had strong fortifications along these frontiers, a well-equipped army primed to fight, and no taste for rolling over. But the Munich accords gave away the very lands where their fortifications stood; they'd been abandoned by the West and were left defenseless. By March 15th, with the Luftwaffe poised to launch an all-out aerial assault on Prague, the Czech army capitulated. Hitler flew to Prague the next day and announced the annexation of Czecho-Slovakia from the top of Prague Castle.
While it was surely as dark a day as any country should suffer, luckily, it did provide posterity with one bright silver lining: namely, the exquisite old city of Prague was never touched by a single bullet or bomb throughout the war, and is now the best preserved of all the great European capitals. We can count it as an unqualified blessing that this lovely wedding cake confection of a metropolis has been conferred down to us with such care.
Today, Prague impresses on a grand scale, not with the granite pomp of Hapsburg cities, but with a Gothic fairy-tale élan. The visitor is constantly charmed by twisty little cobblestoned alleys, crumbling ancient arches, and dusky medieval windows. And unlike many old towns that seem more theme park than genuine, Prague has integrated its centuries with the greatest of ease—its modern incarnation thrives with tremendous verve, arm-in-arm with its evocative timeworn ghosts.
Not many countries can boast a playwright/president (Vaclav Havel) whose best known work is an autobiographical satire of his years working in a communist brewery. Which reminds me: It's a very strictly enforced law—so I'm told—that all visitors to Prague must drink a pint of pilsner within ten minutes of arrival. So before we start our virtual tour, let's quickly set about finding ourselves a pivovar, or beer cellar.
I'm not a beer drinker, but I'm not an idiot, either. With respect to the heady sweet suds of the Belgian abbeys, the best beer in the world is Czech—a must-try. Pilsner Urquell is ubiquitous, and deserving of its international fame. But Staropramen, Budvar, Kumburak, and a variety of other ancient logos beckon to the weary-footed traveler from signs above the doorways to many old pivovars that have served beer for the better part of a millenium. A few, such as the endearing U Fleku, are theatrically engaging, but heavily touristed. Try U Sudu, well up into the Nove Mesto (New Town). It is an unforgettable journey into a smoky, subterranean honeycomb of interlocking hobbit holes which cannot possibly have changed much since the city's most renowned bum's rush, The Defenestration of Prague.
With beer comes students, and Prague never lacked for them. It was Europe's greatest city in the late Middle Ages and early Renaissance, the most populous city on the continent, with as many citizens then as it has today. At its heart was the finest university mankind had ever developed, but later intrigues between schismatic popes and the Holy Roman Empire signaled its demise as a burgeoning academic center. In a power play, 25,000 foreign scholars were recalled, and sent instead to the newly formed University of Leipzig. Prague University never recovered its standing, but its relative obscurity may ironically have saved it from being enlarged, rebuilt, redeveloped, and otherwise swallowed up.
Begin your exploration of Prague by stepping out onto the Carolus (Charles) Bridge, connecting the Stare Mesto to Hrdcany (Castle District) and Mala Stana (The Little Town). The castle looming into the dark skies, the movie set detail of the Stare Mesto, the neoclassical grandeur of the great palaces stretching along the Vltava, the quirky monastic feel of the low-slung medina riverfront of Mala Strana hugging the far bank—perfection!
Prague is called the "City of 100 Spires," and you can visit a substantial number of them during daylight hours, and quite frequently, in the evening, when string quartets and other classical ensembles will perform works by Chopin, Liszt, Czerny, and Dvorak as well as Mozart, Vivaldi, Brahms, and Beethoven. The modest fees to see the very talented ensembles play in medieval settings are directly responsible for the quite remarkable facelift that the city has undergone over the last 15 years.
I've taken you from a pint of pilsner in a subterranean pivovar out to one of the greatest bridges in Europe, and now we have five choices of which way to go. The first impulse might be to turn right back around, admire a few more of the dozens of statues lining the bridge, pass the glorious old Bridge tower, and re-enter the Stare Mesto. The former marketplace now sparkles as the Starometske Namesti, or town square. It is dominated by the extraordinary twin Gothic spires of Our Lady Before Tyn. They, too, are particularly vivid and haunting at night. The Church of St. Nicholas, flanking the square's north side, also impresses, inside and out. The Town Hall boasts a magnificent belltower with its famous Orloj (Astronomical Clock) on it. Nearby, the Powder Gate, the Municipal House, and the Church of St. James are all worldclass attractions.
Whichever path you take, you'll see all of these, and more. You can't miss them. You'll also see the Castle District of Hrdcany, with the single most prominent feature of the Prague skyline, St.Vitus's Cathedral, soaring over an impressive suite of palaces and museums. Just across a cobblestoned square, the Loreto Palace is an obvious side visit, with its medieval art and its truly bizarre house of the Virgin Mary (they claim it to be her house, imported from Palestine). The Strahov Monastery and St. George's Convent are both worth a look as well. And the stroll back down to Mala Strana is unforgettable.
At this point, most tours might conclude. The Old Town, the Bridge, the Castle—we're done! Unless you slow down—say, wait, not so fast … Aren't there three other riverside districts? Do yourself a favor and don't rush back to the bridge too quickly. Instead, perhaps after refreshing yourself with another pilsner, continue wandering up into Mala Strana, Prague's least explored delight. Peek in a tiny church or two. Meander through some gardens, grab a bite to eat, see the city's other St. Nicholas church, very nearly as fine as the one on Starometske Namesti. Most importantly, stroll the riverbank a bit. Any New Yorker can tell you that the only way to see Manhattan is from the Brooklyn Promenade—similarly, the finest views of Old Town are from the banks of Mala Strana.
You can then cross the Legli Bridge into the Nove Mesto. The influx of western capital these past 15 years has really burnished the New Town's former reputation for seediness. For a dozen or more blocks in from the river, the neighborhoods have become quite fashionable, with a great many of the fine Art Nouveau buildings lovingly restored. The dealers and prostitutes have moved elsewhere, and the high-end Hermes-Cartier-Chanel boutiques have found their home. You must also turn to the Nove Mesto for Wenceslas Square, the National Museum, the National Theatre, and the State Opera.
"Some people say a man is made outta mud," sang Tennessee Ernie Ford. So it is for the infamous nightstalker of the Josefov district, the Golem. According to Jewish legends, the Golem—was made of mud and clay in 1580 by Rabbi Judah Loeb a supernatural (but hard to control) protector against anti-Semitic violence—The Golem's body is said to lie hidden in an attic of the Old-New Synagogue, though some say it still roams. So behave yourself 'round there at night. And in the daytime see the Old-New Synagogue, Europe's oldest, and its excellent Judaica museum. Then you must also visit the disturbing and memorable Jewish cemetery, which was never allowed by either Catholic or Protestant rulers to expand, and which thus shoehorned 12,000 graves into an area the size of a suburban living room, under which well over 100,000 Jews are buried, going down many levels, across many centuries.
There's still so much more to see … You can admire the gracious Belle Epoque boulevards radiating out from the Synagogue, in a sweeping arc between Starometske Namesti and the river. Ponder the odd sway of the modern Dancing House office building (also called "Fred and Ginger"). If the Orloj (Astronomical Clock) has got you ticking, get your rhythm right at the Metronome, a giant functional metronome occupying a plinth where a statue of Josef Stalin once stood. The views are as dizzying as the young daredevils skateboarding off ramps in the adjoining park. Secret discoveries beckon form every corner of the city, so what's next? We could go back to where we started, and—aw, geez, look at the hour! Time for another pilsner. Na zdravi!