Forgot Your Username
If you have forgotten your username, please provide your email address in the box below. We'll send you an email with your requested username. If you are having trouble, please call us toll-free at 1-800-221-0814.
Email Sent
You'll receive an email in a few minutes. Please check this email to find your requested username.
If you do not receive an email or you are having trouble logging into My Account, please call us at 1-800-221-0814.

INDIA
There is no single India—and with 1.2 billion citizens, how could there be? To experience this nation is to throw your arms open wide to diversity of landscapes, cultures, and sense impressions. India is the frozen Himalayas, the verdant backwaters of Kerala, the hedonist beach culture of Goa, and the tropical Ranthambore jungles where tigers roam. It is a land of Hindus, Buddhists, and Sikhs, as well as people who speak Hindi, English, and any of the other 120 official languages. It's equally the elegance of the Taj Mahal, the dusty throngs at a camel fair, and serene devotion at Ganges ghats.
Ruled in turn by Marathas, Pashtuns, and Mughals, India's eventual connection to the West was entrenched by the British East India Company's dominance of the region in the 18th century, which preceded British Colonial rule. In the Victorian era, Britons were captivated by Indian food, attire, and art. But Indians were less enamored with their colonial occupation and Mahatma Gandhi's nonviolent resistance movement in the 20th century culminated in independence for India in 1947.
Visiting India today requires willingness to go with the flow, embracing the sensory overload of so many people and so much activity. Openness to Indian culture, both ancient and ever-changing, rewards the traveler with experiences truly unlike anywhere else on earth.
Most Popular Films
Films featuring India from international, independent filmmakers
India at a Crossroads
Get a sneak peek into India's fascinating 2014 election, a time of deep division between classes and political identities in India.
Produced by Poh Si Teng and Malavika Vyawahare
©2014 The New York Times
India: Varanasi and Bangalore
Follow the Grannies on Safari through two of India's most fascinating cities.
Produced by Regina Fraser and Pat Johnson
A Brief Intermission
Enjoy a calming interlude of rainy-day scenes from the mountain villages of Sikkim, India.
Produced by Nihal Anand
India's Festival of Lights
See how Indian families prepare for and celebrate Diwali - the "Festival of Lights."
Produced by David Conover and Compass Light Productions
India Interactive Map
Click on map markers
below to view information about top India experiences
Click here to zoom in and out of this map
Featured Reading
Immerse yourself in India with this selection of articles, recipes, and more
ARTICLE
Follow along and witness a sacred Hindu tradition in the lively city of Varanasi.
ARTICLE
These festivities are nothing short of unique with a mustache competition and a turban tying contest.
RECIPE
Get a taste of Delhi's savory street food in your own home with this recipe for traditional chaat.
ARTICLE
Cardamom, cinnamon, cloves—the list of popular India spices goes on and on. Learn about their significance to Cochin.
RECIPE
Discover the sweet side of Southern India with this recipe for pineapple kesari.
RECIPE
Bring the flavors of India into your kitchen by trying this dal recipe with a refreshing twist.
India: Month-by-Month
There are pros and cons to visiting a destination during any time of the year. Find out what you can expect during your ideal travel time, from weather and climate, to holidays, festivals, and more.
India in February-March
In February and March, two climates influence weather on the Indian subcontinent—springtime in the north brings low humidity with slightly cooler temperatures, and the south experiences high moisture and higher humidity. These are popular months to travel, with mild temperatures and generally clear, sunny days.
Holidays & Events
March full moon: Holi, the Hindu "Festival of Color"&nbsp
Must See
Also known as the "Festival of Love," Holi is celebrated throughout India and Nepal—and in Hindu communities across the globe. Traditionally a thanksgiving festival for the spring harvest, Holi is at its most vibrant for two days in northern India. Participants cover each other in brightly-colored dye, and parade through the streets while traditional music provides a whirling soundtrack.
India in April-June
Between April and June, temperatures soar across India. As wild animals venture out in search of water, elephants and tigers can be spotted on early-morning excursions in places like Ranthambore National Park. Parts of the north experience the hottest temperatures of the year, although the Indian Himalayas remain mild. In the south, rainy season brings high humidity and frequent thunderstorms. Hill stations across India provide a respite from the heat, with comparatively mild temperatures and shady forests. And although less than three percent of the Indian population is Christian, Easter is widely celebrated with gift exchanges and festive carnivals.
Holidays & Events
First Sunday after the first full moon after the Vernal Equinox: Easter
India in July-September
July marks the beginning of monsoon season in India, with the rains hitting the southwest first. As the season progresses, monsoons make their way up the west coast through September, growing progressively weaker. By the time it reaches the north, the climate feels similar to European summers—with mild, more comfortable temperatures and passing showers. High water levels make this an ideal time to cruise the Ganges River in places like Varanasi, where sunrise and sunset bring pilgrims from around the country to the riverbanks for religious ceremonies.
Holidays & Events
August 25-September 6: Onam is a ten-day harvest festival celebrated in the Indian state of Kerala. It honors legendary King Mahabali, who is said to return home to Kerala once a year. He is welcomed with feasting, intricate floral artwork, and boisterous sporting events.
August 25-September 5: Hindu god Ganesh is honored in this ten-day festival called Ganesh Chaturthi, when special idols are built in his honor and then immersed in the sea. Their procession through the streets is accompanied by prayer, dancing, drumming, and fireworks.
India in October
Monsoon season begins in the northeast, which leaves the rest of northern India warm and sunny—prime season for tourism. Some of India's most iconic festivals, such as Diwali, are celebrated throughout the country.
Holidays & Events
October 2: Mahatma Ghandi's birthday
October 5: The Rajasthan International Folk Festival promotes folk music, art, and dancing in Jodhpur's hilltop Mehrangarh Fort.
October 19: Diwali, the Hindu "Festival of Lights"
Must See
India shines during the celebration of Diwali, the Hindu "Festival of Lights," which honors the victory of light over darkness, knowledge over ignorance, and success over failure. Along with prayers to the fertility god Lakshmi, Diwali inspires breathtaking fireworks displays, parades, and music throughout India.
India in November-January
India's Golden Triangle—Delhi, Agra, and Jaipur—experiences its most comfortable temperatures at this time of year, and sites like the Taj Mahal can be crowded, especially during the Christmas season. Nights are cool throughout the country, and downright cold in rural areas—layers are encouraged.
Holidays & Events
November 15: Camel traders gather for the Pushkar Camel Fair, one of Rajasthan's most vibrant celebrations.
January 14: The Kite Festival in Gujarat brings participants from around the world to participate in professional kite-flying.
January 26: Republic Day celebrates India's adoption of a democratic constitution in 1950.
January 31: Tamil people celebrate Thaipusum, when the star Pusam is highest in the sky.
Must See
The Pushkar Camel Fair in November is Rajasthan's most quirky—and most famous— festival. Farmers, villagers, traders, and tourists gather to do much more than trade livestock—this fair celebrates all things camel-related and beyond. Events include camel races, camel beauty pageants, camel dance recitals, a cricket match, and a mustache competition.
Average Monthly Temperatures
Compare Our Adventures
Click 'Select to Compare' to see a side-by-side comparison of up to adventures below—including
activity level, pricing, traveler excellence rating, trip highlights, and more
17 DAYS FROM $3,895 • $ 230 / DAY
Small Group Adventure
India: Delhi, Jaipur, Ranthambore, Agra, Khajuraho, Varanasi
39 meals—daily breakfast, 10 lunches, and 13 dinners (including 1 Home-Hosted Dinner)
Visit the Taj Mahal, the epic monument to love
Cruise on the Ganges, seeing the aarti ceremony by night and morning rituals at ghats
Ride a rickshaw through Old Delhi's Chandni Chowk bazaar
Witness wildlife during 2 game-viewing drives in Ranthambore National Park
18 DAYS FROM $3,795 • $ 211 / DAY
Small Group Adventure
India: Chennai, Mahabalipuram, Thanjavur, Madurai, Periyar, Kerala's backwaters, Cochin
34 meals—daily breakfast, 9 lunches, and 10 dinners (including 1 Home-Hosted Dinner)
Learn to catch and cook fish with locals in a fishing village
Cruise the backwaters of Kerala in a traditional houseboat
Take a walk in the jungle through Periyar Wildlife Sanctuary
Witness breathtaking religious sites like Thanjavur's Brihadishwara Temple and Madurai's Sri Meenakshi Temple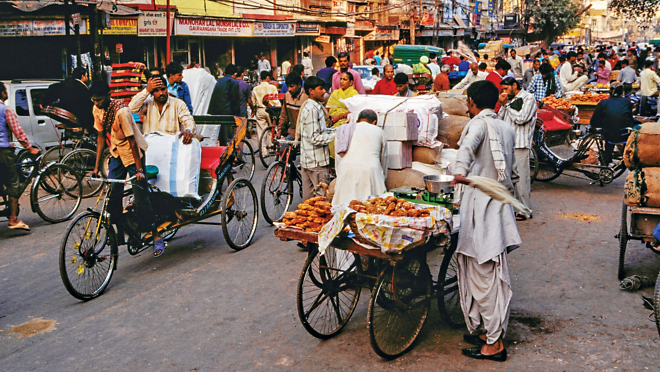 16 DAYS FROM $5,195 • $ 325 / DAY
Small Group Adventure
First Departure 3/22/2017
Days in India
3
India: Delhi • Bhutan: Thimphu, Gangtey, Punakha, Paro
35 meals—daily breakfast, 11 lunches, and 11 dinners (including 2 Home-Hosted meals)
Visit New Delhi's Qutab Minar, a UNESCO World Heritage Site
Explore historic Old Delhi, including Raj Ghat and Jama Masjik Mosque
Ride a rickshaw through Chandni Chowk, Old Delhi's 300-year-old bazaar
Compare Adventures
Find the Adventure That's Right for You
Our Activity Level rating system ranks adventures on a scale of 1 to 5 to help you determine if a trip is right for you. See the descriptions below for more information about the physical requirements associated with each rating.
Activity Level 1:
1 2 3 4 5
Easy
Travelers should be able to climb 25 stairs consecutively, plus walk at least 1-2 miles over some uneven surfaces without difficulty. Walks typically last at least 1-2 hours at a time. Altitude can range from zero to 5,000 feet.
Activity Level 2:
1 2 3 4 5
Moderately Easy
Travelers should be able to climb 40 stairs consecutively, plus walk at least 2-3 miles over some uneven surfaces without difficulty. Walks typically last for at least 2-3 hours at a time. Altitude can range from zero to 5,000 feet.
Activity Level 3:
1 2 3 4 5
Moderate
Travelers should be able to climb 60 stairs consecutively, plus walk at least 3 miles over some steep slopes and loose or uneven surfaces without difficulty. Walks typically last for 3 or more hours at a time. Altitude can range from 5,000 to 7,000 feet.
Activity Level 4:
1 2 3 4 5
Moderately Strenuous
Travelers should be able to climb 80 stairs consecutively, plus walk at least 4 miles over some steep slopes and loose or uneven surfaces without difficulty. Walks typically last for 4 or more hours at a time. Altitude can range from 7,000 to 9,000 feet.
Activity Level 5:
1 2 3 4 5
Strenuous
Travelers should be able to climb 100 or more stairs consecutively, plus walk at least 8 miles over some steep slopes and loose or uneven surfaces without difficulty. Walks typically last for 4 or more hours at a time. Altitude can range from 10,000 feet or more.
Hide Acivity Level
TRAVELER EXCELLENCE RATING
PRICE
including international airfare
HIGHLIGHTS & ACTIVITIES IN INDIA
*This information is not available for our trip extensions. You must reserve the main trip to participate on this extension.
**This information is not currently available for this trip. Please check back soon.
Life & Death in Varanasi
The story behind India's holiest city
for O.A.T.
It's a typically humid night in Varanasi. Our wooden rowboat bobs rhythmically in the ink-black waters of the Ganges as we pull closer to Manikarnika ghat—a broad, steep staircase leading down to the river's banks. Here, in India's most sacred city, there are more than 100 similar structures made of wood and stone, but this particular one is special: It is a "burning" ghat—one of only two in the entire city—and it is where Hindus gather, 24 hours a day, seven days a week, to perform the ritual cremation of their dead. Even though we are several hundred feet away from the brightly burning flames, I am starting to feel uncomfortable. I remind myself that if Hindus aren't bothered by the public nature of this tradition, I certainly shouldn't be. For the estimated 900 million Hindus worldwide, making a pilgrimage to the holy city of Varanasi—and, more importantly, dying and being cremated here—is what they aspire to most in this world.
Breaking the Cycle of Samsara
Millions of devout Hindus have traveled to Varanasi to liberate the souls of their loved ones, and themselves, from the cycle of reincarnation known as samsara, a fundamental principle in Hindu philosophy. For Hindus, each new physical form provides an opportunity to further perfect the soul, bringing them one step closer to the ultimate goal of moksha, or liberation. For most, this cycle takes several lifetimes to complete. There is, however, a way to hasten the outcome—and that's where Varanasi comes into play.
Many Hindus come simply to immerse themselves in the holy water of "Mother Ganga," as the act is said to absolve bathers of any sins incurred during their current, and previous, lives. But many more, particularly the elderly and infirm, journey to Varanasi for the privilege of dying here, to achieve the "perfect bliss" of moksha. For this reason, numerous hospices surround the city's two "burning" ghats: Manikarnika, the larger of the two, is reserved for Hindus only, while Harishchandra performs funeral rites for believers of all faiths, including Buddhists, Muslims, Christians, and Jains. Between them, the two ghats perform more than 300 cremations every day.
A City that Fully Embraces the Senses
While death is an inescapable element in Varanasi, it does not overshadow the city. Quite the contrary, in fact: as one of the most densely populated cities in India, Varanasi literally teems with life.

Prior to my evening boat ride on the Ganges, I had the opportunity to observe this firsthand. Because the streets near the river are too narrow to accommodate large motor vehicles, the best way to reach the ghats is via cyclo-rickshaw or on foot. My husband and I chose the former. Nothing short of exhilarating, our rickshaw journey also revealed the essence of Varanasi—a city bursting at the seams with all manner of sights, smells, and sounds, from the sacred to the profane. Setting off, we pass by groups of saffron-robed saddhus (holy men) smoking their hash-filled pipes. Wallahs (vendors) push wooden carts laden with fresh fruits and vegetables, and metal thermoses filled with fragrant masala chai (a milky, sweet, and spicy tea). The neon-lit storefronts blare the infectious, high-pitched sounds of bhangra music. Arriving at our destination, we clambered down from our rickshaw and—keeping our eyes peeled for the omnipresent piles of cow dung that decorate Varanasi's streets—made our way to the top of the Dasaswamedh ghat to observe the aarti ceremony that is performed nightly.
Aarti: the Divine Spark
Aarti is a ritual of devotion that involves the lighting of a lamp or candle to signify the divine spark that shines within each of us. In Varanasi, this ceremony has been customized, and intricately choreographed, to pay homage to Ganga, the river goddess. The air is thick with smoke from sandalwood incense as we watch a handful of young male priests, clad in form-fitting shirts and flowing, pajama-like pants, climb onto raised wooden platforms. From loudspeakers positioned near the shore come rhythmic drumbeats and monotone singing. Facing the crowd, the priests light a series of large brass lamps, or diyas, holding them aloft in a series of graceful, sweeping motions as they solemnly chant their mantras.
Serenity at Sunrise
Arriving at Dasaswamedh ghat again early the next morning, it feels like a totally different place. There are still people crowding the steps, but the speakers now are silent, the strings of bulbs festooning the platforms unlit. But the absence of these elements only serves to enhance the devotional aura. In this holiest of holy Indian cities, the most sacred time of day is dawn.
Climbing aboard another rowboat, we set sail for a closer look at how the Hindu faithful welcome the start of a new day. We glide silently past men in dhotis (loincloths), knee-deep in the sacred water, hands clasped in prayer … women in gem-colored saris scooping up water in metal pots and pouring it over their heads … saddhus sitting cross-legged on the stone ghats, deep in meditation.
We also pass by dozens of yoga students and their guru, performing sun salutations at the water's edge … children running barefoot along the ghats and playfully splashing each other while bathing in the river … washermen and women vigorously slapping laundry against flat, smooth stones. It's a peaceful, tranquil scene—one made all the more enchanting by the amber glow of the sun, which is steadily rising above the horizon. I am struck by the contrast: Once again, I am floating along the Ganges in a rowboat, gliding past temples and ghats, watching Hindus perform highly personal rituals of prayer and absolution in a public space. But now, instead of wanting to close my eyes, I feel uplifted by the beauty and promise this new day brings. Here, the sun inches ever higher, its rays transforming the surface of the Ganges to liquid gold and bathing us all—Hindus and Christians, residents and visitors—in a rich, rosy hue … the color of hope.
The story behind India's holiest city
Astonishing Contests You Can See at a Rajasthani Festival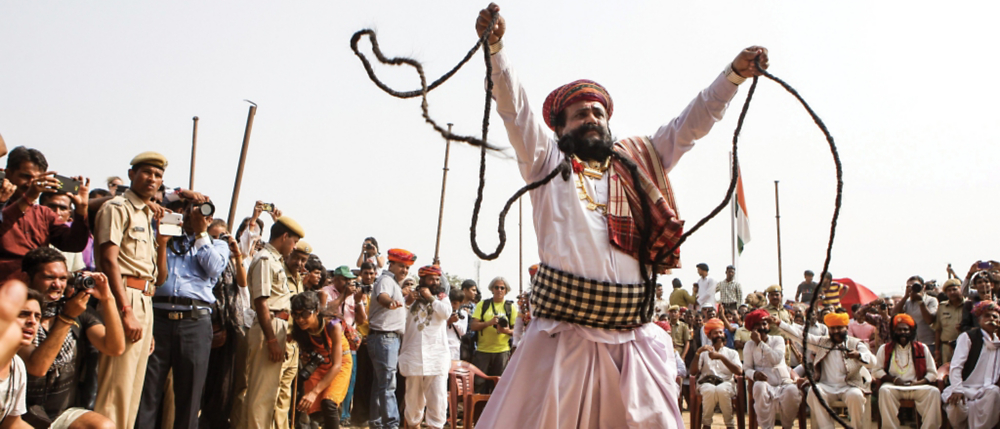 by Catherine Groux
The Indian state of Rajasthan (aptly known as the Land of Kings) is renowned for its lavish palaces, thriving tiger population, and, of course, its wide array of festivals. Among these many celebrations are the Pushkar and Nagaur festivals—both of which serve the primary purpose of encouraging locals to buy and sell livestock. However, if you attend Pushkar or Nagaur, you're bound to see far more than cattle. Here, among the lively festivities, are some of India's most colorful (and most bizarre) competitions—appealing to both locals and foreigners, regardless of their skill sets.
Longest mustache competition
During Rajasthan's annual Pushkar Festival, one of the most popular—and unusual—events is the longest mustache competition, in which locals sport impressive facial hair they've spent years growing. Typically, contestants arrive with their mustaches wound tightly on their face in a bun-like shape, and when the contest begins, they (literally) let their hair down. Some of the mustaches are so long that they touch the ground, allowing their owners to swing them wildly in the hope of gaining support from the lively crowd.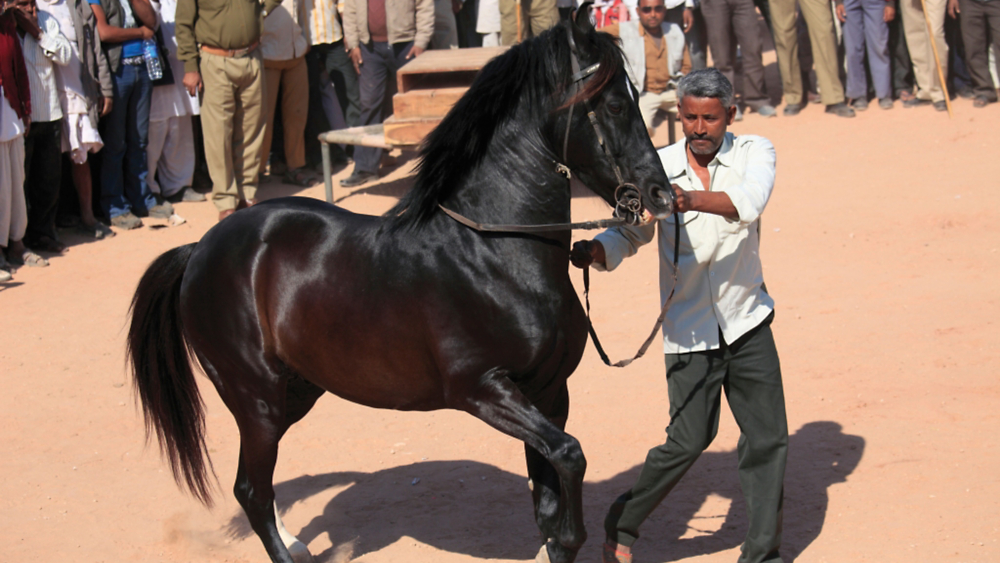 Horse and camel dancing contest
You've probably seen your fair share of dance competitions, but India's Nagaur Festival takes this concept to a whole new level. Here, you can see colorfully dressed (and extremely well-trained) horses and camels prancing around a ring to the rhythmic pounding of a drum, often balancing on their hind legs to create the illusion of dancing. At the end of the "dance" competition, judges pick the best horse and camel and give their owners a small prize.
Turban-tying contest
While many of the competitions at the Pushkar Festival cater to locals, the annual turban-tying contest is for foreign couples only. During this popular contest, the couples put their skills to the test, as one person attempts to adeptly—and quickly—tie a turban around their partner's head. The first couple to create a proper turban wins.
Water pot race
During this women-only competition, tourists vie against locals to see who can run across a field the fastest while balancing matkas—Hindustani for "earthen pots"—on their shoulders or atop their heads. But here's the real challenge: these colossal pots are filled with water. Contestants typically get soaked while sprinting to the finish line, inciting onlookers to erupt in laughter and cheers. Whoever is the first to cross without dropping their pot is announced the winner.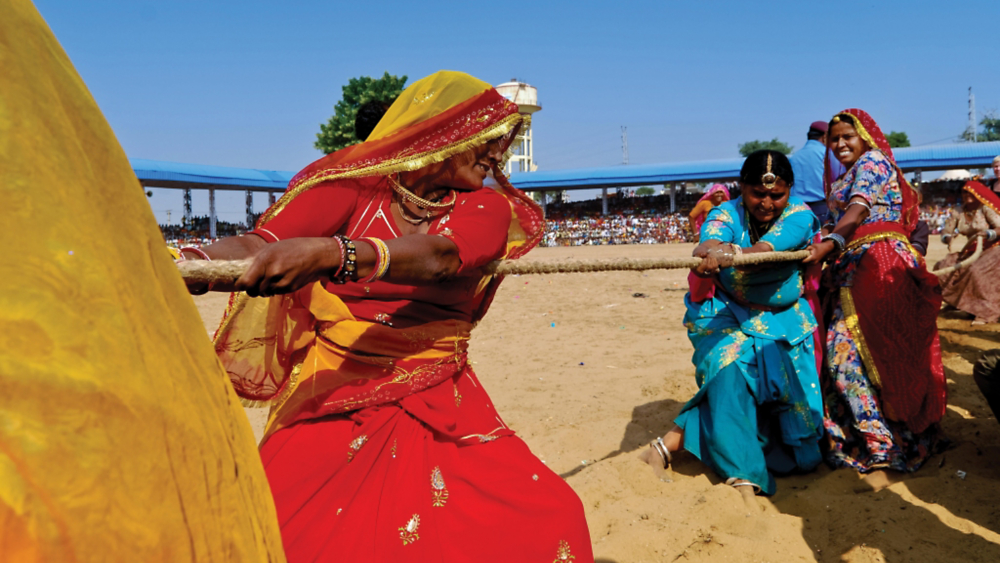 Tug-of-war competition
You probably haven't thought about this game since middle school, but locals who attend the annual Nagaur Festival tend to take their tug-of-war very seriously. Throughout the festival, you'll probably see several tug-of-war matches, as women (often dressed in colorful saris) and men showcase their strength by pulling a sturdy rope away from the other team. While the game itself is simple, this event tends to draw a large, energetic crowd.
Dining in Delhi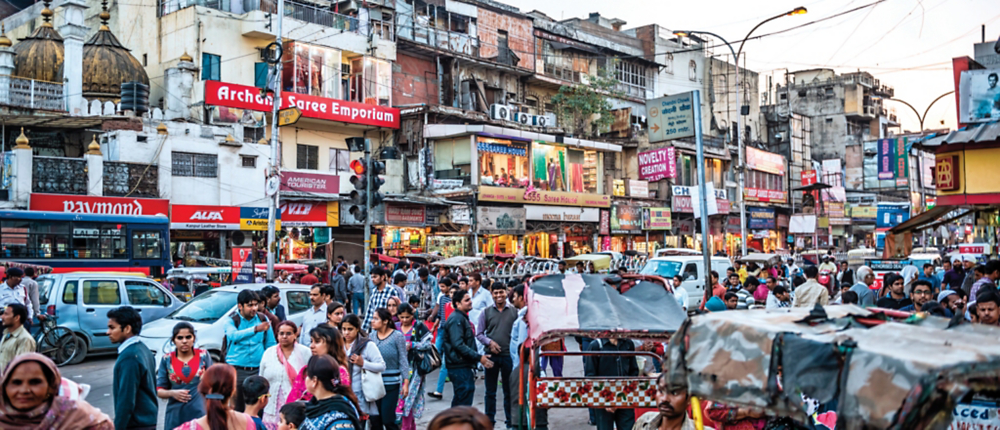 Savor a quick "chaat"
by Lyette Mercier, from Dispatches
Delhi is also known for its chaat, street food eaten by residents and visitors too busy for sit-down meals. The tradition of on-the-go food is so entrenched that Delhi boasts shops and stalls that have been in business for a hundred years or more. Anything goes with chaat—a word derived from the Hindi word for "a taste" and Prakrit for "to eat noisily"—from kebabs to fried, spiced vegetables to mango sandwiches. You can even find samosas (fried flour-dough dumplings) stuffed with everything from the traditional spiced potatoes to chow mein or pasta and tomato sauce.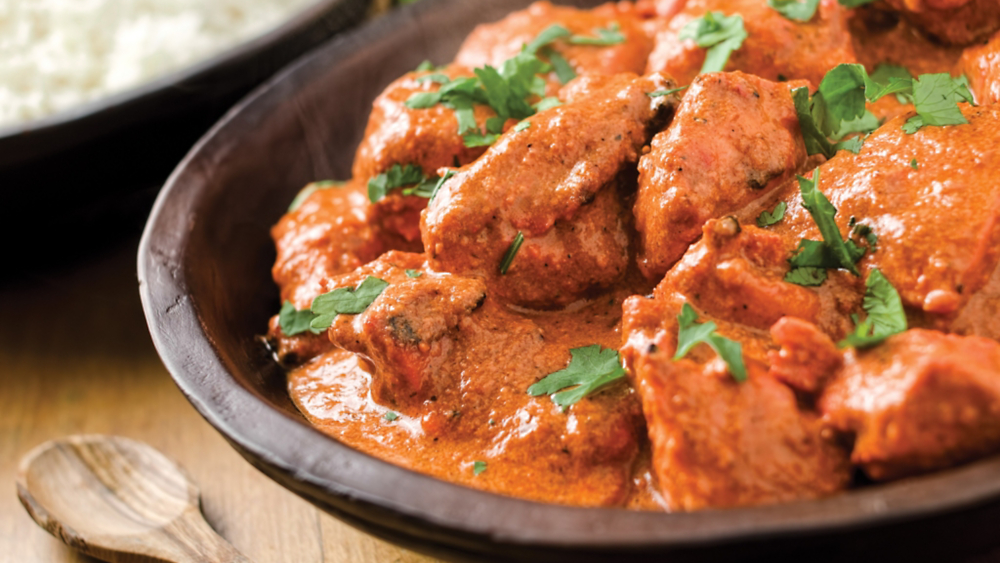 The most famous Delhi-specific chaat is certainly the parantha, a pan-fried flatbread. Simultaneously crisp, soft, and chewy, you can find paranthas featuring potatoes, cauliflower, peas, mint, and even sugar. With so much opportunity for variation, paranthas are popular for every meal. The bread is so closely associated with Delhi that a street in Chandni Chowk is named for the parantha-vendors who have been present there for over a century: the Parathewali Gali.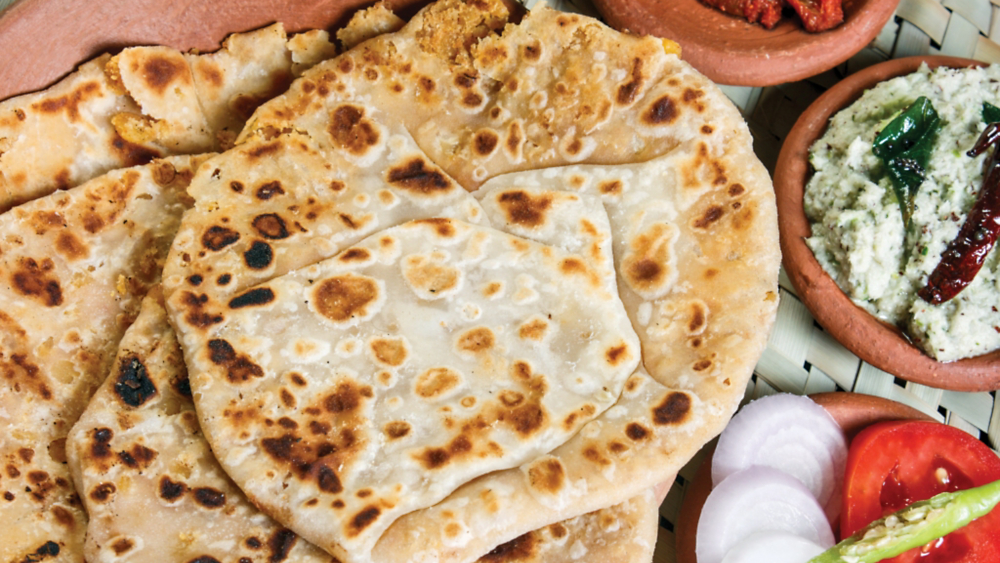 Onion Parantha
Ingredients:
Dough:
2 cups whole wheat flour
¼ teaspoon salt (optional)
1 teaspoon oil or ghee
Water as needed
Filling:
1 large onion, finely chopped
1 green chili, minced
Garam masala powder, red chili
powder, and salt to taste
Oil or ghee for frying
Preparation:
Mix the flour and salt. Then add the oil or ghee and some water (enough to slightly dampen the flour). Begin to knead the mixture, adding water and punching it out as needed, until you have a smooth, soft dough. Cover and set the dough aside for 15-20 minutes.
Prepare the filling by finely chopping the onions and green chilies.
After the dough has rested, shape it into palm-sized balls. On a board dusted with flour, take a ball and press it into a 3-4 inch diameter circle. Then add the chopped onion and chili mixture into its center.
Sprinkle one or two pinches of garam masala powder, red chili powder and salt into the filling. Bring the edges of the dough over the filling, joining and lightly pressing them together in the center. Sprinkle flour over the dough and roll it into a parantha of about 6-8 inches in diameter.
Fry the onion parantha in a frying pan, brushing 1 or 2 teaspoons of oil or ghee over each side until the parantha is evenly cooked and browned. Serve the parantha hot with yogurt or a vegetable side dish.
Savor a quick "chaat"
The Spice of Life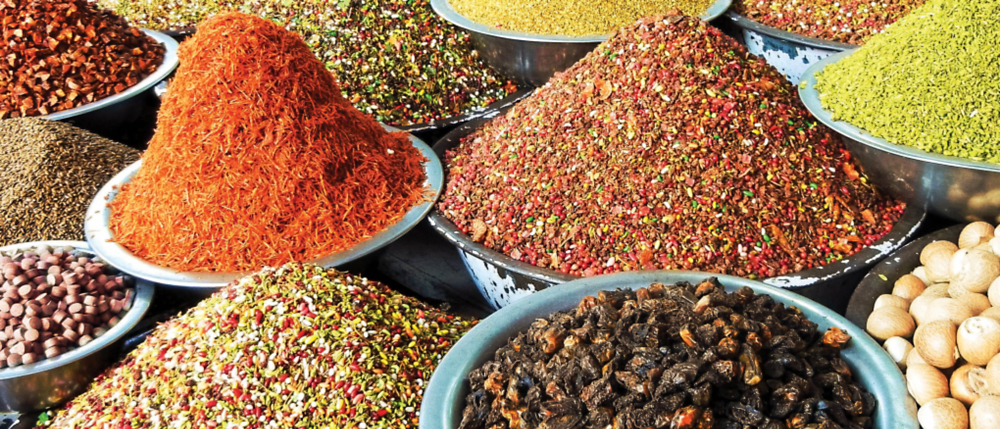 Cochin and the trade that changed the world
by Andrea Calabretta, for O.A.T.
Once, the peppers and cloves that continue to grow in such abundance here were as valuable as gold and silver.
The tantalizing fragrance of cinnamon, with hints of cardamom and sweet clove, permeates the air as you approach the Cochin spice market. Then come hints of nutmeg and notes of ginger, followed by the more pungent perfume of dried chili. As you wander the stalls—displaying brightly colored barrels of aromatic powder, foot-long sticks of cinnamon, and neatly wrapped packets of star-shaped anise—the scents grow stronger. Buyers and sellers haggle noisily over shelves bearing delicately carved wooden vessels containing yellow turmeric, and woven baskets piled high with green cardamom pods.
At the center of the market, men unload trucks bearing huge burlap sacks of spice, releasing more intense aromas into the air. In storefronts and doorways, men and women work quickly to sort and package it. In the nearby godowns, or warehouses, sacks of spices are piled floor to ceiling, and the scent of pepper becomes so strong that, for the uninitiated, it is almost impossible to breathe.
This is the Cochin spice market, where for centuries people have engaged in the trade of aromatics—so prized for their heavenly scents that they inspired men to sail over the horizon into uncharted waters, risking their lives.
A confluence of cultures
Though a popular tourist region today, Cochin's world-class status came not from tourism but from trade. Many favorable elements combined to make this so. The warm climate and rich soil, kept fertile by the Kerala backwaters, are ideal for the cultivation of spices, and a flood in the Middle Ages created a harbor well suited to sheltering ships. Some records claim that the spice trade here flourished even earlier—as far back as three thousand years, with traders from ancient Greece. Others say it initiated with Arabian and Chinese tradesmen at the beginning of the Common Era.
At the heart of the complex history of the spice trade in Cochin sits a unique community known as the Cochin Jews. Jewish history in this region is said to date back to 2,000 years ago. The Cochin Jewish community came to dominate the local spice trade, occupying an area of the city called "Jew Town," with its famously fragrant spice market. Due to the network of Jewish populations with commercial trading interests around the world, Cochin's Jewish leaders could perpetuate and enhance the city's reputation as a center of spice trade.
Everywhere in Cochin, signs of foreign influence remain—especially in the iconic Chinese fishing nets that line Cochin's harbor, said to have been brought by sailors from the court of Kublai Khan. The Age of Exploration (between the 15th and 17th centuries) carried a surge of Europeans to these shores, and their mark lingers in Dutch-style homes and palaces; in the white-washed bungalows and basilicas erected by the Portuguese; and in the infrastructure and language brought by the British. It was primarily the spices of South India that lured outsiders to this fertile coast. Once, the peppers and cloves that continue to grow in abundance here were as valuable as gold and silver.
From farm to table
Today in Cochin it is possible to follow the peppercorn from its origins, climbing along a vine, to its final destination—ready for export to the kitchens of Europe and Asia and the United States. You begin in a boat on the backwaters, making your way down the narrow waterways that criss-cross this tropical landscape. Just outside the Cochin city limits, small spice farms appear along the banks of the canals. At many of these farms, you'll notice a distinctive vine of the pepper plant covered in small flowers and clusters of tiny green balls, growing up the trunks of trees. When the first few balls ripen and turn red, the still green and unripe pods are picked from the vine, cooked briefly in hot water, and left to dry in the sun. As they dry, the skin around each pepper seed becomes black and wrinkled, taking on the familiar appearance of peppercorns found on any American dining table.
Once the pepper crop is harvested and dried, the farmer sells it to a local dealer, who normally buys pepper from several local villages. When his stock is big enough, the dealer sells it to a larger spice trading company for storage and export. Today, many spice-processing factories and warehouses are located on Bazaar Road in the Matancherry neighborhood of Cochin. From here, they are distributed around India or exported on container ships from the harbor at Willingdon Island.
At the Kochi International Pepper Exchange, it is possible to visit the trading floor where premium-grade pepper is bought and sold. When a bid comes in via the telephones that line the walls, a commotion begins among the traders at the only pepper exchange in the world. Pepper accounts for one-fifth of the world's spice trade today, and nineteen percent of that is still produced in India.
A bounty of flavor
Today the cuisine of Cochin showcases with gusto its local spices—and its diversity of foreign influences, from the Chinese to the Portuguese. Because its occupants have been Muslims, Christians, Hindus, and Jews, Cochin's menus reflect a variety of religious beliefs surrounding food and offer both vegetarian and non-vegetarian specialties. Sampling local dishes is a fine way to discover why the spices of South India have been such prized commodities throughout the ages. Cochin's cherished aromatics also appear in local perfumes, and as you stroll the city's streets, it's easy to find essential oils containing enticing blends of local spices. Ayurveda, a system of traditional medicine native to India, recommends using spices such as turmeric, cumin, coriander, and fennel to promote good health, and several Ayurvedic clinics stand throughout the city.
As the spices of South India remain prominent in the modern world, it isn't difficult to imagine a time when men and women around the world yearned for these precious seasonings, and when kings and queens commissioned navigators to seek them out across vast continents and oceans.
Cochin and the trade that changed the world
A Sweet Treat from Southern India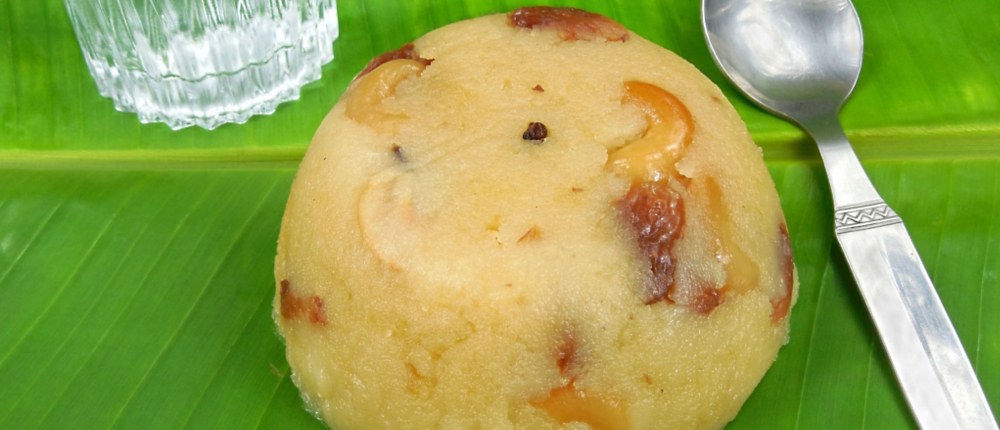 Pineapple Kesari
from Harriet's Corner
Fruit kesari can be served in a variety of ways and for occasions large and small. This grain- and pineapple-based pudding is often served as a dessert at weddings and festivals, but can also be enjoyed for breakfast throughout India's southern states. Named for its saffron-yellow color, ("kesari" is saffron in the Indian language) kesari is easy to make, but prepared traditionally, requires some ingredients typically found in Indian markets. With very little prep and cook time, this smooth, refreshing treat will transport you to the south of India in no time!

Ingredients:
½ cup rava (semolina can be substituted)
1 cup sugar
¼ cup finely chopped canned or fresh, ripened pineapple
3 Tbsp ghee (clarified butter)
6 cashew nuts, broken into small pieces
1 tsp pineapple extract or juice
1 ½ cup water
1 splash yellow food coloring
Preparation:
Melt 1 tablespoon of ghee in a pan and sauté the cashews until light brown.
Stir in the rava and cook for 4 to 5 minutes over medium heat.
Heat water and food coloring, bringing liquid to a boil before adding it to the rava mixture.
Add chopped pineapple and cook covered for 3 to 4 minutes, stirring occasionally.
Mix in the sugar and stir until all lumps are smoothed out.
Add remaining ghee and continue to stir until mixture no longer sticks to sides of pan.
Add the pineapple extract or juice and remove from heat.
Serve warm in a dish or saucer.
Serves: 2-3
Pineapple Kesari
Variety is the Spice of Life in India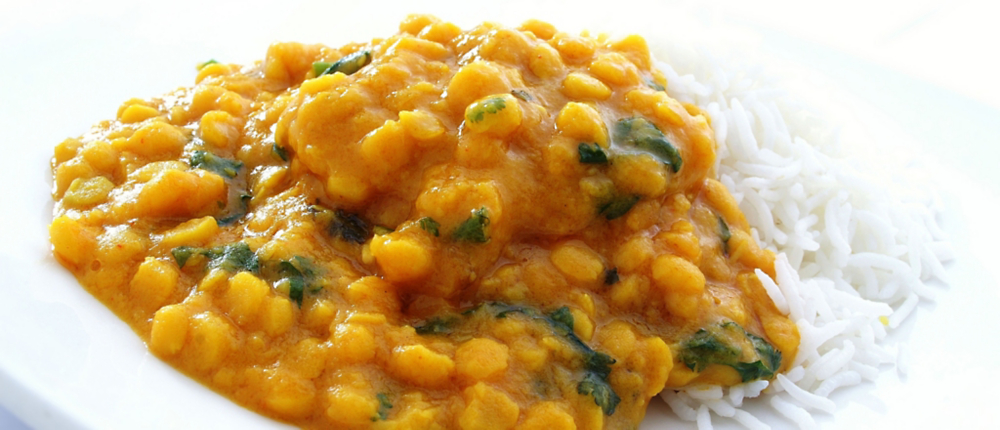 Mango Dal
from Harriet's Corner
In a country as expansive as India, it's no surprise that there are many flavors and varieties of the same meal throughout the nation. Dal—a thick stew eaten with rice in southern India, and with both rice and roti flatbread in northern India—is one such dish. This version features mango, which is not only refreshingly fruity but lends a brilliant hue reminiscent of the saris you'll see in India.
As always, Indian food offers many wonderful options for vegetarians, since most Indian religions forbid consumption of meat. But you can serve this alongside a nice piece of lean grilled chicken, too.
Ingredients:
1 cup yellow lentils
4 cups water
1 tsp salt, divided
1/2 tsp ground turmeric
1 Tbsp canola oil
1/2 tsp cumin seeds
1 medium onion, chopped
4 cloves garlic, minced
1 Tbsp minced fresh ginger
1/2 tsp ground coriander
1/4 tsp cayenne pepper
2 mangoes, peeled and diced
1/2 cup chopped fresh cilantro
Preparation:
Place lentils in a colander and rinse until the water runs clear. Combine lentils, 4 cups water, 1/2 teaspoon salt and turmeric in a large saucepan. Bring to a boil. Reduce heat to a simmer, partially cover, and cook, stirring occasionally, for 15 minutes.
Meanwhile, heat oil in a large nonstick skillet over medium heat. Add cumin seeds and cook until fragrant and starting to brown, about 30 seconds. Add onion; cook, stirring, until soft and beginning to brown, 4 to 6 minutes. Add garlic, ginger, coriander, cayenne, and the remaining 1/2 teaspoon salt and cook, stirring, for 1 minute more.
Stir the garlic mixture and mangoes into the lentils. Return to a simmer; cook, stirring occasionally, until the lentils are falling apart, 10 to 15 minutes more. Stir in cilantro.
Serves: 6
Mango Dal