Forgot Your Username
If you have forgotten your username, please provide your email address in the box below. We'll send you an email with your requested username. If you are having trouble, please call us toll-free at 1-800-221-0814.
Email Sent
You'll receive an email in a few minutes. Please check this email to find your requested username.
If you do not receive an email or you are having trouble logging into My Account, please call us at 1-800-221-0814.
JAPAN
A long and slender volcanic archipelago situated on the Pacific Ring of Fire, Japan is nestled into an area slightly smaller than California. Mountainous and heavily wooded, its four main islands—Honshu, Hokkaido, Kyushu, and Shikoku—comprise 97 percent of the country's total land mass. People first arrived in Japan across a land bridge from Korea some 30,000 years ago. The country was ruled by emperors beginning in 660 BC up until the 12th-century AD. A series of military shoguns then controlled Japan for several centuries, beginning a 200-year period of isolation that lasted until 1868, when emperors returned and began modernization. After the devastation of the Second World War, Japan quickly rose from the ashes to achieve remarkable growth during the second half of the 20th century—holding the title of the world's second largest economy for more than 40 years.
Japan remains an intoxicating blend of the ancient and modern, with villages steeped in centuries-old traditions in close proximity to the neon-lit streets of futuristic cities. Icons of Japanese culture include everything from geishas and gardens to sushi, sake, and Shinto shrines.
Most Popular Films
Films featuring Japan from international, independent filmmakers
A Taste of Delicious Tokyo
Follow a fearless Japanese food writer into Tokyo's edgiest restaurants—where soup made from soil is a culinary sensation.
Courtesy of CNN
Amasan Women of the Sea
Follow the last generation of Amasan, or Sea Women, in Japan as they search the ocean for Abalone.
Produced by Amie Williams
Travelogue: Kyoto, Japan 1965
Turn back the clock to 1960s-era Kyoto, Japan, and stroll along garden paths lined with stone lanterns and centuries-old shrines.
Produced by David Conover & Paul Villanova
Japan Interactive Map
Click on map markers
below to view information about top Japan experiences
Click here to zoom in and out of this map
Featured Reading
Immerse yourself in Japan with this selection of articles, recipes, and more
ARTICLE
Kyoto offers a glimpse into quintessential Japanese culture, including geisha history and sake samplings.
RECIPE
Comfort food is taken to the next level with this popular Japanese dish—try out the recipe for yourself.
ARTICLE
From the unusual to the iconic, Japan sets itself apart with its unique temples—take a look at some of our favorites.
Japan: Month-by-Month
There are pros and cons to visiting a destination during any time of the year. Find out what you can expect during your ideal travel time, from weather and climate, to holidays, festivals, and more.
Japan in December-February
Japan bustles with tourists all year round, but a winter visit allows you to avoid the throngs of summer guests and experience a different side of the island nation. During the months of December through February, the weather throughout Japan is cool and crisp, with plenty of sunshine and temperatures averaging around 35 to 40º F. Tokyo doesn't get much snow, but the rest of the mainland receives plenty of it, especially on the northern island of Hokkaido and Japan's Alps. The cool air of winter also keeps cloud cover to a minimum, making it the best time to view such iconic treasures as Mount Fuji.
Holidays & Events
February 6-12: Sapporo Snow Festival. One of Japan's most popular winter events, the Sapporo Snow Festival is held during one week every February in Hokkaido's capital, Sapporo, and attracts more than two million visitors from Japan and around the world.
February 3 or 4: Setsubun (Bean-Throwing Festival) is held throughout Japan to coincide with the first day of spring according to the old Japanese (lunar) calendar. Celebrations include the throwing of roasted soybeans to ward off evil spirits and bring good fortune.
Must See
Temples and shrines throughout Japan are beautiful throughout the year—but are even more dramatic when they are blanketed in snow. When snow begins to fall, even locals rush to places like Kinkakuji (the Golden Pavilion), which turns to a winter wonderland.
Japan in March-May
Spring is an exciting season in Japan, with budding leaves and sakura (cherry blossoms) sweeping the country from south to north. In March, Tokyo's spring weather averages about 55º F during the day, rising to the 70s by May.
Holidays & Events
Late April/Early May: Golden Week, one of Japan's busiest times of year, is a combination of four national holidays—Showa Day, Constitution Day, Greenery Day, and Children's Day—that occur over a week's span.
Must See
Cherry blossoms: Japan's iconic sakura are renowned throughout the world. The beautiful pink flowers that blanket the country in colorful splendor begin their first bloom in late March or early April in places like Tokyo and Nagasaki to early May in Sapporo.
Japan in June-August
Summer in Japan can be hot and humid (but with fewer crowds), with temperatures reaching the mid-90s (F) in many parts of the country. Locals often head to the mountainous regions or the northern island of Hokkaido to escape the heat. June is the rainy season in most of the country. Temperatures can reach the mid-90s (F). July and August is also the ideal time to climb Mount Fuji—when the mountain is (usually) snow-free and the weather is relatively mild.
Holidays & Events
July: Gion Matsuri: Dating back to the 9th century, Kyoto's biggest annual festival is a month-long event that is equal parts religious observance and raucous summer block party celebrating Kyoto culture.
July 7: Tanabata (Star Festival): As the date approaches, long, narrow strips of colorful paper known as tanzaku are inscribed with wishes and hung from bamboo branches.
Mid-August: Obon: This annual Buddhist event for commemorating one's ancestors typically ends when floating lanterns are put into rivers and lakes to guide the spirits back home.
Must See
While the summer months can be hot, this is also when flowers bloom and the greenery is at its most lush in Japan. Plus, these months are always filled with fireworks displays and cultural festivals, including Tokyo's annual Sumidagawa Fireworks Festival held on the last Saturday in July.
Japan in September-November
September is rice-harvesting season, and the time of year with the greatest risk of typhoons. After that, the weather is generally mild, with October pleasantly warm and less humid. Trees throughout Japan begin to show their beautiful autumn colors and November is peak fall foliage time.
Holidays & Events
November 3: Bunka no Hi (Culture Day) is a national holiday held annually in Japan to promote culture, the arts, and academic endeavor.
Mid-October: Taiiku no Hi (Sports Day): Held the second Monday of October, Taiiku no Hi is a national holiday to foster healthy minds and bodies through physical activity.
Must See
Viewing the fall foliage (called momijigari) is a favorite activity in Japan this time of year. Typically, autumn foliage season starts in mid-September in the Hokkaido region and can stretch to late November in places such as Hakone.
Average Monthly Temperatures
Compare Our Adventures
Click 'Select to Compare' to see a side-by-side comparison of up to adventures below—including
activity level, pricing, traveler excellence rating, trip highlights, and more
14 DAYS FROM $4,795 • $ 343 / DAY
Small Group Adventure
Japan: Tokyo, Hakone, Kanazawa, Kyoto
25 meals—daily breakfast, 7 lunches, and 6 dinners
Spend 2 nights in Tokyo
Enjoy 5 nights in Kyoto
Spend 3 nights in Kanazawa
Partially ascend Mount Fuji (weather permitting)
Visit Nara on an optional tour
17 DAYS FROM $6,195 • $ 365 / DAY
Small Group Adventure
First Departure 08/10/2017
Days in Japan
7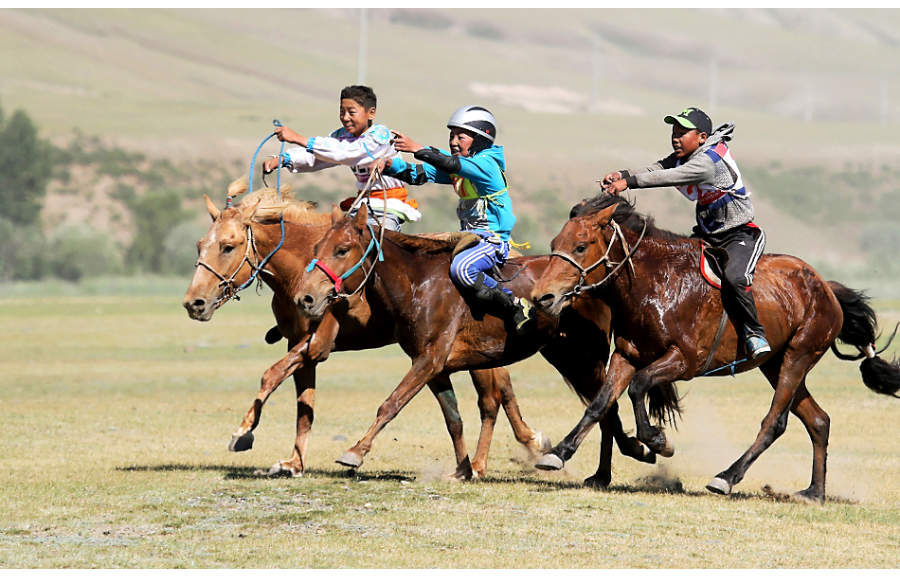 South Korea: Seoul, Daegu, Gyeongju • Japan: Tokyo, Toba, Kyoto
33 meals—daily breakfast, 10 lunches, and 8 dinners (including 1 Home-Hosted Lunch)
Spend 2 nights in Tokyo
Enjoy 3 nights in Kyoto
Spend 2 nights in Toba
Explore Japan's historic city of Nara
Compare Adventures
Find the Adventure That's Right for You
Our Activity Level rating system ranks adventures on a scale of 1 to 5 to help you determine if a trip is right for you. See the descriptions below for more information about the physical requirements associated with each rating.
Activity Level 1:
1 2 3 4 5
Easy
Travelers should be able to climb 25 stairs consecutively, plus walk at least 1-2 miles over some uneven surfaces without difficulty. Walks typically last at least 1-2 hours at a time. Altitude can range from zero to 5,000 feet.
Activity Level 2:
1 2 3 4 5
Moderately Easy
Travelers should be able to climb 40 stairs consecutively, plus walk at least 2-3 miles over some uneven surfaces without difficulty. Walks typically last for at least 2-3 hours at a time. Altitude can range from zero to 5,000 feet.
Activity Level 3:
1 2 3 4 5
Moderate
Travelers should be able to climb 60 stairs consecutively, plus walk at least 3 miles over some steep slopes and loose or uneven surfaces without difficulty. Walks typically last for 3 or more hours at a time. Altitude can range from 5,000 to 7,000 feet.
Activity Level 4:
1 2 3 4 5
Moderately Strenuous
Travelers should be able to climb 80 stairs consecutively, plus walk at least 4 miles over some steep slopes and loose or uneven surfaces without difficulty. Walks typically last for 4 or more hours at a time. Altitude can range from 7,000 to 9,000 feet.
Activity Level 5:
1 2 3 4 5
Strenuous
Travelers should be able to climb 100 or more stairs consecutively, plus walk at least 8 miles over some steep slopes and loose or uneven surfaces without difficulty. Walks typically last for 4 or more hours at a time. Altitude can range from 10,000 feet or more.
Hide Acivity Level
TRAVELER EXCELLENCE RATING
PRICE
including international airfare
HIGHLIGHTS & ACTIVITIES IN JAPAN
*This information is not available for our trip extensions. You must reserve the main trip to participate on this extension.
**This information is not currently available for this trip. Please check back soon.
Captivated in Kyoto
Finding the essence of Japan in its former capital
by A.C. Doyle, for Overseas Adventure Travel
There are a handful of destinations on Earth that make you feel blessed and privileged to have simply been there and seen them. You wish a parent had been alive to see it with you, or that you'd gone there sooner. You feel that delicious frisson of "I'm actually here, I'm actually seeing it!" Kyoto will do that to you.
Kyoto escaped the fate of a great many other Japanese cities. For much of the war, it was spared due to a principle in the Roosevelt Administration that mirrors the current UNESCO World Heritage Site designations—that is, that destruction merely for the sake of destruction is a wartime evil best avoided. Truman was, however, advised by some to consider Kyoto as a target for the first atomic bomb, since, as a cultural and intellectual center, it would serve as a crushing example of the folly in Japan's continuing futile war efforts. Thankfully, for Japan, the world, and lucky visitors, Secretary of War Henry Stimson raised a violent protest against the choice, and Kyoto was spared.
Still, preservation alone does not the city make. Kyoto means, literally, Capital City, and for one thousand years it served as the Imperial home. Originally, in 794, Emperor Kammu settled there in order to remove his family and court from the growing influence of the Buddhist clergy. It was not until the Imperial Restoration of 1868 that the capital moved to Tokyo. Many Japanese still consider Kyoto their true capital. So for an entire millennium Kyoto was the heart of not only imperial power, but the art, architecture, culture, and scholarship that defines what we now think of as distinctively, classically, Japanese.
Explore the sights
I was once asked to name the most beautiful building I've ever encountered. After a few moments of speculation, the choice was clear: "The Kinkaku-ji!" The Golden Pagoda, or Kinkaku-ji, is a marvel for the ages. Its elegance lies in simplicity. It is entirely covered in gold leaf, and sits out on a rocky outcropping overlooking the lake of the Rukuon-ji temple compound. At sunset it is absolutely magnificent. A crazed monk burnt it to the ground in 1950, but the impeccable 1954 recreation is considered virtually indistinguishable from the 1397 original. It still serves as a shariden, housing ashes of the Buddha.
Another mandatory temple visit is to the Kiyomizu-dera, a stunning example of 17th-century Japanese architecture, perched atop a hillside overlooking the old town and affording magnificent views. The main floor is supported by massive wooden columns, and overhangs its base at a height of some 40 feet above the hillside. Tradition holds that anyone surviving the jump would have his wishes granted. Several hundred tried before the practice was forbidden, and five out of every six survived (about an 85% survival rate). It is also located at the confluence of three waterfalls, which spill into a fountain. The water is supposed to have healing powers, and visitors are still allowed to drink from it—they just can't jump afterwards.
The Kyoto and Shento imperial palaces will undoubtedly reserve a prime seat in your Kyoto itinerary, and they are magnificent indeed. The Katsura Villa also served as a home for emperors and shoguns, and is located nearby. The architecture is quintessential, the sculptures lovely and fierce at once, the interiors stark yet regal, and you can envision the samurais guarding the shogun as the geishas shuffle past.
Witness the glamor of geishas
Kyoto was the geisha capital of Japan for centuries. At the Gion Corner, there are nightly performances by geishas. As you are most likely aware, the traditional geisha was not merely a high-priced courtesan, but rather a woman of education, culture, conversational skill, and extensive training in art, music, singing, and dancing.
The lion's share of the geisha's value was established with her clothes still on. Accordingly, you needn't fear any unceremonious features to these traditional geisha ceremonies. Instead, you will see the geishas serve tea, arrange flowers, play traditional instruments, dance, and even perform bunraku (puppet theater, typically comedic).
Sample the spirits
As for beverages, there are five main types of sake, four of them known as Tokutei Meishoshu, or Special Designation, and distinguished by how much is pure rice wine versus the amount of distilled alcohol added. The fifth is a catch-all category. Because the brewing and fermentation processes determine the flavor, even the Japanese are often uncertain as to which type they are drinking—meaning, don't trouble yourself with these categories at all. The best sake is often enjoyed cold, but I vastly prefer it as hot as possible. As for beer, all of the four major breweries (Kirin, Asahi, Sapporo, and Suntory) make excellent pilsner/lager styles of ale/beer.
Savor the spirit of Kyoto
If, after a day or so, you feel yourself strolling a bit more slowly, perhaps shopping for a parasol rather than slathering on SPF50, bowing to the locals instinctively rather than self-consciously, stopping to smell the abundant blossoms, and maybe even looking forward to some yudofu (blocks of tofu simmered in hot water along with veggies)… well, then you'll more fully appreciate the opening paean of this article, feel the blessings of the Buddha's jhana settling upon your soul, and feel the spirit of Kyoto. Sayonara, and gambatte (or "Good luck—Keep at it!"). I wish I were going with you.
Finding the essence of Japan in its former capital
Okonomiyaki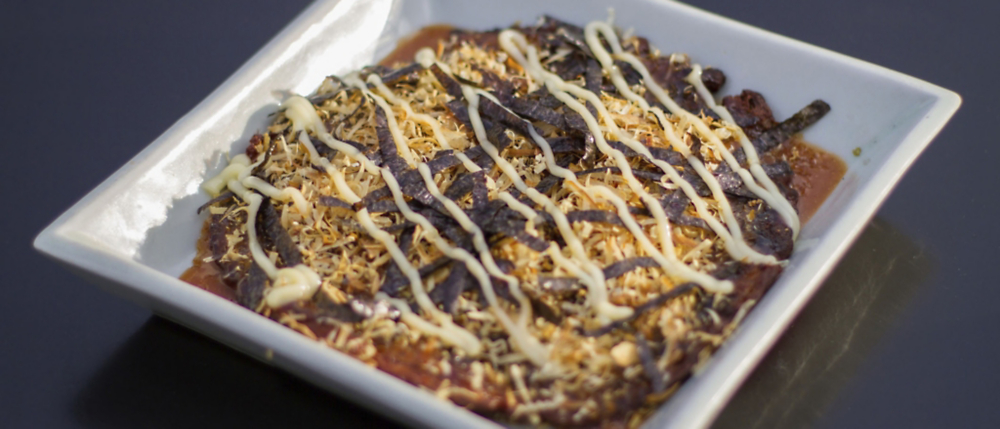 from Harriet's Corner
The beauty of okonomiyaki lies in its versatility—there's no one way to make it, and it's a great way to use up leftovers. This savory dish is usually made from a batter of flour, grated yams, dashi (savory stock), cabbage, and eggs, mixed together and cooked quickly on a griddle. We've listed the standard toppings below, but the possible add-ons are infinite—fresh green onion, bean sprouts, and more. Get creative!
Ingredients:
2 cups all-purpose flour
1 1/4 cups dashi soup stock or water
4-6 eggs
1 lb. (about 8 cups) cabbage, coarsely chopped into fine pieces
6 Tbsp. scallions, thinly sliced
6 Tbsp. cooking oil
Toppings:
12-18 strips of thinly sliced beef or pork, if desired
Katsuobushi (bonito fish flakes)
Aonori (green seaweed) to taste
Beni shoga (red ginger) to taste
Okonomiyaki sauce (Japan's answer to Worcestershire sauce), hoisin sauce, or American Worcestershire sauce to taste
Mayonnaise to taste (Japanese mayonnaise is recommended)
Preparation:
If adding dashi soup stock, dissolve dashi in warm water according to directions. Mix together flour and dashi soup stock or water in a bowl. Batter will be somewhat thick. Rest the batter in the refrigerator for 30-60 minutes.
Mix cabbage and scallions into the batter.
Make a hole in the center of the batter and add one egg for every okonomiyaki you plan to make (for instance, if you will make four okonomiyaki, add four eggs). Mix well.
Heat a flat pan or an electric griddle on low heat and add a small amount of oil.
Pour the batter slowly onto the pan, forming a round. Cook for 5-7 minutes, until the bottom is firm and golden brown.
If you are adding meat, cook the round until almost done on the first side, adding your chosen ingredients to the top of the round just before you are ready to flip it. Secure it to the round by spreading a small amount of batter thinly over the top of the meat.
Flip the okonomiyaki carefully using two spatulas, supporting both sides and flipping the round very slowly. Cook another 5-7 minutes until the round appears fully cooked through and the other side is golden brown.
Flip the okonomiyaki again and add toppings: okonomiyaki sauce first, then mayonnaise (many Japanese restaurants will squirt the mayonnaise in a crosshatch pattern), then sprinkle katsuoboshi and other fresh ingredients on top.
Garnish with a generous pinch of beni shoga in the center for color if desired, and serve hot.
Serves: 4-6
The Strange and the Sacred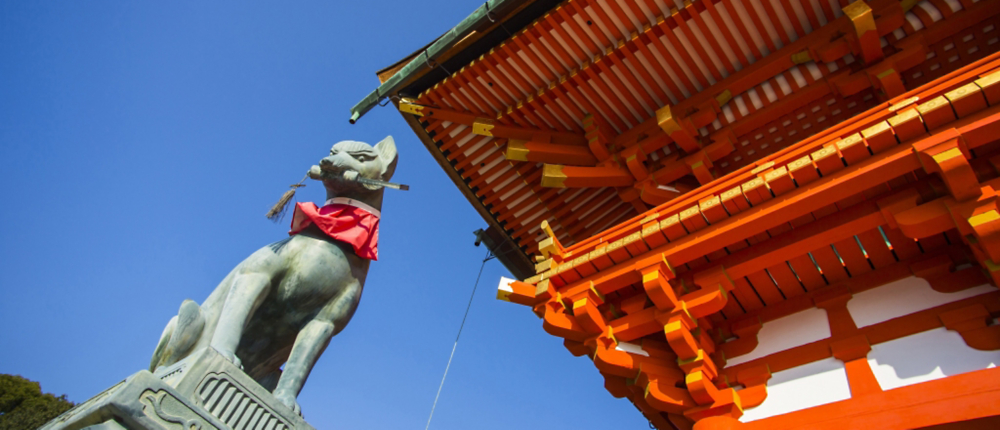 Where to find Japan's most unusual temples
by Rachel Fox
Japan is a destination that seldom shies from the bizarre, unique, and downright strange—and its religious sites are no exception. Below, you can take a look inside some of the country's most unusual temples.
Fushimi Inari, Kyoto
Sitting at the base of Mount Inari, this complex of five Shinto shrines was built in the eighth century to honor Inari, the god of rice. Today, one of the most intriguing features of this shrine is its tunnel of an estimated 10,000 red torii gates, which cover a 2.5-mile trail that winds up the mountain. Strolling through this seemingly endless vermillion passageway is often enough to make visitors feel like they've entered another world, but those in search of more unfamiliar sights won't have to look far. The complex is also surrounded by hundreds of statues of foxes—a sacred animal that many Japanese consider the messenger of Inari.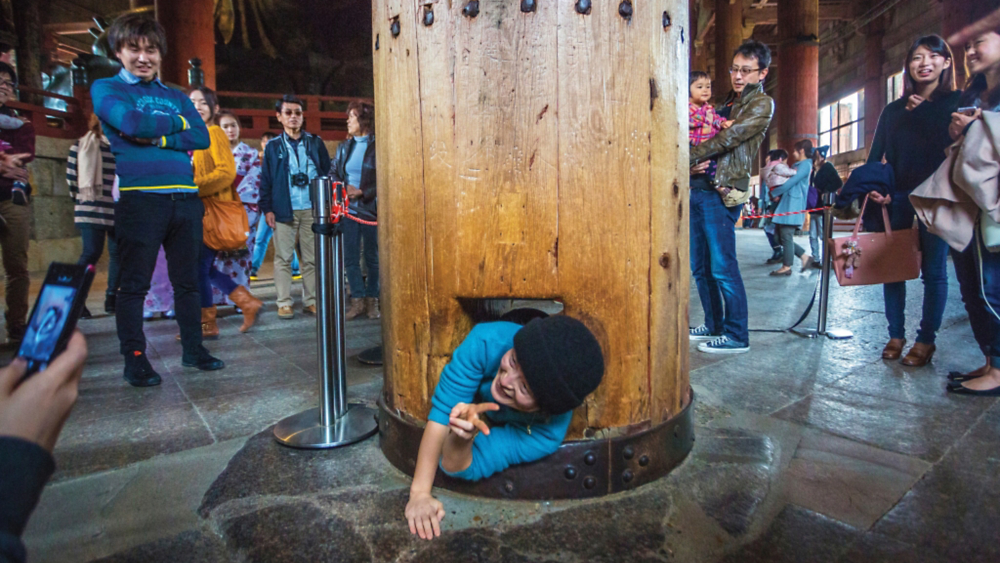 Todai-ji, Nara
While Japan has countless Buddhist temples, Todai-ji has found several ways to distinguish itself from the rest. The temple's grounds, for example, are filled with deer—near-domesticated creatures that are known to wander over from Nara Park and (literally) bow down to temple guests in the hopes of receiving a biscuit. There is even more to see inside Todai-ji's Daibutsu-den Hall, the largest wooden building on the planet. The hall houses Japan's famous Daibutsu (Great Buddha)—a statue hailed as one of the world's largest bronze figures. In fact, the Great Buddha is so big that temple visitors are challenged with squeezing through a hole the size as the statue's nostril—a strange, albeit, challenging task that is said to bring enlightenment.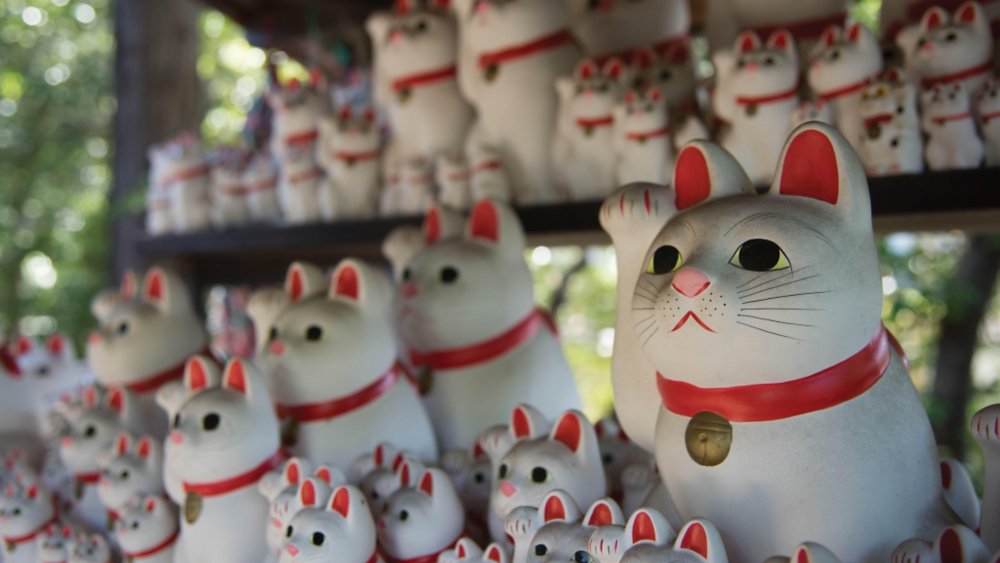 Gotokuji Temple, Tokyo
Nestled in the quiet suburbs of Tokyo, Gotokuji can thank a famous feline for its place among Japan's most unusual temples. The complex is covered in more than 1,000 statues of Maneki Neko (or Fortune Cats)—a popular feline that is thought to bring good luck to its owner. In fact, many people believe that the legend of Japan's celebrated Fortune Cat began at Gotokuji, when a priest's cat helped a wealthy samurai avoid being struck by lightning by beckoning him into the temple.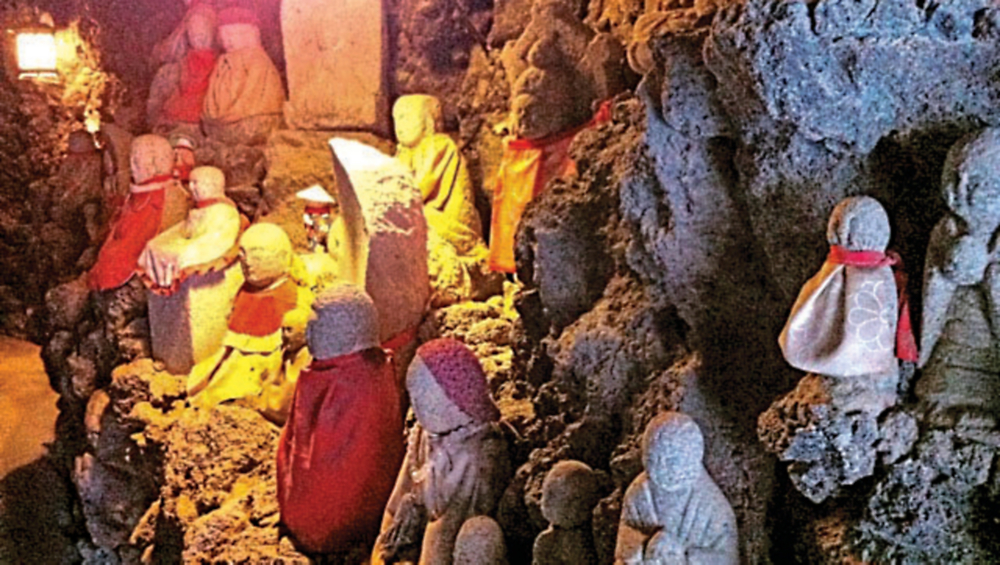 Kosan-ji, Hiroshima
Located on Ikuchijima Island, the Buddhist temple of Kosan-ji was built in 1936 by a businessman-turned-priest to honor his mother. The temple complex—which took 30 years to build—is filled with expert recreations of some of Japan's most iconic sites; however, the temple's most unusual feature is its grotto cave, also known as the Cave of a Thousand Buddhas. Its 1,155-foot interior showcases the figures of people suffering from the tortures of Buddhist hell for crimes ranging from alcoholism to murder. Fortunately, when visitors emerge from the cave, their souls will have a chance to be saved by a 15-foot statue of the Goddess of Mercy.
Where to find Japan's most unusual temples