Forgot Your Username
If you have forgotten your username, please provide your email address in the box below. We'll send you an email with your requested username. If you are having trouble, please call us toll-free at 1-800-221-0814.
Email Sent
You'll receive an email in a few minutes. Please check this email to find your requested username.
If you do not receive an email or you are having trouble logging into My Account, please call us at 1-800-221-0814.
NEW ZEALAND
New Zealand sits on two tectonic plates—the Pacific and the Australian plates—resulting in a fantastic display of natural contrasts across the North and South Islands. The shifting plates produce an unlikely mix of glaciers, geysers, beaches, and fjords in one nation. As these tectonic plates continue to shift, the landscape of New Zealand does as well, but one thing remains—the islands' warm and gracious locals.
New Zealand's cultural fabric is as diverse as the landscape around it, which is sewn together by European, Polynesian, and Maori origins. The Maoris descended from Polynesian settlers who arrived in New Zealand in the 14th century. The new inhabitants of the islands introduced new crops to the land and brought with them a foundation of traditions that has carried over into modern day. Until the 18th century, New Zealand had remained undisturbed by European settlers, until an English explorer, James Cook, landed in New Zealand and later claimed the land in the name of the British Crown. It wasn't until 1840 that British representatives and Maori tribes reached a peaceful agreement that brought New Zealand one step closer to independence. Under the Treaty of Waitangi, Maori gained land protection, but British law was officially enacted in New Zealand. The nation officially gained its independence in 1947.
Today, Kiwis, Maoris, and Pacific Island Polynesians come together to keep age-old traditions alive and the vibrant spirit of New Zealand thriving. Share a meal, laugh, and talk with the locals to get an intimate glimpse of what it means to call New Zealand home.
Most Popular Films
Films featuring New Zealand from international, independent filmmakers
New Zealand's North Island
Follow along with Rudy Maxa as he kayaks, hikes, and bikes through New Zealand's North Island.
Produced by Small World Productions
New Zealand's South Island
Join Rudy Maxa as he reveals the scenic gems and deep-rooted Maori traditions of New Zealand's South Island.
Produced by Small World Productions
Directions
Immerse yourself in a journey through New Zealand's myriad breathtaking landscapes.
Produced by Christophe Hamon, Over The Moon Productions
New Zealand Interactive Map
Click on map markers
below to view information about top New Zealand experiences
Click here to zoom in and out of this map
Featured Reading
Immerse yourself in New Zealand with this selection of articles, recipes, and more
ARTICLE
Get a glimpse into Maori culture—from tracing their ancient genealogy to learning how this indigenous group has thrived.
ARTICLE
Maori bone carving is more than just a beautiful art form. Discover the deeper significance of this custom.
ARTICLE
Hop into a '95 Toyota minivan with O.A.T. writer Jenna Thomas for a scenic adventure to New Zealand's Milford Sound.
ARTICLE
Take a side-by-side look at the origins, spiritual beliefs, and traditions of Australia's Aborigine and New Zealand's Maori.
New Zealand: Month-by-Month
There are pros and cons to visiting a destination during any time of the year. Find out what you can expect during your ideal travel time, from weather and climate, to holidays, festivals, and more.
New Zealand in December-February
Due to the island nation's location in the Southern Hemisphere, New Zealand experiences summer when we're experiencing winter in the Northern Hemisphere. Delight in balmy summer weather in New Zealand between December and February. This is an ideal time to take in the variety of ocean activities that the South Pacific offers.
Unfortunately, with warmer weather comes larger crowds. Summer is peak tourist season in New Zealand, which means that you should plan ahead and expect beaches and major cities to be crowded.
Holidays & Events
Throughout December: the Timaru Festival of Roses showcases beautifully designed gardens, live music, and theater acts
February 6: Waitangi Day celebrates the founding document of New Zealand, which was signed on February 6, 1840
January 29: Auckland Anniversary Day is celebrated on the last Monday of January. This holiday is dedicated to the arrival of New Zealand's first governor and co-author of the Waitangi Treaty, William Hobson
January 26-29: International Buskers Festival is celebrated annually and brings together individuals from across the globe to showcase their diverse range of talents, including acrobatics, juggling and comedy acts
Must See
Sample some of New Zealand's local wines and savor traditional flavors at the annual Marlborough Food and Wine Festival. This gastronomic celebration was the first of its kind and is the oldest food and wine festival in New Zealand. Enjoy wine from 40 vineyards and food from 25 vendors, all while taking in musical entertainment from the event's main and acoustic stages.
If you're looking for something a little sportier, the South Pacific tournament series for rugby sevens takes place over the summer. The game is similar to traditional rugby, except seven players make up a team instead of up to 15. The sport was founded in 1883 and continues to be one of New Zealand's most popular pastimes.
New Zealand in March-May
Take advantage of the comfortable autumn weather, enjoy fewer crowds, and watch your travel dollar go further in March through May. At the beginning of the season, soak up warmer temperatures and by the end of autumn, enjoy a pleasant cool down. As the weather transitions from summer to autumn, watch the landscape brighten up with colorful foliage. In major cities, trees will most likely turn a bright yellow, and while orange and red hues aren't typical of foliage in New Zealand, you may spot these warm colors here and there. A cruise on Lake Wakatipu or an exploration of the area around the lake is a true sign of the changing seasons as the landscape around the lake turns a brilliant shade of yellow.
Holidays & Events
March 1-3: Golden Shears Sheep-Shearing Competition is an annual event that has been held since 1958
May: At Bluff Oyster Festival-goers enjoy live music and oyster shucking competitions
Must See
Balloons over Waikato is a popular New Zealand festival that attracts thousands of visitors to the city of Hamilton every year. The week-long event showcases spectacular hot air balloons that ascend over the city and dot the sky. If you're curious to see New Zealand from above yourself, various cities, including Auckland, offer hot air balloon rides. Float above mountains and valleys as you take in the crisp autumn air.
New Zealand in June-August
During the winter months, the South Island is dusted with snow and the North Island is drenched with rain. While cooler temperatures provide a nice contrast to the hot summer heat, rain can hinder outdoor activities and snow can make commuting difficult. Fortunately, in the winter months little to no crowds make for a more enjoyable experience.
Although this may not be the best beach weather, a visit to Abel Tasman National Park is ideal this time of year as you'll get to hike and sightsee your way through the lush landscape and scenic beach undisturbed. Milford Sound also provides a better experience in the winter as there is less rainfall in Fiordland National Park and more wildlife viewing opportunities. Penguin and seal sighting are more common when the temperatures drop. If you're seeking out a warm retreat from the cold temperatures, hot springs abound. Surround yourself with the beauty of nature and enjoy a New Zealand winter from the warmth of a thermal pool.
You may want to take advantage of Queenstown's many exciting winter activities. The South Island city lives up to its title as the adventure capital of the world with activities like snowboarding, mountain climbing, bungy jumping, and more.
Holidays & Events
June 23-24: Queenstown Winter Festival brings together an eclectic mix of entertainment—from firework shows to dog derbies, comedy shows, skiing, and more
June 15: Matariki is the start of the new year for the Maori people of New Zealand
Must See
Winter is one of the best times to witness the wild wonders of New Zealand's underwater wildlife. Watch whales breaching and dolphins porpoising out of the ocean along the coast of the South Island in Kaikoura. If you're looking to immerse yourself even more in nature, consider taking a dip in Rotorua's thermal pools, which provide visitors with an unparalleled New Zealand winter experience.
New Zealand in September-November
The renewed vibrancy of spring arrives in September and remains through November. Witness baby lambs hopping through fields of fresh blooms and lush grass, but don't be surprised if a rogue snow shower springs up in the South Island in September.
This season ushers in comfortable temperatures that are perfect for an array of outdoor activities. Make the most of the leftover snow and take advantage of the warmer temperatures by skiing or snowboarding. If you're looking for an activity more aligned with springtime, white water rafting is popular this time of year as the rapids are fuller and faster.
Holidays & Events
October 27-November 5: Taranaki Rhododendron Festival is New Zealand's longest running garden festival with 47 thoughtfully designed gardens and live music
Must See
New Zealand is home to around three million people and 60 million sheep, which only increases once newborn lambs arrive in the spring. Newborn orcas are also common this time of year and can be spotted swimming in pods, or in groups of 5-30 whales, in Wellington Harbour.
Average Monthly Temperatures
Compare Our Adventures
Click 'Select to Compare' to see a side-by-side comparison of up to adventures below—including
activity level, pricing, traveler excellence rating, trip highlights, and more
Compare Adventures
Find the Adventure That's Right for You
Our Activity Level rating system ranks adventures on a scale of 1 to 5 to help you determine if a trip is right for you. See the descriptions below for more information about the physical requirements associated with each rating.
Activity Level 1:
1 2 3 4 5
Easy
Travelers should be able to climb 25 stairs consecutively, plus walk at least 1-2 miles over some uneven surfaces without difficulty. Walks typically last at least 1-2 hours at a time. Altitude can range from zero to 5,000 feet.
Activity Level 2:
1 2 3 4 5
Moderately Easy
Travelers should be able to climb 40 stairs consecutively, plus walk at least 2-3 miles over some uneven surfaces without difficulty. Walks typically last for at least 2-3 hours at a time. Altitude can range from zero to 5,000 feet.
Activity Level 3:
1 2 3 4 5
Moderate
Travelers should be able to climb 60 stairs consecutively, plus walk at least 3 miles over some steep slopes and loose or uneven surfaces without difficulty. Walks typically last for 3 or more hours at a time. Altitude can range from 5,000 to 7,000 feet.
Activity Level 4:
1 2 3 4 5
Moderately Strenuous
Travelers should be able to climb 80 stairs consecutively, plus walk at least 4 miles over some steep slopes and loose or uneven surfaces without difficulty. Walks typically last for 4 or more hours at a time. Altitude can range from 7,000 to 9,000 feet.
Activity Level 5:
1 2 3 4 5
Strenuous
Travelers should be able to climb 100 or more stairs consecutively, plus walk at least 8 miles over some steep slopes and loose or uneven surfaces without difficulty. Walks typically last for 4 or more hours at a time. Altitude can range from 10,000 feet or more.
Hide Acivity Level
TRAVELER EXCELLENCE RATING
PRICE
including international airfare
HIGHLIGHTS & ACTIVITIES IN NEW ZEALAND
*This information is not available for our trip extensions. You must reserve the main trip to participate on this extension.
**This information is not currently available for this trip. Please check back soon.
Land of the Long White Cloud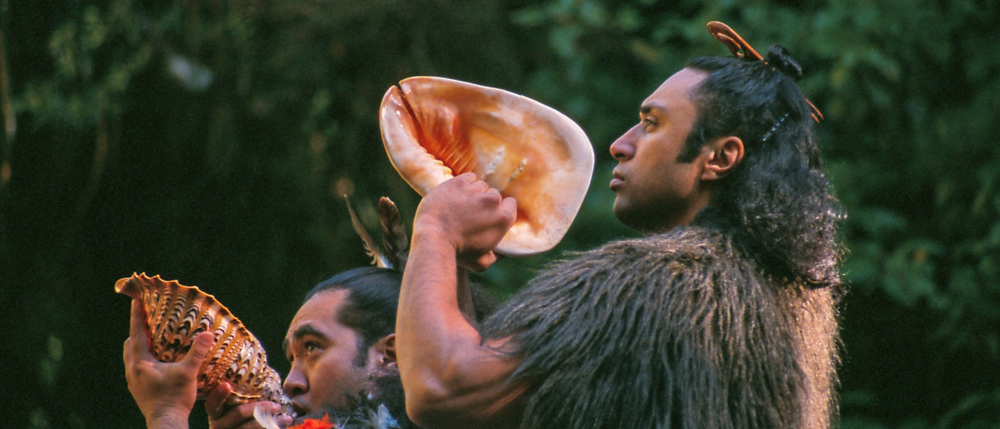 The culture & traditions of New Zealand's Maori people
by Pavi Kulatunga
Here's how the world began: Ranginui (the Sky Father) and Papatuanuku (the Earth Mother) once were locked together in a tight embrace. Their children, however, were tired of living in darkness and violently pushed their parents apart to separate the Earth and the Sky. Rangi and Papa still yearn for each other, though, as can be seen by Rangi's tears falling as raindrops and the mist rising from the body of the Earth.
This legend is part of the rich mythology of the Maori, the indigenous people of New Zealand. Though the country's oldest inhabitants, they are not native to these islands. It is thought that they migrated to New Zealand from French Polynesia, traveling over the vast sea by canoe. Leading the way was said to be the mythical Polynesian navigator Kupe, who is believed to have arrived on New Zealand's shores around 950 AD.
Though the Maori today reside throughout New Zealand, the early settlers preferred the North Island, with its warmer climate and easier access to the rest of civilization. They named their new home Aotearoa—the "Land of the Long White Cloud."
Looking back to the future (or forward to the past)
Not much else is known about the early days of the Maori in New Zealand. There is no written record because theirs is an oral tradition. While scholars and many others may dismiss oral histories as unreliable, to OAT Trip Leader David Hill, this method of recording the past is remarkable. "Most people can't even name their own great-grandparents," he says. "The Maori can recite their genealogy back 1,000 years. That ability to remember and recite oral histories is profound."
The importance of oral history is rooted in a uniquely Maori way of looking at the world. For the Maori, the past isn't something that's already happened and can be forgotten. Instead, it's something that still lies ahead. It's the future that the Maori put behind them, since it's something that can't be seen or evaluated. The past, on the other hand, can offer guidance and instruction.
Whakapapa, or genealogy, is a fundamental part of this concept. Named for broad, flat rocks that can be stacked, Whakapapa refers to the layers of relationships that define each individual.
Strength in unity
Language is one key reason why the Maori have been successful while other indigenous people have not. Like Native Americans, Native Canadians, and Aborigines, for example, the Maori consist of several tribes. Uniquely, however, all Maori tribes share a common language and a central authority.
"The Maori are a more cohesive community because of their common language," David explains. "The Aborigines have a wonderful culture, but because they lacked a common language, they didn't have the same potency. They couldn't organize to resist."
The Maori, by contrast, have been able to get back much of the land that had been confiscated from them by European explorers throughout the 17th to 19th centuries. In some cases, they are using the land for enterprises that help them to establish themselves in the mainstream. For example, many of the traveler services OAT uses on the South Island are Maori-owned and operated. According to David, the reconciliation effort has been so successful, native people from other countries around the world look at New Zealand as a model.
Practicing mana
"One reason the Maori have become an active and vigorous part of the mainstream is because of their character," David says. "It's a non-material culture, where the greatest value is mana."
The concept of mana, so central to Maori philosophy, may be described as authority or guardianship. Mana can be earned throughout a person's life through acts of wisdom, compassion, and courage. It can also be taken away by transgressions. David further explains that Maori society is divided into two classes: ordinary Maori (in fact, the word Maori itself means "ordinary person"), and the Rangatira, the class of the chieftains. People may move between classes during their lives based on their actions. To illustrate the concept of mana, David tells a true story from the early 1800s, of Te Rauparaha, who became leader of the Ngati Toa tribe—a very small tribe—and Te Wherowhero, a Rangatira who was chief of the Waikito, a very powerful tribe that wanted to drive the Ngati Toa tribe out of its territory:
A legendary warrior, Te Rauparaha and his forces managed to overwhelm the much larger army. Though he could have vanquished Te Wherowhero, he approached the other leader instead and offered to let him go home. Te Wherowhereo, however, knew that, if he did so, his mana would evaporate. He made a counter-offer to Te Rauparaha: Send your warriors to face me, one by one. Now it was Te Rauparaha who would lose mana if he said no. When 50 of his men had been killed or wounded, Te Rauparaha halted the battle and retreated.
An Enduring People
By the beginning of the 21st century, the Maori population had risen to 600,000, about 14% of the total population on New Zealand. This is not to say that contemporary Maori people do not face discrimination and other problems associated with minorities, especially in urban settings where their rates of unemployment, crime, and poverty are higher than that of the general pakeha (European) population. Still, with so many more Maori people assimilating into the mainstream New Zealand lifestyle, there is a generally more widespread celebration of maoritanga—all things Maori.
"When you visit, you get the feeling that the Maori are really part of New Zealand life," says 9-time traveler Nancy Belis from Denver, Colorado. "A lot of modern nations don't cherish the past. But the Maori are an integral part of Kiwi culture, and that's admirable."
The culture & traditions of New Zealand's Maori people
Bone Carvings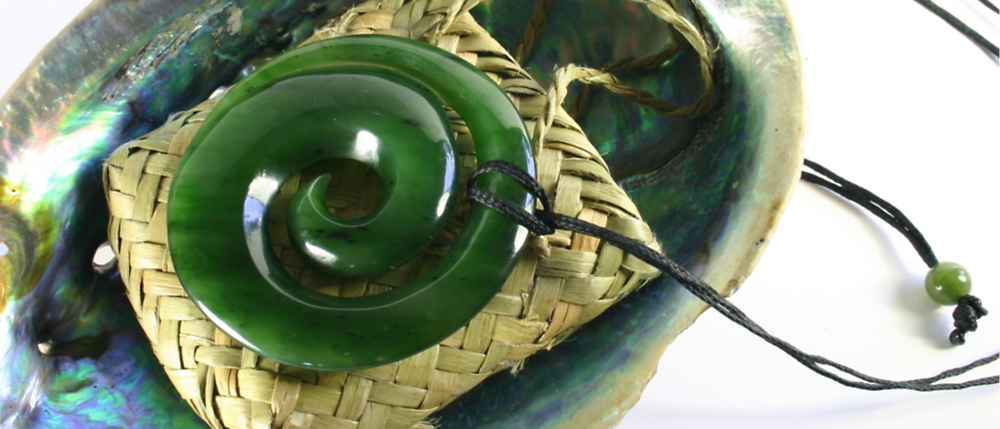 A Traditional Art Form Ingrained in Maori Culture
by Jennifer Sullivan, for O.A.T.
Before Europeans came into contact with the Maori, the indigenous tribes of New Zealand had no knowledge of written language. The ancient Maori iwi (tribes) were steeped in folklore that was passed down orally from ancestor to descendant. Mythical tales, family histories, and cultural values became part of each person who heard them and retold them. These oral traditions shaped Maori character and culture.
To help preserve these stories, the Maori used objects of humble origins. Over time, the weaving of cloth and baskets, and the carving of bone and jade, grew into intricate art forms that recorded legends, genealogies and tribal histories. It could take years to finish just one bone carving when engraving it using a stone tool. The resulting amulets became heirlooms, handed down for centuries, and were considered taonga, "treasure."
As a taonga was reverently passed from one generation of elders and great warriors to the next, it grew even more sacred. The wearer became a part of it, and it became a part of the wearer. Each new owner added a new story that now belonged to the talisman, and it was believed that—if given and received with love—it absorbed a measure of the spirit of everyone who handled it. A carving that has been passed down in a family or tribe and worn over many generations is a very precious and powerful gift.
Material and Meaning
All the way up until the latter part of the 20th century, the bones of whales were traditionally used to make bone carvings. The Maori's relationship with whales has been an integral part of their society for centuries and features heavily in their mythology and everyday life. Whales are said to be the children of the god of the oceans, Tangaroa. Many legends have the cetaceans guiding sea-faring humans. Some stories even chronicle the creatures escorting the original Maori as they made the journey across the water from their ancestral homeland to Aotearoa (New Zealand) eons ago. Today, due to conservation and trade regulatory efforts, most carvings are made with cattle bone. However, whalebone is of significantly higher value for many reasons: it is considered to be more beautiful, it has cultural and historical significance, and it is scarce. Whalebone is available but rare. If it is found—washed up or unearthed—or if a whale is stranded and unable to be saved, then by New Zealand law the material belongs to the Maori hapū (clan) in whose territory it is found.
A Matter of Design
Maori bone carvings are usually worn as pendants. They are made up of one or more common traditional symbols that have very specific meanings; most incorporate aspects of mythology. How these motifs are connected and interact with each other tells a story and plays heavily into a particular piece's unique nature.
The following design elements are three of the most common:
Koru–The Spiral
The koru's spiral form suggests a fern frond, unfurling in the spring, bursting forth with new life. It represents perpetual movement, growth, positive change, awakenings and new beginnings, as well as spirituality and peace. It is sometimes interpreted as nurturing, so when it appears interlocked with other symbols it can also signify a strong and loving family bond.
Tiki–The First Man
Polynesian myths and legends surrounding tiki suggest that he was the first man on Earth. The Maori tiki is derived from this lore. He is associated with fertility and birth, so you will often see him with his hands placed on his loins. More importantly, he is considered a remembrance of forebears. Tiki is a repository of ancestral wisdom, spirituality, and strength. When worn, he is thought to be lucky and to ward off evil spirits. The wearer is believed to enjoy inner balance and a clear mind.
Hei Matau–The Fishhook
The development of this age-old tool—the fishhook—into one of the most common symbols in Maori art belies its centrality to the life of its people. Fishing was crucial to the ancient population. Thousands of years ago, fishhooks were worn around the neck so as not to be lost. As ages progressed, the wearers began carving images into them, making them more and more elaborate until they became priceless ornaments, rife with symbolism. The hei matau is a favorite even for non-Maori New Zealanders, as it has come to represent New Zealand in general.
A Worldwide Sensation
This is a venerable, ancient, local art form, with a fascinating and rich history. It is a token of memorable times spent in New Zealand that has traveled home with people from all over the world. Should you want one, there are many talented, dedicated, local artists who can sell you a truly authentic piece of the islands' vibrant culture.
A Traditional Art Form Ingrained in Maori Culture
On the Road in Middle Earth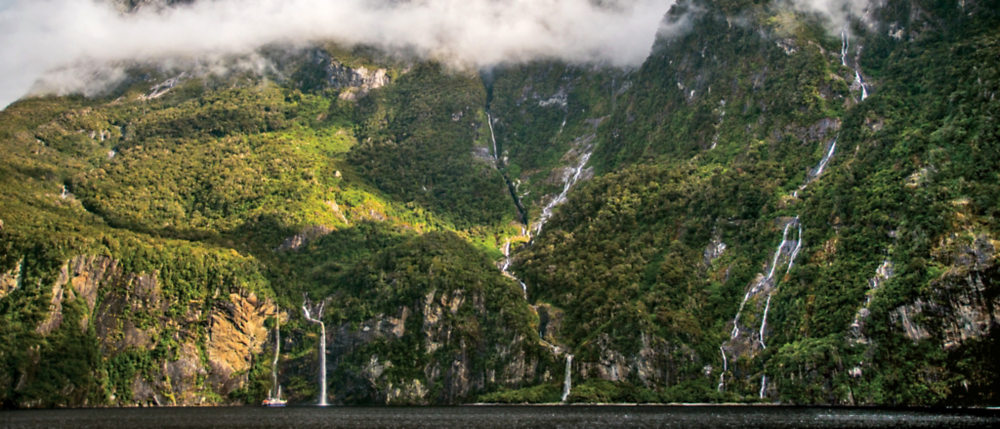 A journey to New Zealand's Milford Sound
by Jenna Thomas, from Dispatches
When my husband and I got married, we took an unconventional approach to our honeymoon. Three months after the wedding, we flew to Auckland, New Zealand on one-way tickets, bought a 1995 Toyota minivan from a couple of French backpackers, and hit the road. Our van, whimsically named Moonbeam, was a bit of a clunker. She had been driven around New Zealand maybe a dozen times, and was about as reliable as you would expect—not very reliable at all. She had a head gasket leak, and the engine was prone to overheating even on small hills. But she was all ours, and with a bed and kitchen already built in, she had everything we needed to live on the road.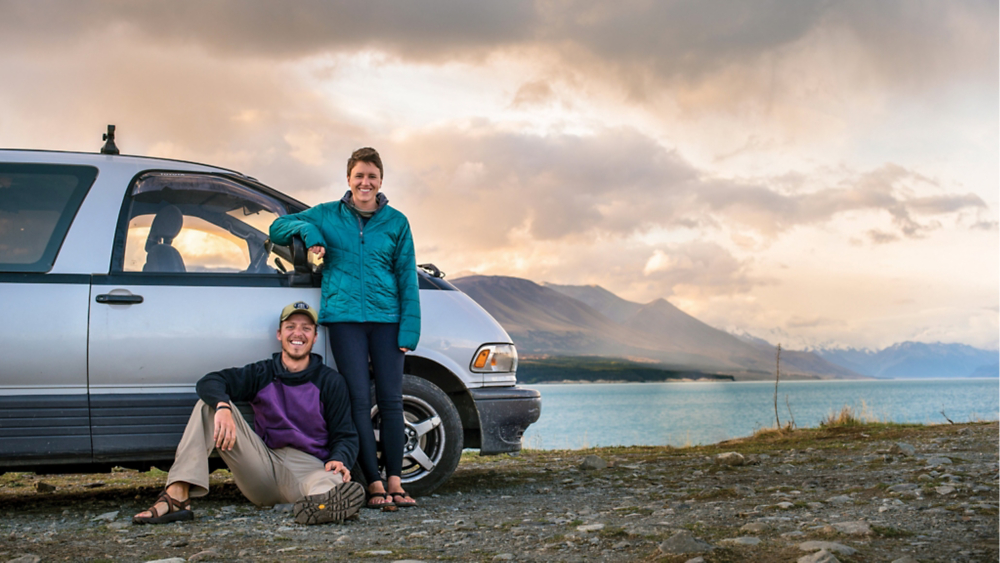 By the time we circumnavigated the North Island and reached Queenstown on the South Island, we feared Moonbeam was on her last legs. We had to stop at the top of every hill to let the engine cool down and refill water or coolant. A mechanic gave us some sealant for the head gasket leak, and told us there was no way of knowing how long it would hold. With her future uncertain, we decided to make the rest of Moonbeam's life count—we were going to drive the winding, dead-end mountain road to Milford Sound. The most dramatic fjord out of fourteen in Fiordland National Park, Milford Sound was hailed by Rudyard Kipling as the eighth wonder of the world, and it seemed like an appropriate last hurrah for our poor van.
The drive from Queenstown toward Fiordland was stunning. The road, flat along the shore of Lake Te Anau, eventually began to roll up and down on the growing hills before entering a valley surrounded by high peaks. We got as far as the Homer Tunnel, a nearly mile-long passage that separates Milford Sound from the rest of the world, before deciding to stop for the night at a roadside campground.
When we woke the next morning to that awful weather, turning around was not in the cards. We had come this far, and who knew when we would be back in this remote corner of the world? Making the best of the bad weather was our only option, so we packed up and headed for the tunnel.
The entrance to the Homer Tunnel is an attraction in itself. It sits at the top of a gorgeous glacial valley, populated by cheeky green kea, the world's only alpine parrot. Kea are curious, social, and notorious for landing on parked cars and picking at any rubber they can find (they'll destroy windshield wipers given half a chance). We spent at least an hour on the trails above the tunnel, watching kea swoop through the misty valley and land with a flash of their red wing feathers. But we were on a mission, and we eventually joined the line of cars creeping into the tunnel.
We emerged on the other side to what looked like a scene from Lord of the Rings. Verdant cliffs receded into the mist ahead of us, and after the previous night's record rainfall, literally hundreds of waterfalls were cascading down every vertical surface. The road descended over three thousand feet from the tunnel to the valley floor approaching Milford Sound, and every curve of the hairpin road revealed a dozen more waterfalls, some of them thundering and wide, and some as delicate as the stream from a faucet.
We eventually reached the valley floor, despite the constant inclination to pull over for a photo. I was so anxious to see the sound itself that we bypassed The Chasm, a dramatic rocky gorge, and kept driving. My expectations were high—everyone in New Zealand agrees that Milford Sound is a must-do, and all the guidebooks call it one of the most beautiful places on earth. I was nervous that the view would disappoint me, that it couldn't possibly live up to the hype.
Coming around the final bend in the road, the sight of Milford Sound laid out in front of us shattered every expectation I had. Even hyperbole falls short of capturing a view like that. As we boarded a cruise that would take us the length of the sound to the edge of the Tasman Sea, I did wonder how it would look on a sunny day. The normally vibrant trees and plants that covered every surface seemed dark and subdued in the gray light. The sound itself looked almost black. With the peaks receding into the clouds and waterfalls catching the eye at every turn, Milford Sound was cloaked in mystery. It could have been a painting, but the rain lashing my face, the smell of seawater, and the distant shriek of kea brought the scene to life.
Our boat left the dock and nosed into deep water. The guide explained that the water of the sound looked so dark because it was stained with tannins from rotting plants during its journey down the cliffs. When it reached the sound, it formed a footdeep layer of freshwater before being absorbed into the sea. He pointed out wide gashes of bare rock on the cliffs—places where the angle had proved too steep to support the weight of the forest, and entire thickets had gone tumbling into the water. Tree avalanches, he called them.
Triangular Mitre Peak emerged from the mists in front of us. In fact, the rain had stopped. The clouds were lifting to reveal more jagged mountains, surrounding the sound like thousand-foot-high walls. The captain piloted the boat straight for the cliffs, until the prow (and a handful of brave passengers in heavy raincoats) sat directly under a waterfall. The guide brought a tray of glasses forward, filled them from the cascade, and handed them out—pure glacial water, fresh from the source far above our heads. As we drank the water, brown with tannins yet more fresh-tasting than any tap water I'd ever had, the clouds were breaking up to reveal patches of blue sky.
Our journey continued. A small white dot appeared on the horizon, drifting closer on the water. Believing it was a small fishing boat, I was shocked to hear our guide say it was actually a mega ship from a major cruise line. The towering cliffs had completely thrown off my sense of scale, but as the ship drew alongside and passed us, I craned my neck to count the decks—there were many. Milford Sound is a mile wide in some spots and reaches depths of over a thousand feet, so it accommodates ships of all sizes. The advantage of our tiny boat was, of course, its ability to get so close to the cliffs. We passed within a few feet of flat rocks where fur seals were relaxing in the sudden sunshine, and ventured into the path of many more tumbling waterfalls.
Eventually we reached Dale Point, a curve of land that juts into the entrance of the fjord and completely blocks Milford Sound from the Tasman Sea. It was because of Dale Point that the Europeans left Milford Sound untouched for so long—they literally couldn't see it. Even Captain James Cook passed by unaware on his explorations of the New Zealand coastline, and subsequent whaling expeditions missed it as well.
But that doesn't mean that Milford Sound was free of people. Facing Dale Point across the water, our guide pointed out a glittering rocky beach named Anita Bay. For hundreds of years, the Maori have been coming to Anita Bay to search for tangiwai, or bowenite, a clear green stone that makes beautiful jewelry and weapons. According to Maori legend, tangiwai are the petrified tears of a woman who was stolen from her husband, and the sad history of Milford Sound doesn't end there. The Maori name of Milford Sound is Piopiotahi, or "one single singing thrush," named for a bird that has since gone extinct. The story goes that the mythical god Maui went on a journey to win immortality for his people, accompanied by a piopio bird. When Maui was killed by the god of death, the grief-stricken piopio flew south to Milford Sound to mourn.
Ten miles from where we started, we reached the Tasman Sea and left the sad stories of Anita Bay behind us. The cliffs that had hemmed us in for the entire journey so far opened up, and we were hit with the full force of the "Roaring Forties." This part of the world, between the 40th and 50th latitudes, is home to a westerly wind that doesn't let up, often reaching galeforce speeds and pounding the southwest coast of New Zealand with wet and windy weather throughout the year. We had only the briefest of sojourns with the Roaring Forties. Our captain turned the boat around before we reached any actual swell, and we headed back toward Dale Point.
Between the sheltering walls of the sound, the clouds had scudded away and left behind a sparkling blue sky. The boat's deck filled up, as all the passengers left the sheltered cabin and came out to enjoy the sunshine. We waved at passing boats, and enjoyed a cup of tea. By the time we docked, the memory of that morning's rain was long gone, and it was easy to imagine staying at Milford Sound—becoming a kayak guide, or working on a tourist boat. We managed to get an overnight spot for the van, but when we woke the next morning to pouring rain, it was easier to leave. Our time at Milford Sound had come full circle.
A few weeks later, we left New Zealand. Our trip back to the United States was somewhat indirect; we meandered through Southeast Asia, trekked the mountains of Morocco, and wandered from Eastern Europe to Scandinavia and the United Kingdom. All told, we spent ten months roaming the globe and saw landscapes that will remain with me forever. Milford Sound remains the most beautiful place I have ever seen.
A journey to New Zealand's Milford Sound
Because the South Pacific Isn't Just for Nature Lovers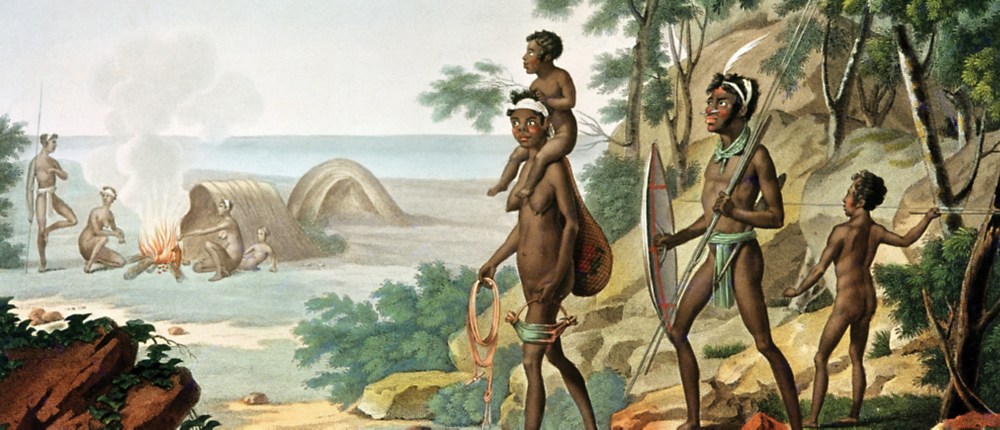 Take a side-by-side look at Aboriginal and Maori culture
for O.A.T.
The natural beauty of Australia and New Zealand makes these faraway islands fascinating places to explore. But beyond their stunning environs, their distinct and deep-rooted cultures are what bring these destinations to life. So let's uncover the South Pacific's spiritual side by juxtaposing Australia's Aboriginal ancestry with New Zealand's Maori heritage.
ORIGINS
Aborigine
Dating back tens of thousands of years, Aboriginal people came to Australia by land and have evolved into as many as 400 groups speaking more than 250 distinct languages.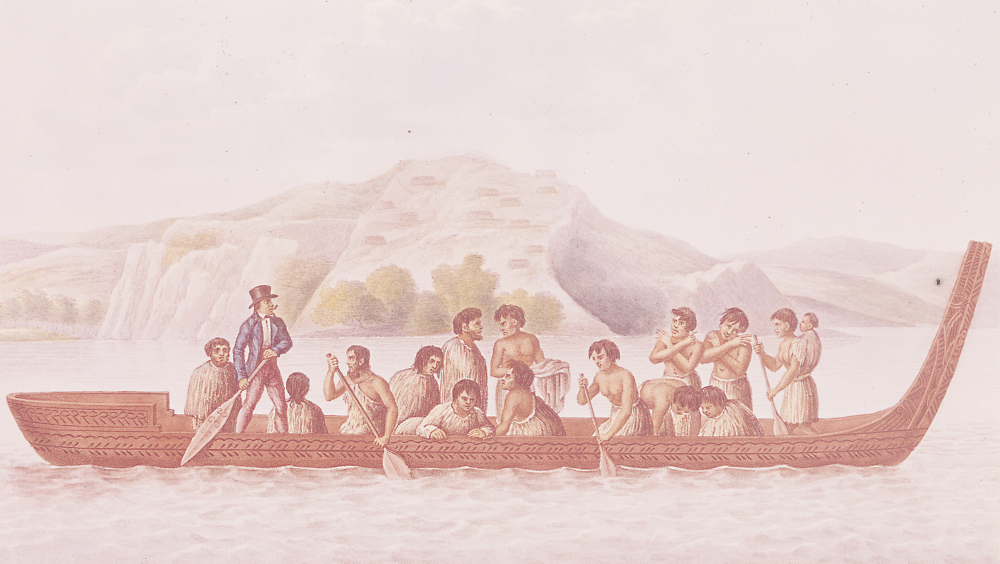 Maori
Arriving in the 13th century, the Maori came to New Zealand by boat from across Polynesia, and over time, have unified into a single ethnic identity with a shared language.
CREATION MYTHS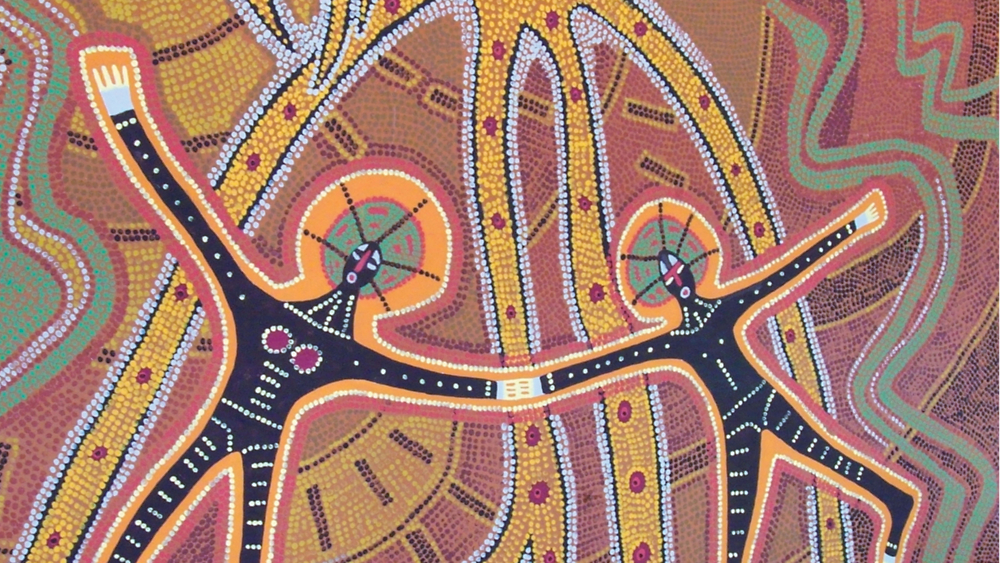 Aborigine
Ancestral beings moved through the world in a state of Dreaming (also called Dreamtime), calling things into being and naming what they saw as they went. The paths these creators took are known as songlines.
Maori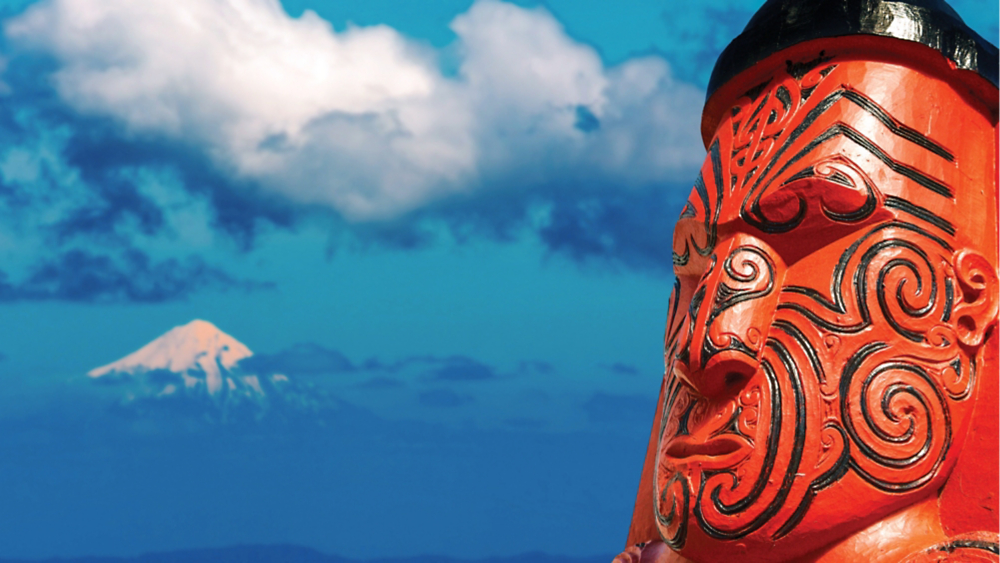 Ranginui, the Sky Father, and Papatuanuku, the Earth Mother, were too close, and their children felt confined, so their sons (representing natural features like mountains and forests) forcibly split heaven and earth to yield the world as we know it.
SPIRITUAL BELIEF

Aborigine
Souls are the province of humans alone, and represent two natures: who we make ourselves to be, and who the ancestral beings create in us. Animals and objects do not have souls, though they are created by beings that do.
Maori
All things contain mana, a soul-like force, and are bound by mauri, the energy connecting every element of creation. The resulting bond between humans and the world around us is core to Maori life.
KEY SYMBOLS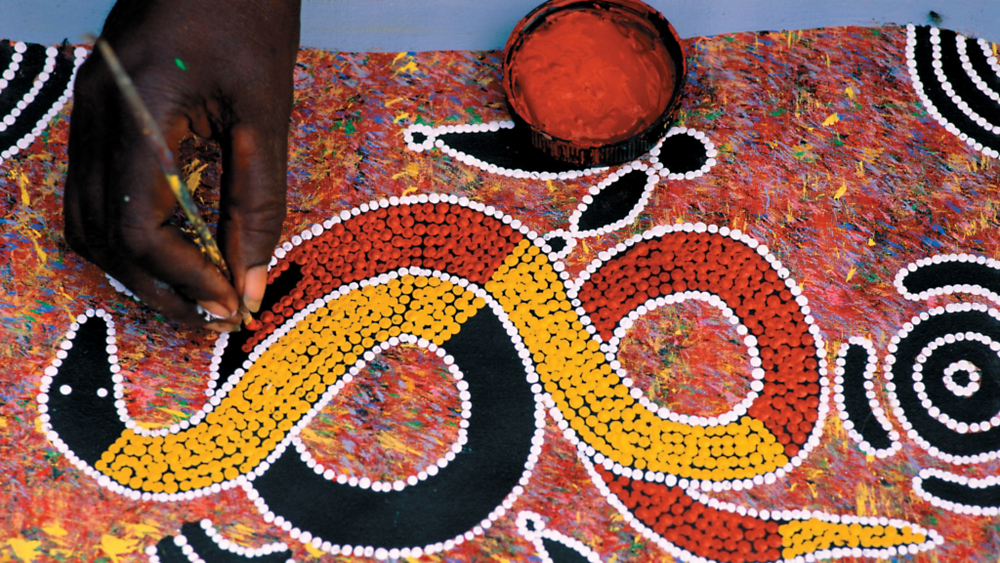 Aborigine
On rock paintings and textile art, a serpent outline in multiple colors (sometimes boasting other animal parts) is the Rainbow Snake, a mythical creature that helped create much of the land during the Dreaming period. It's considered the wellspring of fertility, growth, and hope.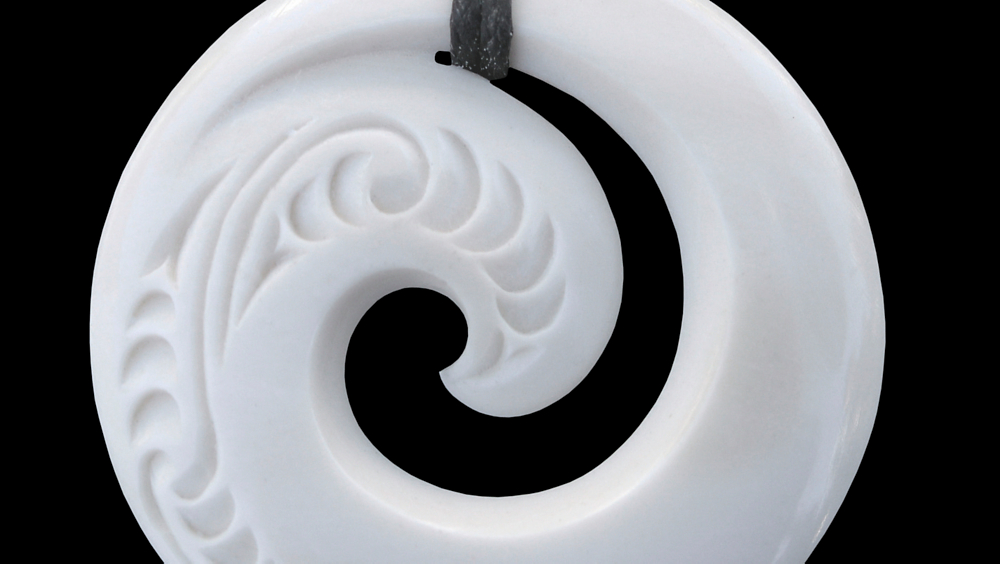 Maori
The spiral found in Maori jewelry or in tattoo-like ta moko patterns is a koru (loop), which represents a curled fern frond. In one direction, the spiral implies going back to the beginning; in the other direction, it unfurls, suggesting a new start and rejuvenation.
BODY ART
Aborigine
Body painting using a combination of clay dust, charcoal, and ash appears in ceremonies at every age. Boys decorate their chests and arms before their coming-of-age initiations. Men may decorate their arms, legs, and torsos in great detail before large funerals or long marches. Women honor Dreamtime stories by painting communal symbols and colors on their breasts, arms, and thighs in a joyous awelye ceremony.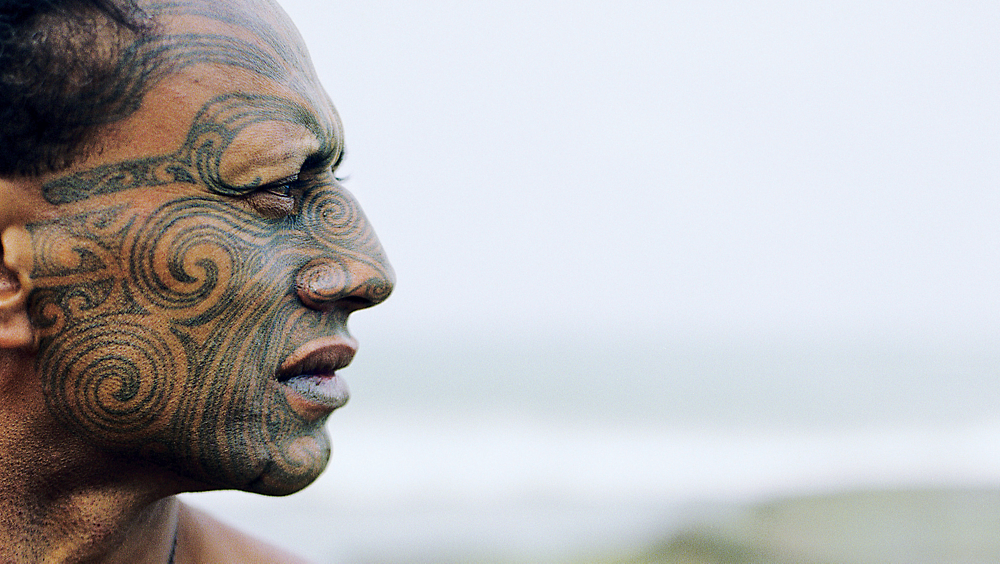 Maori
Ta moko (somewhat similar to tattooing) is the application of permanent colored skin markings. Both men and women may have ta moko, with the patterns revealing details about the wearer's family and tribal affiliations, their social standing, and even future roles. Ta moko may be on one's chest, limbs, or face, though women's facial ta moko is usually limited to the lip area or below.
TRADITIONAL PERFORMANCES
Aborigine
Long, hollowed-wood trumpets played with continuous vibration and circular breathing have been part of the culture for at least 1,500 years. Commonly known by the made-up word didgeridoo, the instrument is emblematic of Aboriginal life.
Maori
Haka refers to an array of percussive Maori dances featuring foot-stomping, thigh-slapping, and hand clapping. Performed first by women and then adapted by men as a war ritual, it's part of both ceremonial and casual events: New Zealand's premiere rugby team performs it before every game.
PROVERBS
For all their differences, each of the two cultures have an oft-quoted proverb that says just about the same thing, a reminder that—even for the most ancient groups—the world we all share will always endure longer.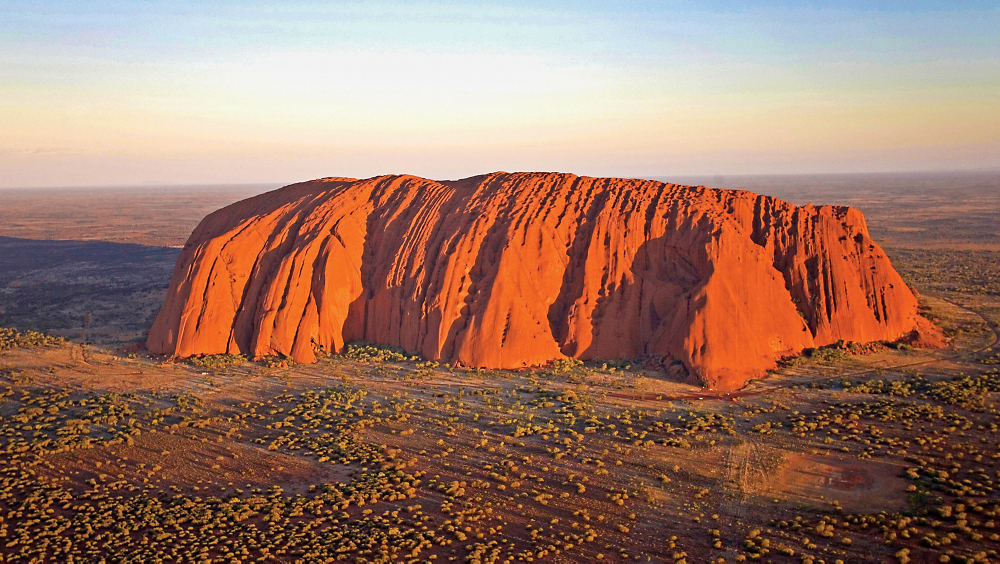 Aborigine
We are all visitors to this time, this place. We are just passing through.
Maori
As man disappears from sight, the land remains …
Take a side-by-side look at Aboriginal and Maori culture