Forgot Your Username
If you have forgotten your username, please provide your email address in the box below. We'll send you an email with your requested username. If you are having trouble, please call us toll-free at 1-800-221-0814.
Email Sent
You'll receive an email in a few minutes. Please check this email to find your requested username.
If you do not receive an email or you are having trouble logging into My Account, please call us at 1-800-221-0814.

PERU
The story of Peru has been written over the ages by a number of ancient kingdoms—most notably the Inca, who left lofty Machu Picchu hiding high in the Andes for later explorers to puzzle over, but also other cultures, like the Nazca, who scratched thousand-foot geoglyphs into the southern deserts, and the Chimu, who built Chan Chan, the largest earthen city in pre-Columbian America. Modern Peru still holds many of the old traditions dear—for example curanderos, or shaman healers, can be found plying their trade in the countryside.
The country's diverse history is matched by its variety of landscapes, each of which dazzle in their own unique way. In the Andean Highlands, you'll trek under impossibly blue skies backdropped by snowcapped peaks; in the Amazon you'll enjoy the company of exotic flora and fauna underneath a colorful rainforest canopy; and in sultry Lima you'll find Spanish colonial architecture built along a beautiful Pacific coast.
Peru has elevated Latin cooking into an art, making expert use of local ingredients—for example, potatoes, tubers, corn, tropical Amazonian fruits, seafood, poultry, llama, and alpaca—while also gracefully fusing European, African, and Asian influences into its recipes. Peruvian culinarians famously invented ceviche, raw fished "cooked" in citrus juice. Whatever your tastes may be, Peru is sure to make an impression.
Most Popular Films
Films featuring Peru from international, independent filmmakers
The Knitters
We've been working with independent international filmmakers to provide you with videos that portray the people, culture, and lifestyles of the countries you're interested in visiting. We believe this video offers a unique perspective on Peru.
Produced by Mitchell Teplitsky
The Shamans of Peru
Meet modern shamans and see how they practice ancient rituals in Peru—a country you can visit on our pre-trip extension.
Produced by David Conover and Compass Light Productions
Peru – Cusco & Machu Picchu
Discover the folk art of Cuzco and the history of Machu Picchu—our pre-trip extension—with the Grannies on Safari.
Produced by Regina Fraser and Pat Johnson
Peru Interactive Map
Click on map markers
below to view information about top Peru experiences
Click here to zoom in and out of this map
Featured Reading
Immerse yourself in Peru with this selection of articles, recipes, and more
RECIPE
Bring the flavors of Peru into your home with this hearty stew recipe.
ARTICLE
Woven into the Quechua heritage is the gift to create hand-crafted baskets, belts, and textiles. Learn about them here.
ARTICLE
True or false: There are no current inhabitants of Machu Picchu. Find out here.
ARTICLE
Peru takes great pride in its native bird: the Andean Condor. Learn about it here.
ARTICLE
Learn how the Uros tribe has gone unharmed, while kingdoms and villages around them have fallen to invaders.
ARTICLE
These suave dolphins are the full package: They are the smartest river dolphin species and come with a legendary backstory.
ARTICLE
Don't worry: Bats aren't here to suck your blood—they will protect you from insects though.
Peru: Month-by-Month
There are pros and cons to visiting a destination during any time of the year. Find out what you can expect during your ideal travel time, from weather and climate, to holidays, festivals, and more.
Peru in January - February
January and February mark Peru's wet season. You can expect rain at least once per day, and more in the lush, tropical climate of the Amazon Jungle. But the season's showers usher in the bounty of Mother Nature: verdant, healthy vegetation blooms in the Sacred Valley, and frequent rainbows make this one of the best times to visit Cuzco. Trekkers hoping to hike the Inca Trail will find it closed for cleaning and maintenance, but Machu Picchu remains open throughout the wet season and plays host to gloriously few visitors.
This is also the best time of year to visit Peru's stunning—and overlooked—beaches. The rains so common in the mountains and jungles are less frequent here, while temperatures along the coast remain high. And with fewer tourists to compete with, your travel dollar will go further.
Holidays & Events
January 6: Three Kings Day
Pisco Sour Day: The first Saturday of February is set aside to honor Peru's national drink
Must See
Carnival is celebrated across Peru with lively street parties, featuring water balloon fights. The end of the festivities is marked by the yunsa ritual, when a yunsa tree laden with gifts is brought to the festival. People dance around the tree, and couples compete to knock it down with an axe, releasing the gifts.
Peru in March - May
March, April, and May—Peru's fall—usher in milder temperatures and the start of the dry season. The main tourist season hasn't yet begun, so you can expect fewer crowds at Peru's many ancient ruins and must-see sites. These are some of the best months to visit Machu Picchu—and if you do, you'll witness the additional delight of orchids in bloom, which carpet the Sacred Valley and are visible on the train ride from Cuzco to Machu Picchu.
Peruvians' religious beliefs are a blend of native animist traditions and the Roman Catholicism brought over by Spanish colonists, but Catholicism reigns during the Easter season. Depending on when Easter falls, much of March or April may be given over to religious celebrations. During Holy Week, expect the celebrations to kick into high gear, with religious processions occurring in cities and towns throughout the country.
Holidays & Events
May 3: Feast day for Señor Muruhuay, who is renowned throughout Peru for his help in caring for the sick during a smallpox epidemic. In his honor, thousands of hopefuls embark on a pilgrimage or write a Carta a Dios, or Letter to God, asking for miracles or giving thanks for miracles already received. The Señor Muruhuay pilgrimage is considered one of the most important in Peru.
Peru in June - September
Peru's winter months are the official peak of the dry season—and the tourist season. Drawn by cloudless skies, visitors flock to the mysterious ruins of Machu Picchu, which can see as many as 2,000 tourists a day. In the lowlands, few mosquitos and low humidity make this the best time of year to explore the Amazon basin, while in Lima, a dense fog known as La Garua blankets the city in a misty drizzle.
Despite Lima's gloom, Peru's winter months are the most popular time of year to visit, so it's best to plan your visit in advance.
Holidays & Events
May 1: Labor Day
July 28-29: Fiestas Patrias. Peru's national holidays are a two-day affair that celebrate the country's independence from Spain in style: fireworks blaze across the night sky; the Gran Corso (Great Parade) dances through Lima with a trail of colorful floats, costumed performers, and marching bands; and Pisco sours flow freely from the nation's watering holes.
Peru in October - December
October in Peru offers sunshine and mild temperatures, while late November heralds the start of the wet season. Despite the occasional downpour, December is still largely pleasant—and with less crowds to compete with, many travelers are willing to risk getting a little wet for a chance of uninterrupted time at Peru's popular attractions.
This is also an excellent time of year for viewing wildlife and birds—of the latter, Peru has more species than any nation except for Colombia.
Holidays & Events
October 8: Battle of Angamos, which commemorates a naval battle fought between Peru and Chile during the War of the Pacific (1879-1883).
November 1: All Saints' Day
December 8: Feast of the Immaculate Conception
Must See
Christmas Eve (December 24) is a festive event throughout this predominantly Catholic country, but in Cuzco, Santurantikuy Market is the place to be. The market is a riot of activity as shoppers buy last-minute presents, Andean vendors sell local plants and grasses for the nativity manger, and families enjoy seasonal treats like hot chocolate.
Average Monthly Temperatures
Compare Our Adventures
Click 'Select to Compare' to see a side-by-side comparison of up to adventures below—including
activity level, pricing, traveler excellence rating, trip highlights, and more
Compare Adventures
Find the Adventure That's Right for You
Our Activity Level rating system ranks adventures on a scale of 1 to 5 to help you determine if a trip is right for you. See the descriptions below for more information about the physical requirements associated with each rating.
Activity Level 1:
1 2 3 4 5
Easy
Travelers should be able to climb 25 stairs consecutively, plus walk at least 1-2 miles over some uneven surfaces without difficulty. Walks typically last at least 1-2 hours at a time. Altitude can range from zero to 5,000 feet.
Activity Level 2:
1 2 3 4 5
Moderately Easy
Travelers should be able to climb 40 stairs consecutively, plus walk at least 2-3 miles over some uneven surfaces without difficulty. Walks typically last for at least 2-3 hours at a time. Altitude can range from zero to 5,000 feet.
Activity Level 3:
1 2 3 4 5
Moderate
Travelers should be able to climb 60 stairs consecutively, plus walk at least 3 miles over some steep slopes and loose or uneven surfaces without difficulty. Walks typically last for 3 or more hours at a time. Altitude can range from 5,000 to 7,000 feet.
Activity Level 4:
1 2 3 4 5
Moderately Strenuous
Travelers should be able to climb 80 stairs consecutively, plus walk at least 4 miles over some steep slopes and loose or uneven surfaces without difficulty. Walks typically last for 4 or more hours at a time. Altitude can range from 7,000 to 9,000 feet.
Activity Level 5:
1 2 3 4 5
Strenuous
Travelers should be able to climb 100 or more stairs consecutively, plus walk at least 8 miles over some steep slopes and loose or uneven surfaces without difficulty. Walks typically last for 4 or more hours at a time. Altitude can range from 10,000 feet or more.
Hide Acivity Level
TRAVELER EXCELLENCE RATING
PRICE
including international airfare
HIGHLIGHTS & ACTIVITIES IN PERU
*This information is not available for our trip extensions. You must reserve the main trip to participate on this extension.
**This information is not currently available for this trip. Please check back soon.
Soul-warming Peruvian Stew
from Harriet's Corner
While quinoa has only recently become popular in North American cuisine, it has been used by South America's indigenous population (particularly the Incas) for thousands of years—and is still praised for its nutritional properties. Often called a "supergrain," quinoa is rich in protein, fiber, magnesium, riboflavin, and manganese. This fall, warm yourself up—and indulge in the many benefits of quinoa—with this recipe for Peruvian quinoa stew.
Ingredients:
1/2 cup quinoa
1 cup water
1 onion, diced
2 garlic cloves, minced
2 Tbsp. vegetable oil
1 celery stalk, chopped
1 carrot, sliced (1/4-inch thick)
1 bell pepper (any color), cut into 1-inch pieces
1 cup zucchini, cubed
2 cups undrained canned tomatoes
2 tsp. ground cumin
1/2 tsp. chili powder (or more, to taste)
1 tsp. ground coriander
1 pinch cayenne (or more, to taste)
1 tsp. dried oregano
1 cup vegetable stock
Salt, to taste
Fresh cilantro, chopped (optional)
Preparation:
Rinse quinoa well, and place in a pot with water. Cook over medium heat for about 15 minutes, or until soft. Set aside.
While the quinoa cooks, sauté onions and garlic in oil over medium heat for 5 minutes.
Add the celery and carrots. Cook for 5 additional minutes, stirring often.
Add the bell pepper, zucchini, and tomatoes, as well as the cumin, chili powder, coriander, cayenne, and oregano. Cook for a few additional minutes, then stir in vegetable stock. Cover, and simmer for about 15 minutes, until vegetables soften.
Stir in the cooked quinoa and add salt to taste. Before serving, sprinkle chopped cilantro on top if desired.
Serves: 4
Weaving the Past and Present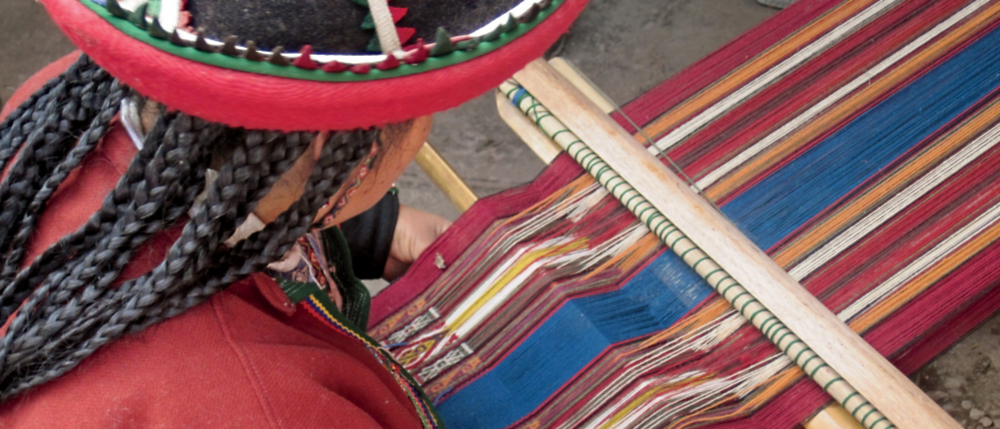 The Quechua people of Peru
for O.A.T.
Girls may begin to learn weaving at six—by adulthood, the craft can be almost as natural as breathing.
The cultural landscape of Peru has changed much since Spain first colonized the Inca Empire in 1528. Today, an eclectic blend of colonial traditions mingles with the deep, ancient Inca roots that held fast when the hooves of conquistadors' horses shook the ground 500 years ago. Despite their strife during this era, the Quechua people—modern descendants of a 2,000-year-old tribe that has seen many empires come and go—are still committed to keeping their heritage alive through art, especially in the mountain village of Chinchero, just outside of Cuzco. Vibrant threads of indigenous tradition still trace a colorful path along the winding roads high into the Andes, where the Quechua keep their ancient heritage alive by—quite literally—weaving the past into the present.
On the famed Inca Royal Road to Chinchero, nested terraces of barley and potato fields rise up toward a windswept plateau in the shadow of the Andes' Southern Sierra range. Alpacas and llamas abound, and the sky seems endless overlooking the Sacred Valley below. Stone walls give way to steps that curl toward a tall, stucco 17th-century church and open up into the town. In the 1480s, Inca ruler Túpac Yupanqui built a part-time residence here, along with bath houses and temples that lie partly in ruins beside pearly white arches and red clay rooftops constructed by Spanish missionaries.
The weavers of Chinchero
Bright splashes of color dazzle on street corners and courtyards as Chinchero women in red Incan bowler hats and Spanish colonial dresses set up their looms to weave intricate textiles, tapestries, belts, and baskets—just as their ancestors have for two thousand years. Chinchero is known worldwide for these beautiful handcrafts—ornate but delicate, layered and complicated but striking in simplicity, much like the culture that designed them and the women who still create them every day. When the first rays of sunrise light up the partial remains of Túpac's former palace—now Chincero's main square—hand-woven baskets of pink, blue, green, and yellow begin to stack up beside the grandmothers sitting cross-legged continue to weave away. Fingers flutter in a rhythm as smooth and complex as the geometric patterns that characterize their artwork. Children linger, in school uniforms and street clothes, to watch the women work. Girls begin learning this ancient tradition as early as six years old—so, by the time they reach adulthood, weaving feels almost as natural as breathing.
Unique blankets for each village
Perhaps the Quechua's most cherished textile is the hand-woven manta, a thick blanket used for carrying firewood, crops, groceries, or babies on backs. The finest and most intricate mantas are passed down as family heirlooms. Every village has its own unique manta patterns and colors, like flags that symbolize pride in one's homeland. Mantas from Chinchero can be distinguished by their blocks of solid color—called pampas, which are large swaths of untilled land—framed by elaborate linework, which represents civilization and agriculture. When looking at Quechua weavings, it's easy to see how the world around them influenced their art—and dream of what life was like for them before the conquistadors arrived.
It's here that the Peruvian spirit is most alive, vibrant as the most ornate basket or manta: Despite all the change and adversity of the imperialist era and beyond, the locals have held fast to their traditions. By weaving ancient Incan and colonial Spanish influences together with brilliant color, they've created a dazzling cultural tapestry all their own.
The Quechua people of Peru
5 Myths of Machu Picchu Debunked
by Zack Gross, for O.A.T.
1. Machu Picchu is the legendary "Lost City" of the Incas
Hiram Bingham III stumbled upon Machu Picchu in pursuit of Vilcabamba, the last Inca city to fall to the Spanish conquistadores. It's evident from his writings that when he saw it, he was convinced he had finally discovered the "lost city." Nestled between the Andes Mountains and seemingly floating among the clouds, it's no wonder the mystical remains of Machu Picchu seemed to be the culmination of his quest. If you've fallen prey to this common misconception, please find solace in the fact that Hiram Bingham did too. Unfortunately, it wouldn't be until after Bingham died that his error would come to light. It is now widely believed that the true lost city of Vilcabamba was located at a site called Espiritu Pampa, which Bingham also visited, but didn't attribute as much importance to in his writings.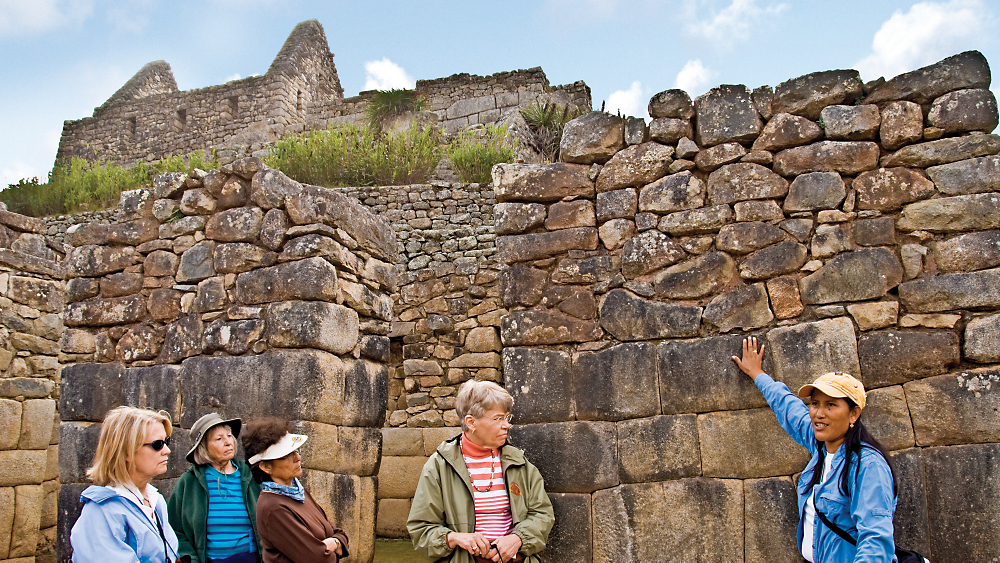 2. You can see all of the ruins
We've all heard the expression "just the tip of the iceberg." Well, the same could be said about what you'll see of Machu Picchu. Surprisingly, there's much more to these ruins than meets the eye, as a majority of the Inca's handwork actually resides under the ground. Before the wheel arrived in the New World, and long before steel and concrete became the blood and bones of construction work, the Inca people built the walls and terraces of Machu Picchu with only stones. Without even using mortar, they built an entire complex of buildings with stones cut so perfectly and placed so closely together that the cracks between them can't even be penetrated by a credit card. Inching up to the edges of cliffs overlooking the Urubamba River, the stone city that stretches boldly across this high ridge in the Andes is actually perched above an underground irrigation system and building foundations. The underground foundations of Machu Picchu are so strong, in fact, that when earthquakes hit, the perfectly placed stones are said to "dance" and then fall right back into place.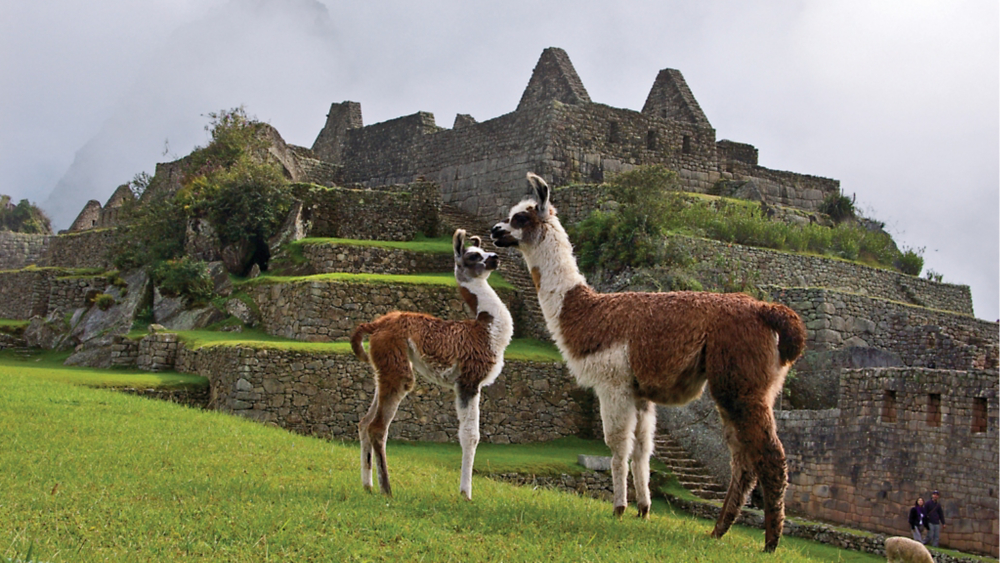 3. There are no current inhabitants of Machu Picchu
Built over 500 years ago, and mysteriously abandoned in the early 16th century, Machu Picchu hasn't had any human inhabitants for a long time. However, there are quite a few animals that still call this incredible place home. Not only are there plenty of llamas, alpacas, and vicuñas roaming the ruins—"nature's lawn mowers," as the locals lovingly call them—there are also some rare and endangered species dwelling in the surrounding tropical rain forest. South America's only native bear—the spectacled bear—resides here, along with the world's smallest species of deer (the pudu), and ocelots, to name a few.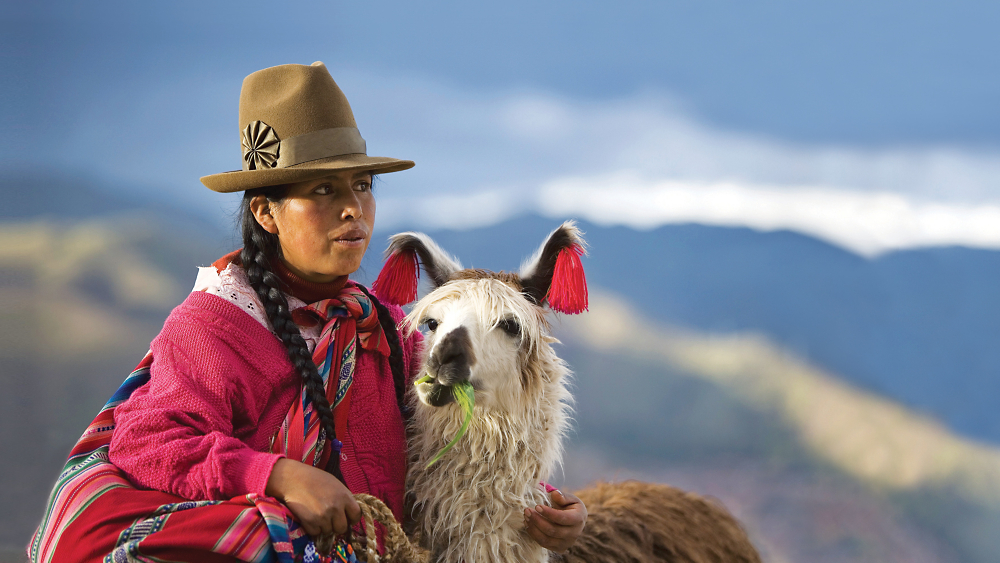 4. Machu Picchu was originally a nunnery or convent
When Bingham dug up skeletons at Machu Picchu, a leading expert at the time told him that the remains were mostly female. Based on this finding, Bingham surmised that the city was built as a nunnery or convent. He even went on to suggest that it may have been home to the Virgins of the Sun, a sect of Inca women who lived in religious compounds. However, it was later found—upon further examination of the remains—that there was actually a relatively balanced mix of male and female inhabitants, and that the characteristically small stature of the Inca people probably misled early 20th-century scientists. Interestingly enough, their small physiques are actually a manifestation of the Inca's deep-rooted connections to life in the mountains. Over centuries of living high in the Andes, they developed a shorter stature, larger lungs, and more red-blood cells, all of which aid in respiration and circulation at high altitudes.
5. Your trip to Machu Picchu can wait
If Machu Picchu has always been one of your dream destinations, don't wait! There has never been a better time to go, as new rules and restrictions are under discussion that would limit the impact of tourism on the spectacular ruins. The Ministry of Culture in Cusco has, for example, considered limiting the number of people who can visit each day, and the amount of time you are permitted to spend in each area of the ruins. While we support any decision that will help preserve this wonder of the world, we urge you to go there soon to maximize the ease of exploration and your enjoyment of the ruins on your own terms.
The Andean Condor
How an ancient symbol is flying high again
by David Valdes Greenwood, from Dispatches
In the plaintive original lyrics of El Condor Pasa, the most famous Peruvian song of all time, the singer pleads,
"Wait for me in Cuzco, in the main plaza!
Wait for me in Cuzco, in the main plaza,
So we can go together to walk in Machu Picchu."
For all the longing in every line, the object of the entreaties is not the singer's beloved—or, for that matter, even human. The subject of the ballad is the Andean Condor itself, the mighty bird which has been a symbol of Peruvian culture since the time of the Inca. And the singer, a Quechua mine worker in the city, is pleading with the condor to fly him back to the Andes.
For Peru, the condor represents legend, history, nature, and tradition all in one. Believed by the earliest Andeans to be the emissary of the Sun God and the ruler of the air, the bird was immortalized in the Temple of the Condor at Machu Picchu. There, the ingenious builders added stone blocks to a natural outcropping to replicate wings that rose above a carved condor head with a beak and ruffled collar. To this day, wherever you travel throughout the land of the Incas, the bird's image is represented in statuary, artwork, graphics, and even textiles. From coffee shops to a regional airline, the logo of a condor is one way of proclaiming that a business is truly Peruvian.
Despite being so well-loved, the species was facing near extinction by the late 20th century, its numbers having dwindled from hunting and loss of habitat. In 1970, the breed was placed on the international "endangered species" list. In the 40 years since, Peru and its neighboring nations have strengthened environmental laws, implemented education plans to help their citizens better understand the value of preservation, and introduced captive-born condors into the wild. As a result, the species has stabilized in numbers to the point where it is currently listed as "Near Threatened," one step up from "Vulnerable," which in turn is an improvement over endangered.
When you see a condor up close—or even soaring high overhead— it's hard to imagine such a creature ever seeming vulnerable.
Its sheer physical impressiveness makes it rare among its avian peers: Weighing up to 35 pounds, it boasts a wingspan of ten feet. How big is that? Imagine a bird with a body the size of a four-year-old boy and wings that unfurled beyond the width of a school bus. Not surprisingly, the Andean Condor one of the largest flying birds on Earth.
It is also among the most enigmatic. Because a condor has no voice box, it never sings or squawks its feelings. Playing the strong, silent type, the vulture only betrays its emotions when its face flushes. A condor likes to keep its face meticulously clean, so when strong emotions send blood rushing to its cheeks, the thin skin darkens noticeably. This is as close as a condor gets to making a fuss.
The silence of a condor extends to how it flies. Once airborne, it can remain aloft without any noisy flapping, carried along for miles on thermal currents of air, like a hang glider. This combination of songlessness and stillness in flight deepens the mystique of the breed.
While the condor always plays it cool, the people of Peru don't hold back. They unabashedly love their soaring symbol, just as their ancestors did. And with the condor population rebounding, it seems they'll be singing its praises for years to come.
How an ancient symbol is flying high again
People of the Lake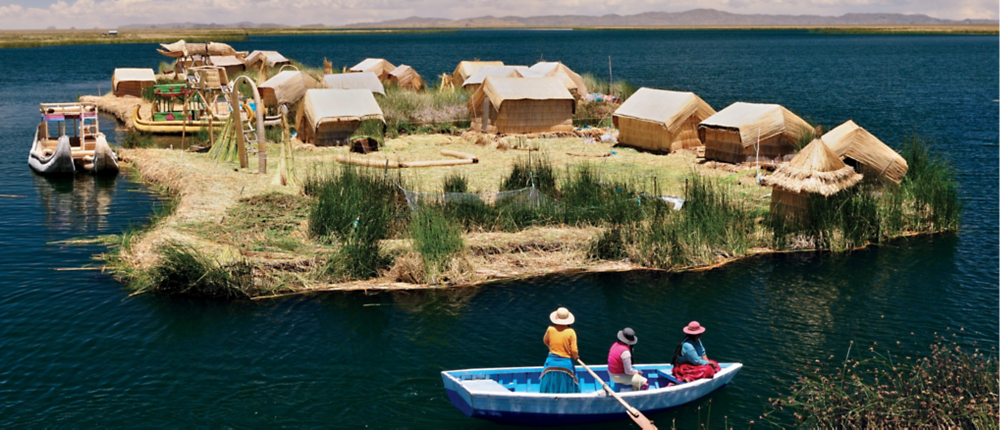 Life on Peru's man-made Uros Islands
by Philip McCluskey, for O.A.T.
The vast majority of battles that have taken place over millennia—between families, tribes, and nations—have been in pursuit of one thing: land. The more you had, the more likely you were to be attacked. The Uros tribe of Lake Titicaca (also known as the Uru) found an interesting way around this endless cycle of terrestrial greed: They decided not to live on the land at all. Instead, they created floating islands upon which they could live relatively unperturbed—and so their culture has endured, even as kingdoms have crumbled around them.
Over the centuries, the man-made Uros Islands provided significant advantages to the eponymous tribe, which predated the Inca by millennia. It allowed them to be in a much better position to defend their home from potential invaders and, should an invasion be imminent, even move their island to another location on the lake. Both the Incas and their Spanish conquerors saw the simple islands of the Uros as unworthy of their attentions, and so allowed them to maintain their lifestyle. The result was that the Uros culture—and their distinctive floating homes—persisted long after the grand temples and fortresses of great empires had been abandoned.
Islands built from reeds
The water-borne Uros villages were built using a simple material: totora, a plant which grows in the lake and is an inextricable part of the culture of the Uru people. Bundles of dried totora reeds are used to make the "floor" of the island, and reeds are also interlaced with ones growing up from the lake's bottom in order to keep it in place. The islands are then further anchored with ropes attached to stakes at the lake bottom. Of course, the creation of these buoyant communities is just the beginning of the uses the Uros have for their most precious resource. Totora permeates most other facets of life here—it is used to make boats, crafts, medicines, and even snacks.
Travelers cruising through Lake Titicaca can see many of the 40-plus islands that are scattered on its midnight-blue waters. They vary in size; some of the larger ones host up to ten families, while smaller islands are home to two or three. The residents—of which there are 2,000 or so across all of the islands—might be hard at work creating handcrafts or conducting the exhaustive maintenance that each of these islands requires (it is necessary to add new reeds every three months in order to keep the islands intact).
A distinctive way of life
And once they step onto one of the islands, visitors can get a close-up look at life here. The Uru people mill about in traditional, brightly colored clothes and signature woolen hats which protect them from the chilly air in these rarefied climes (Lake Titicaca is 12,500 feet above sea level). Domesticated animals like cats (kept on the island in order to hunt rats) and cormorants (birds considered useful for their fish-catching prowess) may be spotted amid simple homes constructed of dried reeds.
Of course, while the Uros have maintained a connection to traditional culture through the years, the modern world has slowly crept into their lives. Solar panels can be found on the islands, providing electricity for televisions and radios (there is even an Uru radio station that plays music for several hours a day). Many Uru people have left the island life altogether, choosing instead to move to the mainland and embrace a more contemporary way of life.
The "People of the Lake" (as they call themselves) are slowly drifting away from the water that has sustained them for so many generations, and it may be only a matter of time before they abandon their island homes. For now, however, this culture remains a fascinating fixture on the waters of the South America's most famous lake—and is well worth a visit for the curious traveler.
Life on Peru's man-made Uros Islands
Romeos of the River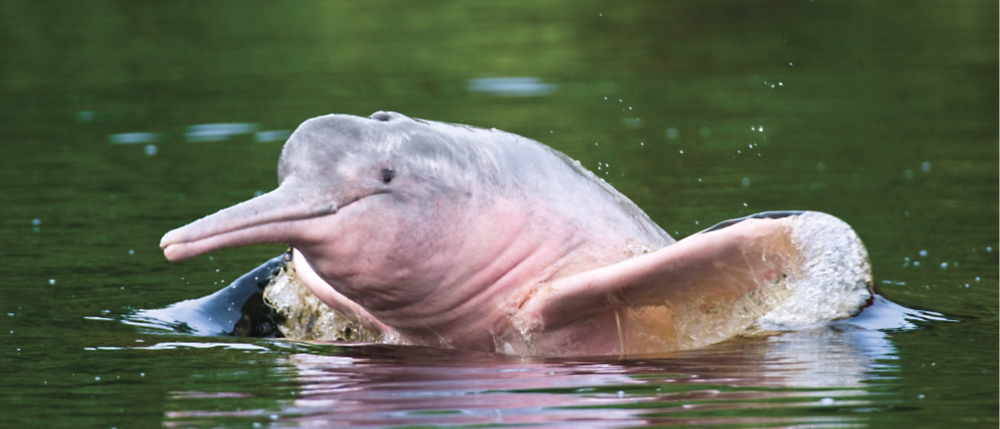 Dolphins of the Amazon
by Pamela Schweppe, for O.A.T.
Many Amazon tribes tell stories of humans being approached by these creatures and gently herded back to shore.
Pink river dolphins, also known as botos, are the source of many legends in their home waters of the Amazon and Orinoco Rivers—the primary one being that of the shape-shifter who seduces women, impregnates them, and returns to the river before dawn to resume life as a dolphin.
When you see a pink river dolphin, you might not be surprised that they attract so much attention. After all, there's that color. Not all pink river dolphins are pink. Some can be light gray, white, brown, or even black. Among those that live up to their name, however, coloration can range from dull pink to the hue of a flamingo, and when they're excited, they can blush like a human.
In fact, the legend of the river dolphin shape-shifter derives from a belief that these creatures once were human and can assume human form at will. With a brain capacity 40% larger than that of humans, they are the most intelligent of the five species of river dolphins, and the ends of their flippers even resemble fingers.
The pink variety is considered prime mating material—and among males, the pinker the better. They bear gifts in their mouths to their loved ones. Because they are considered the most attractive among their peers, males are more apt to be attacked by rival males than other dolphin species.
Unique characteristics of river dolphins
The largest of the river dolphins, pink river dolphins are only distant cousins of the dolphins you see in the ocean, and they have many characteristics that are unique, such as a ridged back instead of a dorsal fin. Unfused vertebrae allow pink river dolphins to swivel their heads 180 degrees. This enhanced flexibility, plus the ability to paddle forward with one flipper while paddling backward with the other, allows them to navigate through marshes and around trees when the rivers are flooded, retreating back to the shallows as the waters recede.
Living in murky waters means these animals don't rely on vision to survive, so, although they see better than other river dolphins, which are virtually blind, their eyesight is poor. Instead, they rely on sonar—including an intricate communication system of clicks and whistles. Long snouts with bristled tips help them search for prey in the mud.
The curious, friendly, and fun-loving nature of Amazon pink dolphins may have contributed to their legendary ability to seduce. Many Amazon tribes tell stories of humans being approached by these creatures and gently herded back to shore. Amazon pink dolphins are also the only river dolphin species that has not become virtually extinct—though that is changing.
The most endangered marine mammal
Unfortunately, river dolphins are now an endangered species, and many factors have contributed to this situation. Deforestation and the construction of hydroelectric dams and other river development and irrigation projects have impinged on the dolphins' habitat. Contaminants in the river waters are rising, especially around gold mines, where mercury is a part of the refining process. And with the increase in river traffic, pink river dolphins have suffered more injuries and sometimes become disoriented by the competing sounds.
Sadly, too, many locals no longer see the animals as having the magical powers that have helped them survive over the centuries. In small, isolated communities along the river, it once was considered bad luck to kill a pink river dolphin, but now these graceful creatures are more likely to be seen as competition for food. Not only do they deplete stocks as they hunt for fish, crustaceans, shrimp, crabs, and even turtles, pink river dolphins have also been known to tear a hole in fishing in nets to steal the catch—an act they now may pay for with their lives.
Many river dolphins die each year, despite strict environmental laws protecting them. It's a sad state of affairs for a creature that is, by nature, so very seductive. Fortunately, in some places like the Peruvian Amazon, these amazing cetaceans continue to flourish, and are often seen by travelers cruising the waterways.
Dolphins of the Amazon
Bats of the Amazon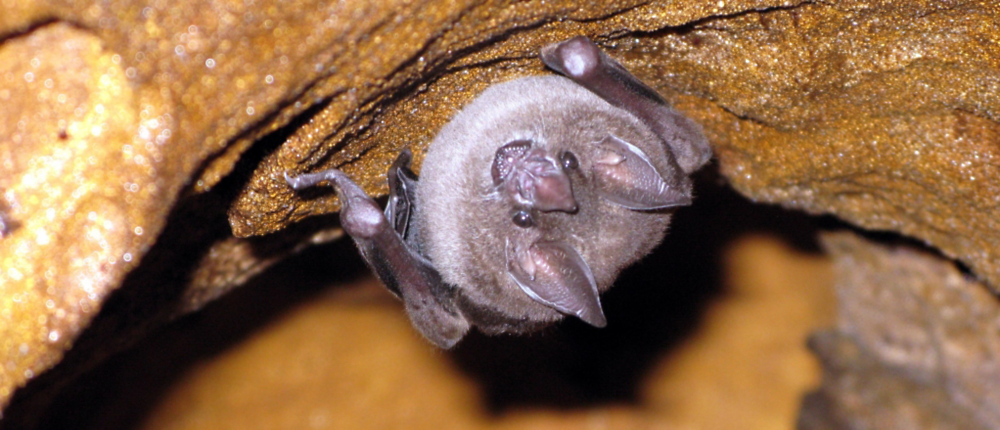 Flying mammals that benefit the rain forest
for O.A.T.
"Are we in any danger while we are sleeping from the bats that are flying around us?" I've been asked this question more than once while sitting with a group around a campfire in a wilderness area after dark. After explaining that there was almost no danger from the bats, I've also heard questions along the lines of "So they will not get into the tents and suck our blood?" and "Aren't all bats vampires?"
After answering ("NO. No. And no."), I began to explain that of the more than 1,200 bats in the world, only three were parasitic on mammals, and instead of sucking blood as portrayed in horror stories, the vampire bats make small incisions in the skin of the animals that they prey on and lap the blood up—much as a cat would do when drinking milk. Bats prefer almost any other mammal over humans as prey, so bat bites are rare. All three parasitic bats are found in Central and South America, and in particular the Amazon rain forest, where, incidentally, more than 1,000 of the world's species of bats are found.
Many species, many diets
Seventy percent of the bats of the Amazon are insect eaters. (Here and elsewhere, they most notably feed on mosquitoes—as many as 1,000 an hour—and are therefore critical to keeping many areas comfortable and disease-free.) The rest of bat species typically feed on nectar, fruits, or small vertebrates such as birds, lizards, and frogs. The frog-eating bats are able to distinguish the sound of frogs amid a cacophony of other sounds—and can even distinguish among particular frog species—and then zero in on the selected target.
The fruit-eating bats are important in the ecology of the Amazon rain forest in that they disperse the seeds of the fruits they eat by spitting out the pulpy portions containing the seeds, while the nectar-feeding bats scatter pollen necessary for the survival of plants. Pollen gets stuck to the bats when they are feeding and scatters into the air when they take off, thereby pollinating flowers in the vicinity. It is said that more than 150 species of plants in the Amazon rain forest depend on bats for their survival through pollination and dispersal.
Masters of nature's radar
Echolocation is the process whereby many bats negotiate the forest at night (a very necessary adaptation in the deep dark of the Amazon jungle) and how they locate their food. The process has only been confirmed in the last 100 years, although in the 1790s it was discovered that bats use their ears for flying and hunting.
A researcher released bats into a dark room with silk threads strung from side to side and discovered that they navigated the hazards with ease. It was only when he plugged their ears that the bats lost much of their flying skill, and from this he deduced they used their ears when flying and hunting, but how it worked eluded him. It was only in the 1900s that it was discovered that bats use echolocation—whereby high frequency sounds are emitted by the bats and when these sound waves hit prey they bounce back to the bat, thus enabling him to calculated the size, position, and distance of the prey.
The Amazon is certainly the best place on Earth to study bats—but do not be disappointed if most bats in the world find your blood offensive to their senses.
Flying mammals that benefit the rain forest