Forgot Your Username
If you have forgotten your username, please provide your email address in the box below. We'll send you an email with your requested username. If you are having trouble, please call us toll-free at 1-800-221-0814.
Email Sent
You'll receive an email in a few minutes. Please check this email to find your requested username.
If you do not receive an email or you are having trouble logging into My Account, please call us at 1-800-221-0814.
PORTUGAL
As Europe's westernmost nation, Portugal served as the launching pad for the great 15th-century Age of Exploration, from which Columbus, Magellan, and more set off to expand our understanding of the world like never before. Today's intrepid explorers, however, are drawn to this small Iberian nation, where a rich assortment of diverse offerings—coastlines and castles, history and modern architecture, cities and vineyards—provide something for every kind of traveler.
From the undulating hills of the Duoro River Valley in the north, to the "floating garden" of Madeira to the south, the Portuguese people celebrate a joyful love of life and appreciation for the treasures their homeland offers. They're also the first to welcome you in, to share with you the land of rich port wine and seafood, Moorish castles and Roman ruins, hauntingly passionate fado music and world-renowned revelry.
Most Popular Films
Films featuring Portugal from international, independent filmmakers
Lisbon
Soar above Commerce Square, admiring the stately architecture, coastal charm, and vibrant culture of Lisbon, Portugal.
Produced by Pedro Cordeiro
Imersão
We've been working with independent international filmmakers to provide you with videos that portray the people, culture, and lifestyles of the countries you're interested in visiting. We believe this video offers a unique perspective on Portugal.
Produced by Morgan Jouquand
36 Hours in Lisbon
Let The New York Times guide you through the history and culture of Lisbon.

Produced by Fritzie Andrade, Max Cantor, Chris Carmichael, Will Lloyd, Sofia Perpetua, and Sarah Brady Voll
©2015 The New York Times
Portugal Interactive Map
Click on map markers
below to view information about top Portugal experiences
Click here to zoom in and out of this map
Featured Reading
Immerse yourself in Portugal with this selection of articles, recipes, and more
ARTICLE
Part of Lisbon's charm is to be found in its many neighborhoods, each with its own identity. Read about them here.
Portugal: Month-by-Month
There are pros and cons to visiting a destination during any time of the year. Find out what you can expect during your ideal travel time, from weather and climate, to holidays, festivals, and more.
Portugal in December-February
The winter months in Portugal may bring rain showers, but in the south, blue skies prevail. Here, the sunshine and crisp air make it comfortable to explore festivals and traditional outdoor markets. In the north, the colder weather along the border of the mountains is ideal for skiing and indulging in winter activities. This is an excellent time of year to plan a visit and revel in the peaceful ambiance and competitive prices.
Holidays & Events
December 8: Feast of the Immaculate Conception; this public holiday—which recognizes the sinless conception of the Virgin Mary—is celebrated with Mass, parades, feasts, and fireworks
December 25: Christmas
January 6: Three Kings' Day; also known as Epiphany, this holy holiday is a time for observing plays and pageants, performing traditional Portuguese dances, feasting on Bolo Rei (King cake), and listening to carolers
February: Carnaval; numerous festivals are celebrated throughout the period leading up to Lent
Must See
Throughout December, Óbidos is transformed into Vila Natal (Christmas Town)—an illuminated fantasy of holiday attractions and activities. From Father Christmas's house to ice skating, games, and performances, there's no shortage of cheer in this seaside city.
The following month, the parishes of Aldoar, Foz do Douro, and Nevogilde keep the spirit of the season going with the Janeiras Festival. Over the course of a weekend, local churches host choral and orchestral performances that are complemented by dancing, cake, and Port wine.
Not to be outdone, February takes the festivities up a notch with Carnaval. The weekend before Lent begins, Portugal pulses with elaborate parades and non-stop parties. Ornate floats roll down city streets surrounded by women and men costumed from head to toe. Restaurants shell out seafood, businesses adorn their storefronts with colorful decorations, and partygoers descend in a flurry of energy and excitement. The biggest celebrations are held in Lisbon and the islands (especially Madeira and the Azores) but nearly every city in Portugal joins in on the fun.
Portugal in March-May
The splendor of Portugal is in full bloom in springtime, as hillsides are cloaked with flowers and almond blossoms dot the countryside. It is just warm enough to languish by the beach, and the rising temperatures create a fantastic atmosphere for outdoor celebration all over the region. This is a spectacular time of year to get to see the sights and revel in local culture before summer tourism reaches its peak.
Holidays & Events
March/April: Easter
April 25: Liberty Day; marks the bloodless, civilian-supported military coup that ended five decades of dictatorship in Portugal in 1974
May 1: Labor Day; a day of parades, demonstrations, and rallies advocating for workers' rights in Portugal
Must See
For a traditional taste of the Algarve region, head to the mountainside village Alcoutim in March for one of two foodie fairs: Pão Quente e do Queijo Fresco (Hot Bread and Cheese) or Doces d'Avó (Grandma's Sweets). Though relatively new, both of these outdoor festivals are huge hits: Thousands of visitors attend each year for a chance to sample homemade breads, fresh cheeses, and traditional pies and cakes. Once you've had your fill of local fare, consider perusing the handicrafts and enjoying musical performances.
Portugal in June-August
Bask in the sunshine and take advantage of idyllic beaches and the bustling atmosphere in the cities. When traveling to Portugal in June, you can benefit from beautiful weather and lighter crowds, while July and August are prime travel months. The summer offers optimal conditions, with an average temperature around 77⁰F—perfect for enjoying the myriad of festivals and cultural celebrations throughout the region.
Holidays & Events
June 10: Portuguese National Day; marks the death of literary icon and adventurer Luís de Camoes, who is a symbol of Portuguese nationalism
August 15: Assumption Day; commemorates the day God assumed the Virgin Mary into heaven following her death
Must See
For one week in the summer, artists from different cultural and religious backgrounds gather in seaside Lagoa for a cultural extravaganza known as Mercado de Culturas Luz das Velas. Each year, a theme is chosen for the event—such as the Silk Road—and performances are tailored to match it. From music to dance to food to décor, it's an opportunity for more than 40,000 people from around the world to celebrate art and diversity.
If you're looking for a more laidback summer activity, Portugal's countless beaches deliver. The Algarve coast may be the most beloved stretch of sand, but there are plenty of cliff-side coves and secluded swaths of surf to enjoy when the temperatures soar.
Another relaxing option is Lisbon's Bairro Alto. This bohemian central district is packed with bars and restaurants, and is a fine place to enjoy a glass of wine or signature Portuguese cod al fresco when the summer sun is shining.
Portugal in September-November
A marvelous time to visit, fall in Portugal is mild, the sea is still warm, and the crowds have thinned out. Wander through cities in comfort, take in sweeping coastline views, or admire local wildlife all while capturing a true sense of daily life here, free from the hustle and bustle of the summer masses and high temperatures. As the weather cools, autumn markets and festive food stalls emerge, making it a fine time to take part in the rich local culture.
Holidays & Events
November 11: St. Martin's Day; associated with maturation of the year's wine, this holiday is traditionally celebrated with a tasting and roasted chestnuts
Must See
The wine harvest begins in early September, and vintners often invite the public to take part in the process during wine stomping celebrations. The Alto Duro wine region is a particularly fine place to experience everything the harvest season has to offer.
Average Monthly Temperatures
Compare Our Adventures
Click 'Select to Compare' to see a side-by-side comparison of up to adventures below—including
activity level, pricing, traveler excellence rating, trip highlights, and more
Compare Adventures
Find the Adventure That's Right for You
Our Activity Level rating system ranks adventures on a scale of 1 to 5 to help you determine if a trip is right for you. See the descriptions below for more information about the physical requirements associated with each rating.
Activity Level 1:
1 2 3 4 5
Easy
Travelers should be able to climb 25 stairs consecutively, plus walk at least 1-2 miles over some uneven surfaces without difficulty. Walks typically last at least 1-2 hours at a time. Altitude can range from zero to 5,000 feet.
Activity Level 2:
1 2 3 4 5
Moderately Easy
Travelers should be able to climb 40 stairs consecutively, plus walk at least 2-3 miles over some uneven surfaces without difficulty. Walks typically last for at least 2-3 hours at a time. Altitude can range from zero to 5,000 feet.
Activity Level 3:
1 2 3 4 5
Moderate
Travelers should be able to climb 60 stairs consecutively, plus walk at least 3 miles over some steep slopes and loose or uneven surfaces without difficulty. Walks typically last for 3 or more hours at a time. Altitude can range from 5,000 to 7,000 feet.
Activity Level 4:
1 2 3 4 5
Moderately Strenuous
Travelers should be able to climb 80 stairs consecutively, plus walk at least 4 miles over some steep slopes and loose or uneven surfaces without difficulty. Walks typically last for 4 or more hours at a time. Altitude can range from 7,000 to 9,000 feet.
Activity Level 5:
1 2 3 4 5
Strenuous
Travelers should be able to climb 100 or more stairs consecutively, plus walk at least 8 miles over some steep slopes and loose or uneven surfaces without difficulty. Walks typically last for 4 or more hours at a time. Altitude can range from 10,000 feet or more.
Hide Acivity Level
TRAVELER EXCELLENCE RATING
PRICE
including international airfare
HIGHLIGHTS & ACTIVITIES IN PORTUGAL
*This information is not available for our trip extensions. You must reserve the main trip to participate on this extension.
**This information is not currently available for this trip. Please check back soon.
City of Discovery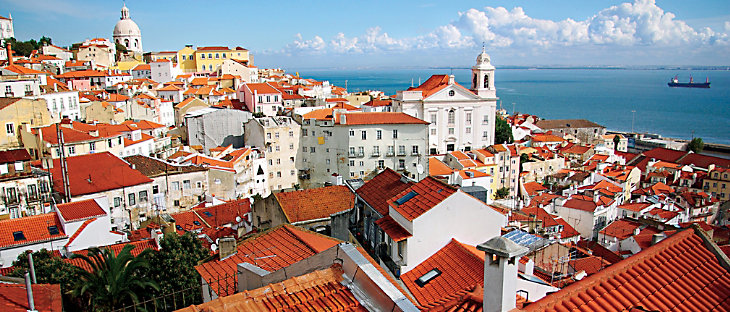 Monuments to the Age of Exploration are just one of Lisbon's delights
A city steeped in history
With more than 20 centuries of history behind it, Lisbon is one of the oldest cities in the world, having been settled even before Rome, London, and Paris. It is believed to have been founded by the Phoenicians around 1200 BC. Attracted by its setting on the Tagus, the Phoenicians dubbed the city Allis Ubbo—translated variously as "Safe Harbor," "Friendly Bay," and "Enchanting Port."
The Romans were the next to control the city, naming it Felicitas Julia after Julius Caesar and building an underground complex of chambers, rooms, bridges, and corridors (though this network still exists today, it is rarely open to the public, due to safety considerations). The Romans were followed by Germanic tribes beginning in the fifth century AD. During the eighth century, the city was conquered by the Moors, who named it Lissabona and declared it the capital of the region. The Moors ruled here for 450 years, leaving an indelible mark on the city's architecture—most prominently in the form of Castelo de Sao Jorge (St. George's Castle), built on the ruins of Roman and Visigoth fortresses high on a hill overlooking the Tagus.
In 1147, the city was captured by the Christians in one of the most important battles of the Second Crusade. At that time, the Kingdom of Portugal was confined to the northern part of the territory we know as Portugal today, and it was Portugal's King Afonso I (also known as Afonso Henriques) who pushed the boundary of this kingdom beyond the Tagus River. Interestingly, although Lisbon has served as the Portuguese capital since 1255, it is unusual in that it has never been granted that official status.
Monuments to the Age of Exploration
Of course, Lisbon's rise to prosperity and prominence on the world stage occurred during Portugal's great Age of Exploration, when legendary explorers set out to discover a New World. At the time, Europeans depended on spices to disguise the flavor and aroma of meat that spoiled over the long winter months, and traders were also eager to gather stores of gold from the great continent of Africa. By the 14th century, the Portuguese fleet had begun sailing into the waters around North Africa searching for a trade route that would help them avoid the northern Mediterranean ports that were controlled by the northern Italian city-states of Venice and Genoa. In 1415, the Moroccan trading port of Ceuta fell to Portugal's Prince Henry the Navigator, who founded a School of Navigation in the city of Sagres and launched the Age of Exploration.
The turning point in this great age of exploration occurred in 1498, when Vasco da Gama first charted a course to India. Portuguese explorers became the first Europeans to cross the Equator, round Africa's Cape of Good Hope, establish trade with China and Japan, visit Australia and Newfoundland, and even circumnavigate the globe. As a result, Portugal became the wealthiest country in Europe, and the riches of this heyday may be seen in the Manueline style of architecture that survived the earthquake that devastated Lisbon in 1755.
Among these are two monuments that, together, have been designated a UNESCO World Heritage Site: Belem Tower and Jeronimos Monastery. Both have also been named among the Seven Wonders of Portugal by the Ministry of Culture.
The icon of the city, Belem Tower was built in 1515 as a fortress to guard the entrance to the Tagus River and as a commemoration of Vasco da Gama's expedition. Although it has been used as a prison for political prisoners, a telegraph post, and a storage site for ammunition over the course of its history, it is best remembered as the last image seen by sailors setting off on their voyages of discovery and as an excellent example of Manueline architecture.
Also an excellent example of this style, and a monument to the Age of Exploration, is the Jeronimos Monastery, which began construction in 1501 and which was established to celebrate the success of Portuguese explorers. Set on the banks of the Tagus River, the monastery became the home of the Order of St. Jerome (Hieronymites, or dos Jeronimos), who were charged by King Manuel I to celebrate daily mass in perpetuity for himself and his successors, as well as Prince Henry the Navigator. Largely restored since the 1755 earthquake, the monastery was turned over to the state in 1833 and is now home to a collection of museums.
Welcome to the neighborhood
Today, Lisbon remains one of the leading cities of Europe, playing an important role in a number of industries, including international trade and finance, education, tourism, entertainment, and the arts. Lively and cosmopolitan, embracing both the old and the new, Lisbon has also been named the most livable Portuguese city in an annual survey published by a leading Portuguese newspaper.
Part of the city's charm is to be found in its many neighborhoods, each with its own identity. The Belem neighborhood is home to Belem Tower and Jeronimos Monastery, boasts several monuments in addition to those cited by UNESCO, as well as attractive gardens and parks.
The heart of the city is Baixa, whose reconstruction after the earthquake is a fine example of urban planning and a forerunner of earthquake-resistant architecture. Today, it offers the city's best shopping, as well as Terreiro do Paco (Black Horse Square) and Praça do Rossio (Pedro V Square).
Lisbon's oldest district is the Alfama neighborhood. Because this area was largely unscathed by the earthquake, many vestiges of the city's Moorish heritage still survive here. Its name is derived from the Arabic word for "fountains" or "baths" (al-hamma), in honor of the public baths that were popular here from the 17th to early 20th century. Fado, Portugal's unique form of the blues, is often heard in bars and restaurants throughout this neighborhood.
Monuments to the Age of Exploration are just one of Lisbon's delights