Forgot Your Username
If you have forgotten your username, please provide your email address in the box below. We'll send you an email with your requested username. If you are having trouble, please call us toll-free at 1-800-221-0814.
Email Sent
You'll receive an email in a few minutes. Please check this email to find your requested username.
If you do not receive an email or you are having trouble logging into My Account, please call us at 1-800-221-0814.

SOUTH AFRICA
Set to the tune of trumpeting elephants, roaring lions, and the cawcaw of eager cormorants, South Africa brims with an untouched wildlife just waiting to be explored. This former colony at the southern tip of Africa boasts a staggering array of diverse ecosystems within its borders, from the charming coastline and verdant winelands to the desert sands of the Kalahara and the sweeping grasslands in between. Heed the call of the wild and venture out on safari: Some of the continent's best game-viewing parks—Kruger, Dinokeng, and Addo Elephant National Park—are all here. Keep your binoculars at the ready as you traverse South Africa's golden savannahs in search of the Big Five.
But South Africa's diversity extends beyond its varied landscapes and bountiful wildlife. The country's strategic position at the meeting of two oceans has tempted foreign powers since the 15th century, with Portuguese, British, and Dutch colonizers all leaving their mark; the effects of this tumultuous history have been seen and felt in the country's cultural and political landscape ever since. In 1961, Africa finally threw off the mantle of colonialism and became an independent republic, but the white supremacist policies of the National Party forced the young nation into an ugly period of apartheid.
Over the next three decades, South Africa would experience rising inequality, riots, and increasingly violent terrorist attacks, until—with the eyes of the world watching— Nelson Mandela was finally freed from an unjust 27-year prison sentence and the National Party was forced to hold the country's first democratic elections in 1994. Today, the "Rainbow Nation" is celebrated for its multicultural identity and unique hodgepodge of peoples and cultures. Come listen to the melodic counterpoint that rings so uniquely true in South Africa, where the comforting tones of a developed, westernized nation intermingle with the exotic harmonies of the open wilderness.
Most Popular Films
Films featuring South Africa from international, independent filmmakers
What Mandela Means to South Africans
Learn about Nelson Mandela's legacy, and the far-reaching effects he had on the world, through interviews with local South Africans.
Produced by Chris Cascarano
©2013 The New York Times
Surf's Up, South Africa
Check out the waves, unique shops, and laid-back lifestyles found in vibrant Cape Town.
Courtesy CNN
Capetown through the Grapevine
Discover the wine villages of Stellenbosch, which you can visit on an optional tour during our Cape Town extension.
Courtesy CNN
Love and Care
Learn the story of a woman's mission to bring love, care, and education to the children of a township in Cape Town.
Produced by Leonie Mervis
Smiley
Spend time with a butcher in Cape Town for an unfiltered look at life in South Africa—an optional extension on this trip.
Produced by William Crouse
South Africa Interactive Map
Click on map markers
below to view information about top South Africa experiences
Click here to zoom in and out of this map
Featured Reading
Immerse yourself in South Africa with this selection of articles, recipes, and more
ARTICLE
Learn about the proud history of the art of traditional Zulu storytelling.
ARTICLE
Find out what makes a few of the parks you'll visit on this Land Tour so very special.
Compare Our Adventures
Click 'Select to Compare' to see a side-by-side comparison of up to adventures below—including
activity level, pricing, traveler excellence rating, trip highlights, and more
Compare Adventures
Find the Adventure That's Right for You
Our Activity Level rating system ranks adventures on a scale of 1 to 5 to help you determine if a trip is right for you. See the descriptions below for more information about the physical requirements associated with each rating.
Activity Level 1:
1 2 3 4 5
Easy
Travelers should be able to climb 25 stairs consecutively, plus walk at least 1-2 miles over some uneven surfaces without difficulty. Walks typically last at least 1-2 hours at a time. Altitude can range from zero to 5,000 feet.
Activity Level 2:
1 2 3 4 5
Moderately Easy
Travelers should be able to climb 40 stairs consecutively, plus walk at least 2-3 miles over some uneven surfaces without difficulty. Walks typically last for at least 2-3 hours at a time. Altitude can range from zero to 5,000 feet.
Activity Level 3:
1 2 3 4 5
Moderate
Travelers should be able to climb 60 stairs consecutively, plus walk at least 3 miles over some steep slopes and loose or uneven surfaces without difficulty. Walks typically last for 3 or more hours at a time. Altitude can range from 5,000 to 7,000 feet.
Activity Level 4:
1 2 3 4 5
Moderately Strenuous
Travelers should be able to climb 80 stairs consecutively, plus walk at least 4 miles over some steep slopes and loose or uneven surfaces without difficulty. Walks typically last for 4 or more hours at a time. Altitude can range from 7,000 to 9,000 feet.
Activity Level 5:
1 2 3 4 5
Strenuous
Travelers should be able to climb 100 or more stairs consecutively, plus walk at least 8 miles over some steep slopes and loose or uneven surfaces without difficulty. Walks typically last for 4 or more hours at a time. Altitude can range from 10,000 feet or more.
Hide Acivity Level
TRAVELER EXCELLENCE RATING
PRICE
including international airfare
HIGHLIGHTS & ACTIVITIES IN SOUTH AFRICA
*This information is not available for our trip extensions. You must reserve the main trip to participate on this extension.
**This information is not currently available for this trip. Please check back soon.
Zulu Folk Tales
Once upon a time ...
by Jerry O'Brien from Insider
South African storytellers of old would say that the tales they shared with their listeners were not of their own creation. Instead, the stories came to them on the wind, they said, from a place somewhere behind a mountain, overtaking them as they rested by the side of the road during a long journey. More than mere modesty, this myth of the origin of storytelling itself ascribes to a force beyond humankind: the human impulse to tell stories, to share wisdom, to continue a legacy—ultimately, to prove that we are here. Stories arrive from elsewhere, as a gift—but a gift that arrives to one who is willing and prepared to receive.
This sense of connectedness, of rootedness, is at the heart of Zulu folk tales. And this quality ties to their anonymity. The concept of individual ownership of a story is alien among the Zulu, who believe that attribution belongs to a collective genius. For centuries, the Zulu storyteller—usually a grandmother or an older aunt—would meet her audience personally, gathering with all the members of the homestead. One of the great advantages of the oral tradition, in any society, is its flexibility. The teller adds her own sense of drama, of atmosphere, of style with each retelling, making every event unique.
It takes a village to raise a tall tale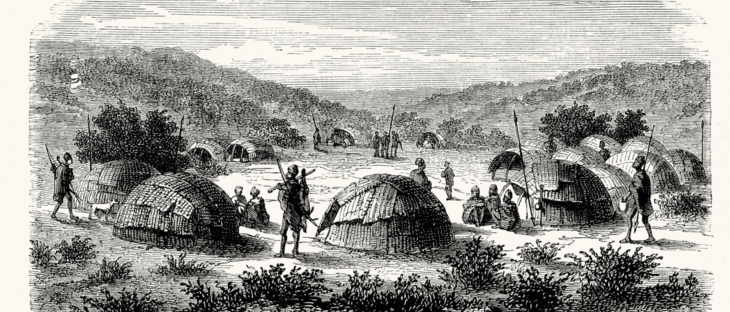 In some South African tribes, cultural anthropologists have found that the teller is assisted by as many as six tribe members, who might add sound effects (birdcalls, the sound of the rushing wind) or actually perform dialogue, making the telling quite similar to our radio dramas of old and to the contemporary radio program A Prairie Home Companion. The men, women, and children in the audience are permitted to participate, too, and even allowed to interrupt the story narrative with questions, giving the teller the opportunity to insert digressions. Some of these insertions to the main story would be very familiar to the audience and would prompt great feelings of anticipation and satisfaction. Remember when Johnny Carson, in his Tonight Show monologues, would say it was really cold? The studio audience and those of us watching at home were ready to shout, "How cold was it?" We'd expect a funny line to follow ("It was so cold that ..."), and it would. The narrative principle is exactly the same.
Zulus speak one of the southern Bantu languages, and common among this language group is the understanding that iintsomi—fictitious tales like those about mythological figures—cannot be told during the daytime. The day is the time for food-gathering and other essential work activities. To tell these stories during the day would jeopardize the welfare of the group. In fact, Zulus believed that anyone who violated this prohibition would grow horns.
An ambitious mission to preserve oral traditions
The gradual European conquest and eventual colonization of southern Africa had dramatic effects on all aspects of native life. The Zulu felt these changes with particular harshness in the wake of the British battle victories of 1879, which destroyed the Zulu state, led to the confiscation of their land, and in time shackled them with apartheid. With the loss of land, family members migrated to cities to find work, which in turn deprived storytellers of their audiences. Centuries of oral tradition were jeopardized with extinction.
It was in this setting that a new generation of storytellers emerged—academically trained writers who collected the old tales, scouring the former Zulu lands for storytellers and recording their stories before they disappeared. Notable among these is A.C. Jordan, who was born in Mbokothwana Mission in 1908. Jordan was inspired to rediscover his own South African storytelling heritage after lecturing on classical Greek mythology. His 1973 book, Tales from South Africa, is an invaluable collection.
Common themes of Zulu folktales
Zulu folk tales display nature as an active force, regenerative, vindictive, or ennobling, depending on the behavior of the protagonist. In many of the tales—as in the European folk tales of the Brothers Grimm and the Scandinavian fairy tales of Hans Christian Andersen—a youth of humble origin seeks the hand of a beautiful princess and must pass through a series of difficult tests before winning the approval of the king and the love of the princess. In other tales, devious servants put on the clothes of the royal family and temporarily become great, before ultimately being punished and sent back to their proper social status.
In "The House in the Middle of the Road"—retold by Verna Aardema in Behind the Back of the Mountain: Black Folktales from Southern Africa—a widow named Unanana leaves her two small children with a young girl named Nontando while she goes out to hunt for wild potatoes. Unanana shares with the girl a magic saying—"These are the children of Unanana. They are protected by her magic power."—that will protect them from attacking animals. In turn, a baboon, a leopard, and a lion come by and are sent back by the magic saying. As one part goes:
Unanana was no sooner out of sight than a baboon came along. He said, "Whose fat children are those?"
"They belong to Unanana," said Nontando. "They are protected by her magic power."
"They are beautiful," said the baboon. "If they were not Unanana's I would carry them off."
An elephant with one tusk arrives and, immune to the magic saying, gobbles up the children as Nontando climbs up a tree for safety. When Unanana returns with her potatoes, she hears what has happened, so she sets out with a knife and a bowl of amasi (similar to cottage cheese) to recover her children. As she hunts the one-tusked elephant, the baboon, leopard, and lion help her. She finally finds the elephant, who gobbles her up whole:
When Unanana reached the stomach of the beast, she found trees, plants, people, dogs, and goats that had been swallowed. And sitting under a bush, all huddled together, were her own children. She fed them the amasi, for they were very hungry.
Then Unanana took her knife and cut a great slit between the rib bones of the elephant. The beast fell dead, and people and dogs and goats rushed out of the opening.
In honor of her bravery, the people whom Unanana saved "kept bringing gifts to the house in the middle of the road. So Unanana and her children became very rich."
We can only imagine the different voices the storyteller would use for the characters, her sense of drama, her playfulness, her rich descriptions and expressive body language. How wonderful it must have been for Zulu children to experience collective storytelling—how tragic that their living heritage was torn from them. Fortunately, thanks to the lifelong work of A.C. Jordan and many others, we have a link with an ever-receding past.
Once upon a time ...
Highlights of South Africa's National Parks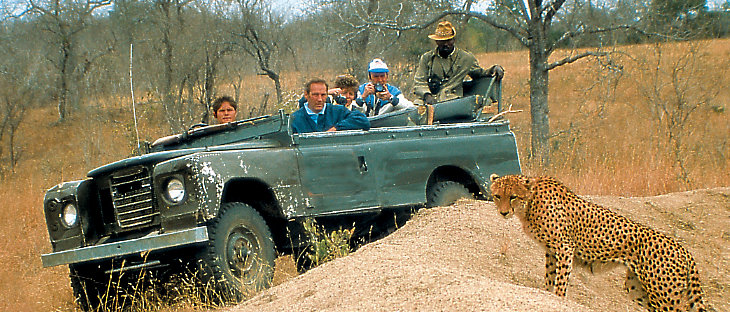 by Bob Hammerling
South Africa is home to some of the world's most exciting wilderness and wildlife, and the nation is extremely dedicated to keeping it safe, with more than 20 national parks covering approximately 4% of the country's landmass. We've chosen a handful of essential national parks and game reserves for you to experience: Read on to learn more about what makes some of them so unique.
South Africa's first and finest
First set aside as protected land in 1898, Kruger is South Africa's oldest national park, and still its most notable.
Covering an area of more than 7,500 square miles, Kruger National Park is the size of a small country, and provides an unparalleled introduction to South Africa's wildlife. Within its borders, you'll find six unique ecosystems, which are home to a staggering amount of life, including 336 species of tree, 147 mammals (more than any other park in Africa), and 507 species of bird. One day's not enough to take it in—that's why we give you two.
A birdwatcher's paradise
Kruger National Park is home to more than half of the recorded species in all of South Africa, including the "Big Six" (an appellation invented for famous birds found in Kruger National Park alone): the kori bustard, martial eagle, lappet-faced vulture, pel's fishing owl, saddle-billed stork, and southern ground hornbill.
There's no such thing as a bad time of year for birdwatching in Kruger, but, the ideal time for a birder to visit is between November and April, when approximately 200 species of migratory birds from Europe, Asia, and North Africa make the game reserve their winter home.
Located in the heart of Zulu territory, these wildlife-rich lands were originally protected by King Shaka as the royal hunting grounds for himself and his warriors. Today, the land is set aside for an opposite purpose: The conservation of some of Africa's most precious species.
The last refuge of the Wild Dog
The African Wild Dog was hunted nearly to extinction by farmers who considered them a nuisance—only a little more than 400 of them survive today in South Africa. Spotting a pack of Wild Dogs is one the rarest safari experiences you can enjoy—and Hluhluhwe-Umfolozi is one of the best places to find them, owing to the efforts of dedicated park researchers who observe and do their best to propagate the species. Keep your eye out for packs of these highly social predators as you travel, and don't miss the chance to observe their surprisingly intelligent behavior.
Saving the white rhino from extinction
If you spot a white rhinoceros during your travels in South Africa, be sure to take a moment and thank the conservations of Hluhluwe-Umfolozi Game Reserve.
In the late 19th century, only 20 white rhinos remained in the world—all of them located in the boundaries of what would soon be protected as Hluhluwe-Umfolozi. After a few decades of dedicated conservation efforts, the species had replenished and it was time to commence "Operation Rhino:" an ambitious effort to translocate the mighty animal—with the use of helicopters, strong trucks and even stronger tranquilizers—to other parks throughout South Africa and neighboring countries. To date, more than 20,000 white rhinos live in the world today.
The Big Five in a small package
Entabeni is a private game reserve, covering a comparatively small 85 square mile area. On our Big Five Bush Safari pre-trip extension, you'll embark on six separate game viewing drives over a period of three days, showing off the park's five distinct ecosystems at different times of day to give you the complete safari experience.
This gives you plenty of chances to spot the Big Five—cape buffalo, elephant, lion, rhino, and leopard—as well as hundreds of other species.
Fall asleep to the sounds of the bush
You'll be staying in a comfortable thatched-roof tented chalet located directly on the grounds of the game reserve, allowing you to make rare finds on early-morning expeditions—perhaps you'll glimpse nocturnal predators at work—and to stare up into the unpolluted starry sky at night. You might even have the chance to spot animals from the comfort of your lodge.