Forgot Your Username
If you have forgotten your username, please provide your email address in the box below. We'll send you an email with your requested username. If you are having trouble, please call us toll-free at 1-800-221-0814.
Email Sent
You'll receive an email in a few minutes. Please check this email to find your requested username.
If you do not receive an email or you are having trouble logging into My Account, please call us at 1-800-221-0814.

WALES
With tales of medieval knights waging fierce battle, Arthur's round table, and mythological dragons swooping among the peaks of Snowdonia, legends abound in Wales.
Welsh history and tradition is steeped into the very landscape: The Welsh word hiraeth conjures a sense of longing for the green grass of home in a land that has chafed under the yoke of English rule for nearly a thousand years. Since Edward I conquered Wales in 1282, the Welsh have been stripped of political independence; today, Wales—along with England, Scotland, and Northern Ireland—makes up one of the four countries of the United Kingdom. Wales is studded with reminders of its tumultuous history—with more castles per square mile than anywhere else in the world, you won't have to go far to discover the allure of this small country-within-a-country. From singing hills to verdant valleys, rambling moorlands to medieval mythology—this is a land alive with an epic past.
But modern-day Wales is just as vibrant. As the Welsh people have rushed to embrace their storied culture, a thriving resurgence of nationalism has ensued. The Welsh language (Cymraeg) is taught in schools and has its own television and radio channels; about one-fifth of the population are Welsh speakers. Delicious fruit-flecked pastries known as Welsh cakes and rugby—the national sport of Wales—are major cultural exports. In 1999, The National Assembly of Wales was created, granting the Welsh people limited domestic power and forging a path towards greater expression of national identity.
Most Popular Films
Films featuring Wales from international, independent filmmakers
Women in Adventure
The rugged mountain terrain of Snowdonia is Kate Worthington's temple.
Produced by Rob Johnson
Curious About... Wales
Why is there a red dragon on the Welsh flag? Satisfy your curiosity about Wales in this film.
Produced by Christine van Blockland and David Zelski
Bath and South Wales
Let travel expert Rudy Maxa guide you through Bath and South Wales historic landscapes.
Produced by Small World Productions
Wales Interactive Map
Click on map markers
below to view information about top Wales experiences
Click here to zoom in and out of this map
Featured Reading
Immerse yourself in Wales with this selection of articles, recipes, and more
ARTICLE
The castles of the British Isles each have a story to tell. Read about some of the best here.
Get the Details On Our Wales Adventure
Find out more about the adventure, including activity level, pricing, traveler excellence rating, included meals, and more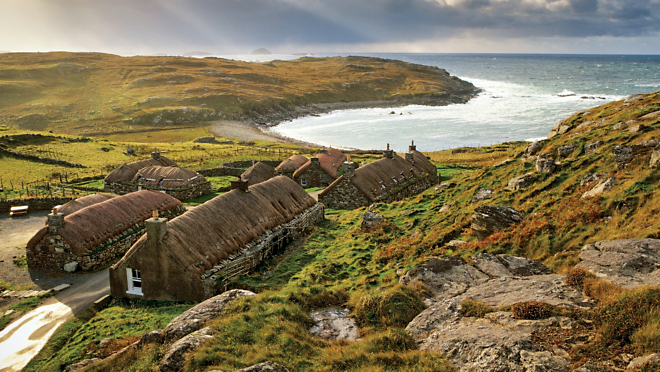 15 DAYS FROM $7,795 • $ 520 / DAY
Small Ship Adventure
England: London, Tresco • Wales: Fishguard, Caernarfon • Ireland: Dublin • Northern Ireland: Belfast • Scotland: Barra, Stornoway, Stromness, Aberdeen, Edinburgh
36 meals—daily breakfasts, 11 lunches, and 12 dinners (plus all onboard house beer & wine, as well as soft drinks)
Discover Wales's legendary history at Caernarfon Castle
Explore the quaint seaside town of Fishguard
Pay your respects to the tomb of Saint David, patron saint of Wales, at St Davids Cathedral
Taste fresh milk at a working farm
Adventure Details
Find the Adventure That's Right for You
Our Activity Level rating system ranks adventures on a scale of 1 to 5 to help you determine if a trip is right for you. See the descriptions below for more information about the physical requirements associated with each rating.
Activity Level 1:
1 2 3 4 5
Easy
Travelers should be able to climb 25 stairs consecutively, plus walk at least 1-2 miles over some uneven surfaces without difficulty. Walks typically last at least 1-2 hours at a time. Altitude can range from zero to 5,000 feet.
Activity Level 2:
1 2 3 4 5
Moderately Easy
Travelers should be able to climb 40 stairs consecutively, plus walk at least 2-3 miles over some uneven surfaces without difficulty. Walks typically last for at least 2-3 hours at a time. Altitude can range from zero to 5,000 feet.
Activity Level 3:
1 2 3 4 5
Moderate
Travelers should be able to climb 60 stairs consecutively, plus walk at least 3 miles over some steep slopes and loose or uneven surfaces without difficulty. Walks typically last for 3 or more hours at a time. Altitude can range from 5,000 to 7,000 feet.
Activity Level 4:
1 2 3 4 5
Moderately Strenuous
Travelers should be able to climb 80 stairs consecutively, plus walk at least 4 miles over some steep slopes and loose or uneven surfaces without difficulty. Walks typically last for 4 or more hours at a time. Altitude can range from 7,000 to 9,000 feet.
Activity Level 5:
1 2 3 4 5
Strenuous
Travelers should be able to climb 100 or more stairs consecutively, plus walk at least 8 miles over some steep slopes and loose or uneven surfaces without difficulty. Walks typically last for 4 or more hours at a time. Altitude can range from 10,000 feet or more.
Hide Acivity Level
TRAVELER EXCELLENCE RATING
PRICE
including international airfare
HIGHLIGHTS & ACTIVITIES IN WALES
*This information is not available for our trip extensions. You must reserve the main trip to participate on this extension.
**This information is not currently available for this trip. Please check back soon.
Written in Stone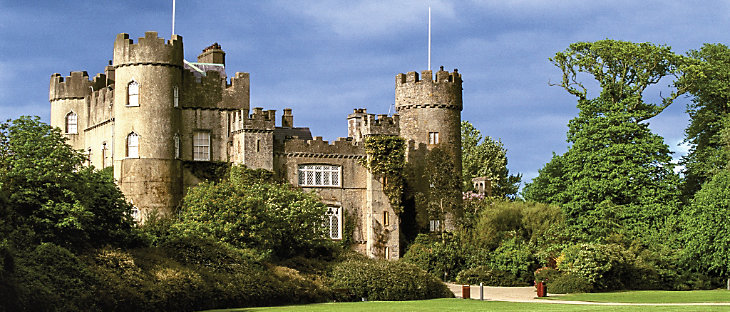 Castles of the British Isles each have a story to tell
by David Valdes Greenwood, for Grand Circle
William the Conqueror. Richard the Lionheart. Henry VIII. It's hard to imagine these iconic rulers commanding their kingdoms from any other setting than a castle. Yet these fortifications didn't come into being until 1066, when William first began constructing them as military bulwarks. The first castles were mixed use, equal part military stronghold and living quarters. Soon, they became the homes from which royals and nobles ruled.
Over time, castles came to contain all the elements of feudal life in one setting: the ruling class, the servant class, and soldiers who defended them all. With medieval standards of living, castles were cold and dark much of the time, but became ever more elaborately decorated over the years, and the scene of the grandest pageantry of the day. With groundskeepers, stable hands, kitchen staff, and servants living in or near the castles, in addition to the lords and the military, these strongholds were like miniature cities unto themselves, often long before cities appeared.
The castles of the British Isles have since become iconic symbols of history and culture, and each has a story of its own. With no one-size-fits-all approach to feudal architecture, these seats of power are as varied and colorful as the nations in which they rise.
Haunted house
At Dublin's Malahide Castle, many families and political factions have walked the halls—and some, it is said, still do. Built in the 12th century by King Henry II of England and given as home to the family of his knight Sir Richard Talbot, the stone manse was expanded in the 18th century to include more imposing towers, and boasts a 22-acre garden with 5,000 species of plants. But what makes Malahide Castle stand out in the Irish imagination is its legendary ghosts, an array of colorful figures from 800 years of history.
There's Miles Corbet, who sided with Oliver Cromwell against King Charles I in the English Civil War, and briefly claimed the castle. After Cromwell's overthrow, Corbet was hung, drawn, and quartered, to set a grisly example for future anti-monarchists. His was the first ghost said to haunt the castle, often in full armor. As if it is not enough to encounter a ghost to begin with, his specter might fall apart, separating into quarters before your eyes.
Corbet was followed by Walter Hussey, who was murdered by a spear-throwing rival on his way to his own wedding. Adding to insult to (fatal) injury, his bride-to-be later married the rival, so Hussey's ghost is said to wander the halls clutching his side asking if anyone has seen his former sweetheart. One Malahide couple, Maud Plunkett and her husband the Lord Chief Justice, never parted at all—it's said that she can be seen chasing him through the castle at night, hounding him in the afterlife the way she is said to have done in their mortal years.
Puck, the four-foot-tall jester, haunts Malahide in a different fashion. He provided amusements for the ruling family and fell in love with Lady Elenora Fitzgerald, who had been detained at the castle under suspicion of plotting against King Henry VIII. Puck was found murdered, likely by pro-Henry forces, but his death was attributed to suicide. Legend says his ghost promised never to hurt anyone, and that remains true. But he also refuses to be forgotten and is said to show up unwanted in photographs taken inside the castle.
The original dream home
One of the oldest Welsh tales is that of Macsen Wledig, emperor of the Western Roman Empire in Britain, who dreamed of sailing a ship and crossing the sea to a land that was home to the world's greatest castle and most beautiful maiden. After leaving Britain for Rome, the emperor found no such castle or maiden, and sank into despair. He sailed back to Britain—but when he ventured ashore in Wales, he found a castle at Caernarfon as great as he imagined, and a maiden beyond his hopes. He settled there, refusing to ever return to Rome. Macsen Wledig was a real person but the story was a myth, created long after his passing, which somehow caught the Welsh fancy. By the time Edward I ruled the British Empire in the 13th century, the story was part of local lore, and Edward was determined to build a castle as impressive as the one of legend. Replacing a smaller castle (which itself had replaced a smaller Roman fort that bore no resemblance to Macsen's grand dream), mighty Caernarfon Castle rose in less than five years, with massive polygonal towers, multicolored stone meant to invoke the glories of Constantinople, and a stone enclosure wall that encompassed all of the original town as well.
Impressed with his own handiwork, Edward determined to make this castle a formal part of British royal tradition. He achieved this by insisting that his wife be moved to Caernafon for the birth of their first child, so that the Prince of Wales would be, in fact, English. To this day, Caernafon is the site of investiture for the Prince of Wales, including His Royal Highness Prince Charles in 1969.
It is likely that Prince William will follow suit, should his father Charles assume the throne in the coming years.
Last queen standing
Not every royal family is as close as the current House of Windsor. Mary, Queen of Scots, maintained a running battle with cousin Queen Elizabeth I that can only be called epic.
Mary's seat of power seemed secure enough: Edinburgh Castle sits atop a chunk of 350-million year-old volcanic rock 390 feet above sea level, a truly immutable base. But even before she arrived in the 16th century, the castle had evolved multiple times over the years. First built in 1093 as the Castle of the Maidens, it had been damaged often in the continual battles with the English, requiring a steady stream of repairs. In 1360, King David II added 90-foot towers, and a century later, King James III brought the rest of the castle into line with more elegant furnishings and elaborate royal apartments.
Mary was by far the most famous of its residents, but when Elizabeth forced Mary to abdicate, a cadre of Mary's supporters barricaded themselves in the castle to support their queen and sustain local rule. That turned out to be a bad idea, because Elizabeth, at her boiling point, simply gave orders to retake the castle. Her forces did considerable damage—including felling David's mighty towers—in the process. The nobles lost, Mary was later executed, and the castle itself never recovered its height. Nonetheless, like all great castles, its value to the culture, and the history written in its stonework, endures to this day.
Castles of the British Isles each have a story to tell