Forgot Your Username
If you have forgotten your username, please provide your email address in the box below. We'll send you an email with your requested username. If you are having trouble, please call us toll-free at 1-800-221-0814.
Email Sent
You'll receive an email in a few minutes. Please check this email to find your requested username.
If you do not receive an email or you are having trouble logging into My Account, please call us at 1-800-221-0814.
ZIMBABWE
Zimbabwe evolved under tribal rule until the late 19th century when a British column led by Cecil Rhodes arrived in search of precious minerals. In 1980, Zimbabwe was granted independence from the UK. With agriculture, mining, and tourism as its main industries, modern-day Zimbabwe has seen its fair share of political and economic turmoil. But, despite trying times, its natural beauty and rich culture continue to intrigue and captivate people from across the world.
The thundering waters of Victoria Falls cascade down rocky cliffs, casting a refreshing mist over surrounding lands … Villagers in nearby markets hand-weave baskets and craft soapstone statues until the sun sets over the savannah plains ... Peeled eyes catch rare glimpses of wild beauty in the depths of teak forests and palm islands … Zimbabwe is the stage upon which dreamlike safari scenes play out daily, for those of us fortunate enough to be part of the audience.
Most Popular Films
Films featuring Zimbabwe from international, independent filmmakers
Lions of Zimbabwe
Roam Zimbabwe's grasslands with prides of lions as you learn about the threats they face and the hope for their conservation.
Produced by David Conover
Wildlife of Southern Africa
Let the wildlife and scenery of Southern Africa captivate you in this 2-minute film showcasing the natural rhythm of life out in the open plains.
Produced by Rudi Zisterer
Travelogue: Zimbabwe 1948
Get a glimpse into the past as you witness two travelers' vintage 16mm footage of Victoria Falls, Zimbabwe from 1948.
Produced by David Conover & Paul Villanova
Zimbabwe Interactive Map
Click on map markers
below to view information about top Zimbabwe experiences
Click here to zoom in and out of this map
Featured Reading
Immerse yourself in Zimbabwe with this selection of articles, recipes, and more
ARTICLE
Women of Zimbabwe Arise (WOZA) strives to make the country a more accepting place for women's rights. Discover how here.
ARTICLE
Get an in-depth look at the bleak outlook of the elephant population and the efforts being taken to save these gentle giants.
ARTICLE
Under the Baobab Tree
Experience a day in the life of Impalila Island as fishermen catch catfish and bird watchers spot Cisticolas.
Zimbabwe: Month-by-Month
There are pros and cons to visiting a destination during any time of the year. Find out what you can expect during your ideal travel time, from weather and climate, to holidays, festivals, and more.
Zimbabwe in January - March
January to March in Zimbabwe is the peak rainy season, leading to thicker vegetation and lower temperatures. Almost daily, clear morning skies will close into afternoon thunderstorms. Higher humidity can make the afternoon high temperatures more uncomfortable. Though it's harder to spot big game, many animals give birth at this time, making it easier to spot newborns. Due to plentiful vegetation bird-watching is at its most bountiful. Also, as this is low season, the dollar will go farther—yet certain parks and attractions might be closed.
Victoria Falls is also more closely accessible, as you can witness its might at mid-level without too much spray.
Must See
With the rains and an increased food supply, many bird species—upwards of 600—migrate through Zimbabwe during the first three months of the year. For veteran bird-watchers, this is a great time for a birding holiday. Among the most highly-sought-after species during this time are the African Pitta and the Taita Falcon.
Zimbabwe in April - June
After the rainy season, Zimbabwe's climate becomes much more comfortable as humidity is lower, and temperatures begin to cool down through June. With clear blue skies almost daily, the time is ripe for spotting big game as they congregate around various watering holes and rivers. Though tourism has picked up, the parks are still not crowded due to their size. You can also enjoy fewer mosquitoes because of lower humidity.
At this time, Victoria Falls is at full power, which can make its mighty flow harder to enjoy with increased spray.
Holidays & Events
April 18: Independence Day
Late April-Early May: Harare International Festival of the Arts
May 25: Africa Day
Must See
Many big game species have given birth in the previous months, so many newborn animals are out and about exploring the world. The plentiful vegetation offers food and nutrition for the newborns, so it's not uncommon to see a herd of elephants with a little one in tow.
Zimbabwe in July - September
The busiest wildlife season of the year, the dry climate between July and September makes for the most bountiful game-viewing—the man-made watering holes in Hwange National Park create stunning concentrations of wildlife. Average temperatures climb to highs in September of around 90 degrees. Nights and mornings will also become cooler due to the more extreme temperatures, so it's advisable to pack warm clothing for sleeping.
Victoria Falls is beginning to calm down—though still with a moderate flow. This is the best time to witness its power as the spray has partially subsided, making most of the waterfall visible. The Zambezi River also has perfect water levels for rafting, as they are not too high or too low.
Holidays & Events
September 16-19: Annual game count in Hwange National Park
Late August/early September: Zimbabwe Fashion Week
Mid-August: Zimbabwe International Film Festival
All of August: Chibuku Neshamwari Dance Festival
Must See
During this time of year, Victoria Falls is at its most stunning. The spray, which comes from the typically thunderous water flow, is almost non-existent. This gives viewers the best opportunity to take in the fall's splendor.
Zimbabwe in October
October is the month for elephants at Hwange National Park. As the dry season peaks, game is easily viewed as animals search for whatever water is left. The temperature is also highest, though as a dry heat it's easily manageable with good hydration.
Must See
As the dry season is in full swing, the air is typically filled with dust—this makes the sunsets and sunrises in Zimbabwe especially beautiful, creating rich red and orange hues.
Zimbabwe in November & December
As the rainy season in Zimbabwe begins in November, the landscape comes alive with lush vegetation—thrilling thunderstorms bring downpours in the afternoon. Many animals give birth around this time, and migratory birds begin to flow in from other parts of the continent.
Holidays & Events
November 10: Jikinya Traditional Dance Festival
December 25: Christmas
Must See
This is a great time to see newborn wildebeest as they learn to walk, bucking adorably on their new legs. Newborn impala are especially cute, with their over-sized ears flopping as they learn to walk and leap from their parents.
Average Monthly Temperatures
Compare Our Adventures
Click 'Select to Compare' to see a side-by-side comparison of up to adventures below—including
activity level, pricing, traveler excellence rating, trip highlights, and more
18 DAYS FROM $5,295 • $ 295 / DAY
Small Group Adventure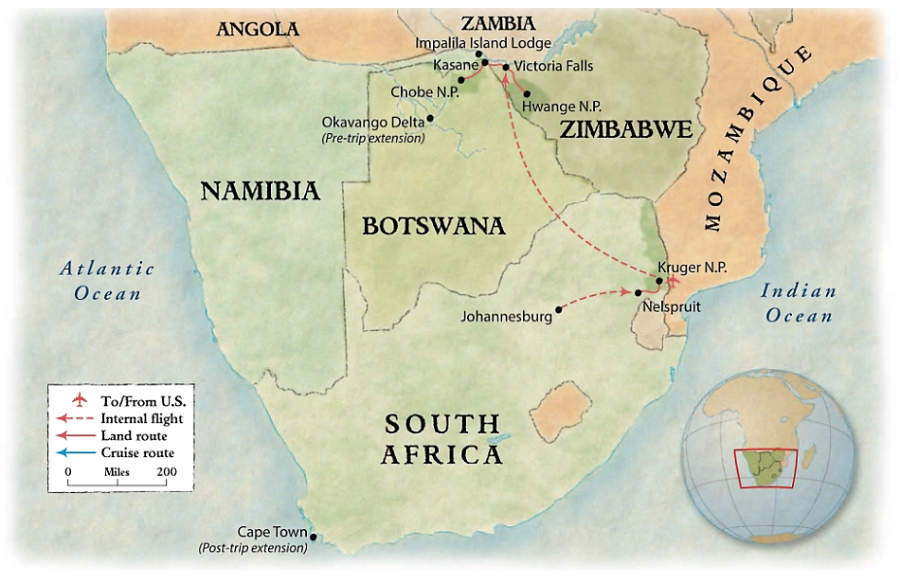 South Africa: Kruger • Zimbabwe: Hwange, Victoria Falls • Namibia: Impalila Island • Botswana: Chobe
46 meals—daily breakfast, 15 lunches, and 15 dinners
Enjoy up to 4 game-viewing excursions.
Spend 3 nights in a tented camp within Hwange National Park
Explore Victoria Falls on your own during a full day at leisure
Experience A Day in the Life of a Hwange community
17 DAYS FROM $5,195 • $ 306 / DAY
Small Group Adventure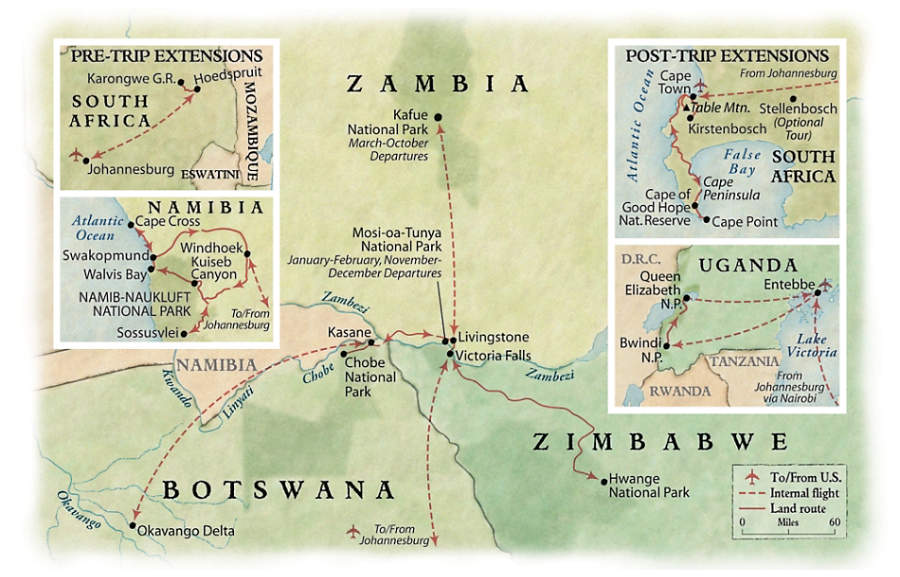 Zimbabwe: Hwange • Zambia: Kafue • Botswana: Chobe, Okavango Delta • Zimbabwe: Victoria Falls
42 meals—daily breakfast, 13 lunches, and 14 dinners
Enjoy up to 3 game-viewing excursions
Spend 3 nights in a tented camp within Hwange National Park
Soar over Victoria Falls during an optional scenic helicopter ride
Experience A Day in the Life of a Hwange community
34 DAYS FROM $11,090 • $ 327 / DAY
Small Group Adventure
Zimbabwe: Hwange • Zambia: Kafue • Botswana: Chobe, Okavango Delta • Zimbabwe: Victoria Falls • Kenya: Nairobi, Lake Nakuru, Amboseli • Tanzania: Tarangire, Ngorongoro Highlands & Crater, Serengeti National Park
90 meals—daily breakfast, 29 lunches, and 29 dinners
Enjoy up to 3 game-viewing excursions.
Spend 3 nights in a tented camp within Hwange National Park
Soar over Victoria Falls during an optional scenic helicopter ride
Experience A Day in the Life of a Hwange community
Compare Adventures
Find the Adventure That's Right for You
Our Activity Level rating system ranks adventures on a scale of 1 to 5 to help you determine if a trip is right for you. See the descriptions below for more information about the physical requirements associated with each rating.
Activity Level 1:
1 2 3 4 5
Easy
Travelers should be able to climb 25 stairs consecutively, plus walk at least 1-2 miles over some uneven surfaces without difficulty. Walks typically last at least 1-2 hours at a time. Altitude can range from zero to 5,000 feet.
Activity Level 2:
1 2 3 4 5
Moderately Easy
Travelers should be able to climb 40 stairs consecutively, plus walk at least 2-3 miles over some uneven surfaces without difficulty. Walks typically last for at least 2-3 hours at a time. Altitude can range from zero to 5,000 feet.
Activity Level 3:
1 2 3 4 5
Moderate
Travelers should be able to climb 60 stairs consecutively, plus walk at least 3 miles over some steep slopes and loose or uneven surfaces without difficulty. Walks typically last for 3 or more hours at a time. Altitude can range from 5,000 to 7,000 feet.
Activity Level 4:
1 2 3 4 5
Moderately Strenuous
Travelers should be able to climb 80 stairs consecutively, plus walk at least 4 miles over some steep slopes and loose or uneven surfaces without difficulty. Walks typically last for 4 or more hours at a time. Altitude can range from 7,000 to 9,000 feet.
Activity Level 5:
1 2 3 4 5
Strenuous
Travelers should be able to climb 100 or more stairs consecutively, plus walk at least 8 miles over some steep slopes and loose or uneven surfaces without difficulty. Walks typically last for 4 or more hours at a time. Altitude can range from 10,000 feet or more.
Hide Acivity Level
TRAVELER EXCELLENCE RATING
PRICE
including international airfare
HIGHLIGHTS & ACTIVITIES IN ZIMBABWE
*This information is not available for our trip extensions. You must reserve the main trip to participate on this extension.
**This information is not currently available for this trip. Please check back soon.
Lighting a Candle, Building a Fire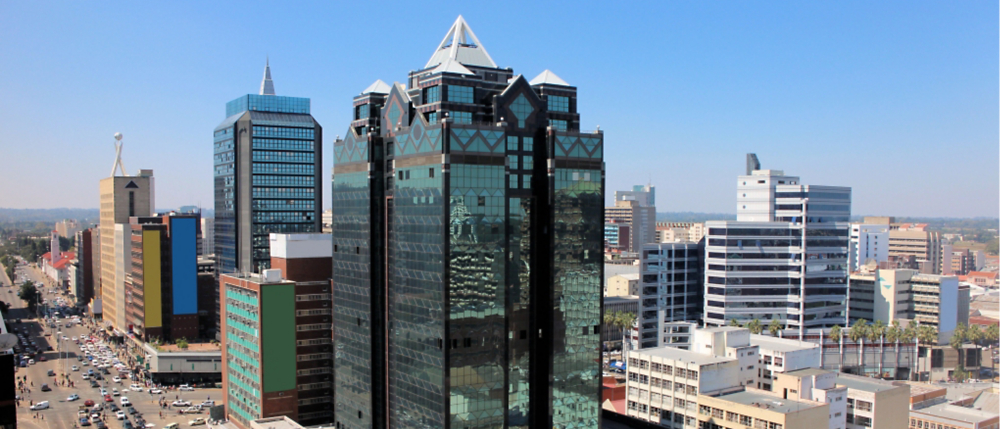 Women rising up for change in Zimbabwe
for O.A.T.
There is little doubt that Women of Zimbabwe Arise (WOZA), is committed to making a difference—after all, they have a logo resembling a flame coming to life, an acronym that also happens to be the Ndebele word for "come forward," and a strong mission to their work. Since 2003, the members of WOZA have made it their goal to help the women of Zimbabwe speak out and better their futures.
Zimbabwe has undergone major change in recent decades, and for a long time was seen as a failure of African governance. Hyperinflation, joblessness, and a general distrust of the government permeated the country. Today, however, Zimbabwe is making progress on the road to stability—life expectancy has increased dramatically, commerce is slowly returning as the Zimbabwe dollar gains strength, and general optimism has led to a baby boom.
Empowering women to rise
Zimbabweans have learned that they need to be vocal advocates for their own futures, and the members of WOZA help them do exactly that. WOZA's stated goals include encouraging women to speak up when their rights and freedoms are at risk, to become public leaders in their communities, and to unite across different backgrounds in identifying and working on issues that affect women.
WOZA today has more than 75,000 members, both women and men, and leads initiatives in constitution-making, democracy, education, children's welfare, protesting police brutality, and recognizing the rights of women. WOZA members have been arrested (in fact, more than 3,000 members have spent time in jail), beaten, and denigrated in the press—but they have also been recognized the world over for leading the charge towards a freer and more inclusive Zimbabwe.
In 2009, President Obama presented WOZA and its leader, Magodonga Mahlangu, with the Robert F. Kennedy Human Rights Award, which honors those who creatively and courageously defend human rights. In the words of President Obama, "By her example, Magodonga has shown the women of WOZA and the people of Zimbabwe that they can undermine their oppressors' power with their own power—that they can sap a dictator's strength with their own. Her courage has inspired others to summon theirs."
Facing oppression with "tough love"
WOZA describes its tactics as "tough love," a method of strategic nonviolence in response to aggression. As described on their website, "the power of love can conquer the love of power. 'Tough love' is our secret weapon of mass mobilisation. 'Tough love' is the disciplining love of a parent; women practice it to press for and to bring dignity back to Zimbabweans. Political leaders in Zimbabwe need some discipline; who better to dish it out than mothers!"
It is precisely because WOZA's members feel such deep pride for Zimbabwe and have optimism for the future that they can practice tough love. However, many of those in power in Zimbabwe see WOZA as troublemakers, as evidenced by the recent arrests of both Mahlangu and founder Jennifer Williams. They were observing a peaceful WOZA protest from a distance, when officers started an argument over whether protesters should notify police before an action. Before long, both women were in custody along with about eight other protesters, but only some police officers were officially charging those detained with any crime. Incidents such as this are an indication that despite Zimbabwe's economic gains, there is much work still to be done in terms of judicial reform.
Though there is much ground still left to cover in the process of creating a free and fair Zimbabwe, WOZA will continue their work no matter what the opposition. In an open letter, the sentiment of WOZA was phrased simply: "WOZA members believe that it is better to light a single candle than to complain about the darkness."
Women rising up for change in Zimbabwe
Danger or Endangered?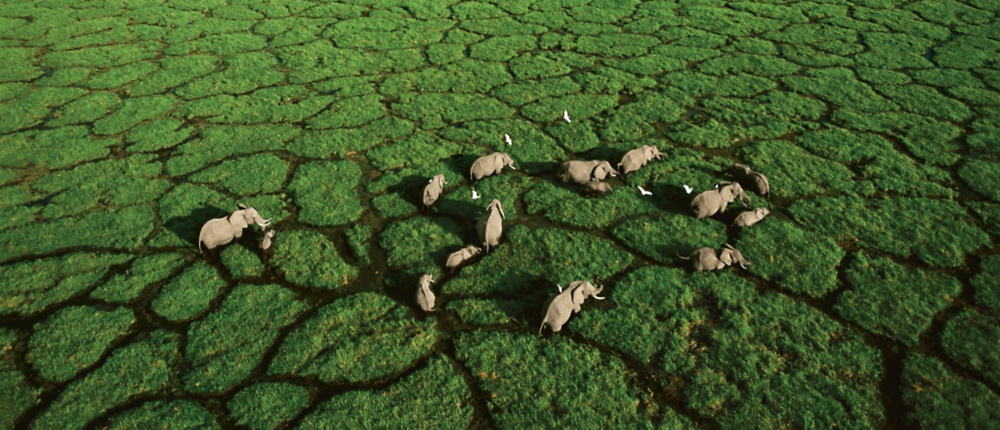 The tenuous future of Southern Africa's elephants
by Laura Chavanne, from Dispatches
Silence begat silence as our group gathered outside our vehicles for the evening sundowner. Our drivers had strategically chosen a spot, as they did every night, based on a lack of dangerous animals in the area. If they'd known in advance about the sight that awaited us, they never let on—but this was Chobe National Park, after all, so we had luck on our side.
We saw them before we heard them: a herd of some 30 elephants just a few hundred feet from our vehicle, moving slowly and sure-footedly across our field of vision. No one spoke or moved, amazed that we could see a group of such massive creatures—the largest land mammals on Earth—in such close proximity, without hearing so much as the snapping of a twig. They continued their journey past us, walking single-file, in silhouette against the glow of the setting sun.
An elephant's ability to move silently is one of many physiological marvels that make these creatures endlessly fascinating to observe. The secret, in this case, is a system of natural "shock absorbers" that grip the ground firmly enough to smother the terrain beneath and prevent sound from escaping. Even more fascinating, however, are the behaviors that demonstrate the animals' high levels of intelligence and socialization: the systematic uprooting of a dead tree, perhaps, exposing fresh, green vegetation underneath; or the gentle touching of two trunks, serving as a greeting between two elephant acquaintances.
The scientific community may frown upon anthropomorphism, but for the casual observer—myself most definitely included—the apparent humanism of elephants is too captivating to ignore: Within them, we see something of ourselves. They mourn … they love … they feel.
And yet we remain their greatest threat—in some ways, now more than ever.
Botswana's Chobe National Park is home to the world's largest concentration of elephants, and offers unparalleled opportunities to see them in the wild … but while conservationists and safari enthusiasts view the pachyderm population here as a blessing, the growing population of humans who coexist with them must regrettably disagree. Throughout southern Africa, the past several decades have seen shifts in a delicate ecological balance, placing conservationists on an earnest quest for a solution.
Of elephants and ivory
The cause for protecting the African elephant is fraught with complications—not the least of which is the sheer disparity between regional populations within the continent: Of the 470,000-690,000 elephants that exist in Africa today, it's estimated that around 280,300—that's at least 40%—live in the southern African region, including Botswana, Zimbabwe, Zambia, and South Africa. So while as a whole, the African elephant is classified by the International Union for the Conservation of Nature (IUCN) as a "Vulnerable" species, the organization has supplemented this rating with regional findings, stating specifically that while elephants are indeed "Vulnerable" in eastern Africa, they are merely "Near Threatened" in western Africa and of "Least Concern" in southern Africa.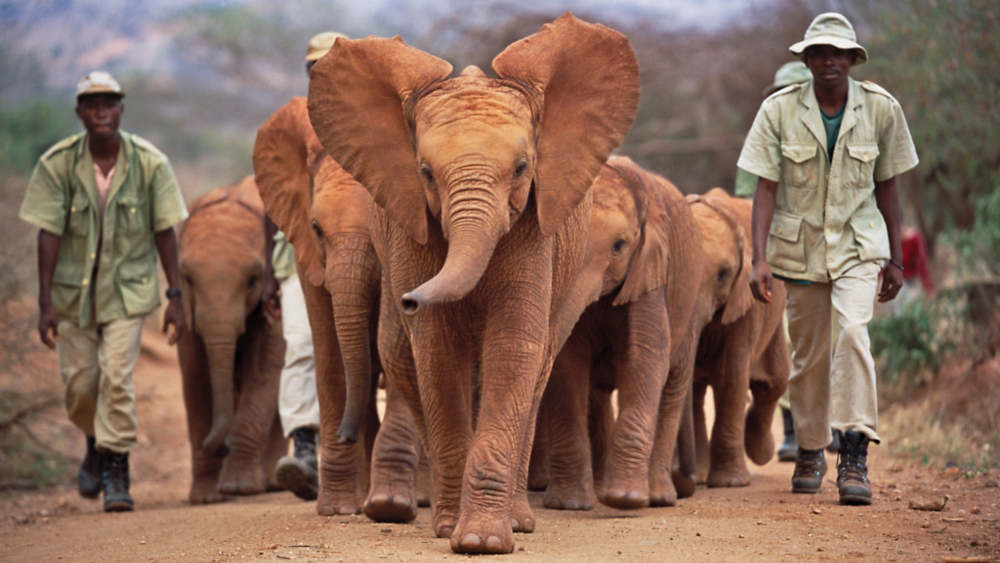 While lions have been known to take weakened or young animals down on occasion, the elephant has no natural predators—yet human influence has been impacting them for thousands of years. A North African subspecies of the African bush elephant (which could possibly have been a species of its own, according to some scientists) became extinct around 200 BC due to overuse in Roman military battles and gladiatorial contests. And by 100 BC, two species of Asian elephant—Syrian and Chinese—had already been hunted to extinction for their ivory tusks, which cannot be removed without killing the animal.
Less than a century ago, history seemed doomed to repeat itself in Africa. Even though the ivory trade has operated continuously throughout modern history, by the 1940s there were still as many as three to five million elephants roaming the continent. In the 1970s, however, after decades of depression and war, renewed global prosperity precipitated a boom in the ivory trade—during which around 75,000 African elephants per year were killed for their tusks, most of them illegally with highly effective automatic weapons. By 1979, the population had plummeted to around 1.3 million … and by 1989, only 600,000 remained. Amid growing panic that the world's elephants were headed for extinction, the Convention on International Trade in Endangered Species (CITES) banned the international trade of ivory in 1989.
Today, illegal poaching continues to haunt the African continent, with newly affluent Chinese and Vietnamese markets using their financial clout to establish extensive black market connections. Conservationists have decried 2011 as the worst year for elephants since the 1989 ban, with 23 tons of illegal ivory seized—representing 2,500 animals—versus just ten tons in 2010. While the overall elephant population is notoriously difficult to count, this number points directly to a severe problem, centered primarily in eastern and western Africa. The majority of black market seizures, for example, have occurred in Kenya and Tanzania. And a 2012 study estimates that around 5,000 elephants have been poached in the West African Republic of the Congo over the past five years. In these regions, conservationists and wildlife officials are on the offensive, deploying anti-poaching units and urging China to enact and enforce a moratorium on ivory.
In southern Africa, however, the story is very different. Some nations actually support the legalization of the ivory trade, arguing that if their elephant populations are strong enough, they should be allowed to profit from them as a reward for their conservation efforts. While conservationists naturally disagree with this position, they're having a difficult time discouraging locals who view elephants—sadly, but with reason—as the world's largest garden pests.
Confronting "the elephant problem"
In some national parks, including Chobe in Botswana and Kruger in South Africa, the elephant populations have apparently grown too large for the landscape to support. Elephants are notoriously destructive feeders, uprooting trees and stripping bark to expose nutrients. As a result, other herbivores have a harder time finding sustenance, and birds of prey lose valuable nesting real estate. Of greater concern, however, is what happens when elephants make their way into residential areas outside the national parks. A hungry herd can destroy entire harvests in a single night, which is devastating for local farmers in these poverty-stricken areas. In rare instances, when normally docile elephants feel threatened enough to charge, people have been killed.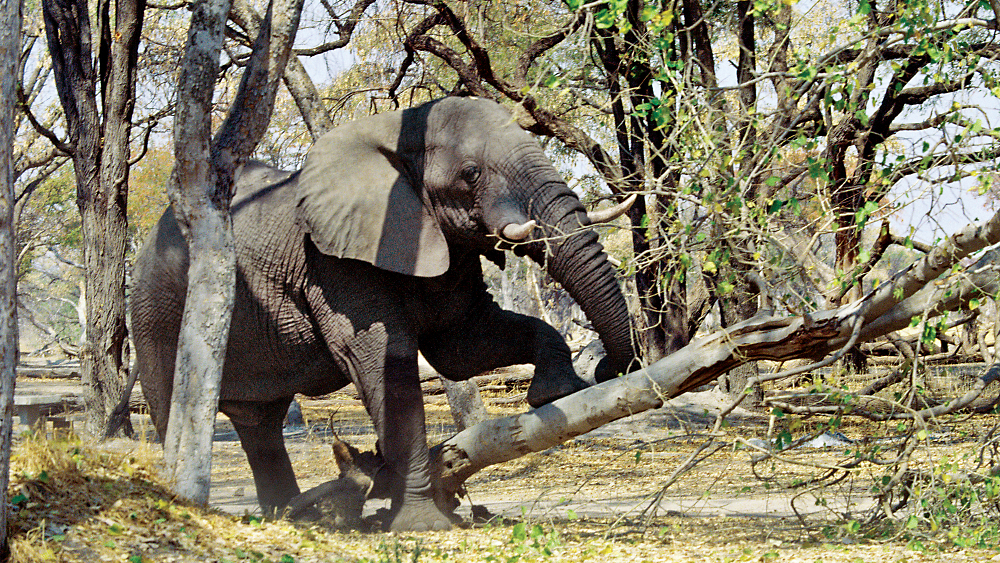 Whether or not there truly are too many elephants in southern Africa is actually a subject of debate. Some scientists insist that the elephant population is simply returning to normal levels following its devastation before the ivory ban—only this time, there are more humans around to notice. A probable explanation, but not one that offers an easy solution. The humans certainly aren't going anywhere, but options for reducing the elephant population have not met with success. Contraception is costly and takes years to yield results—and while scientists have developed formulas that don't affect hormone levels, they can't predict how the inability to reproduce will upset the elephants' social well-being. Translocation to areas with less concentrated populations can also have negative effects on social structure, as family units are not always moved together; plus, research on its long-term success is inconclusive.
No other method, however, has fueled as much passionate protest as culling. The systematic "removal" of breeding adults from the population was banned in 1995, but every so often it comes up for debate—as it has most recently in the case of South Africa's Kruger National Park. Aside from the fact that most humans without firsthand experience of "the elephant problem" abhor the idea of killing an elephant as if it were a rodent, some scientists theorize that culling actually contributes to population growth. New animals have a tendency to migrate into areas where culling has occurred because there's less competition for resources, bringing populations right back to their original levels. While proponents criticize detractors as being clouded by anthropomorphism, the backlash—at least for now—has been sufficient enough to keep the ban on culling in place.
Thankfully, scientists have recently implemented a potential—and completely humane—solution. One possible cause for the high concentration of elephants in just a few small areas could be the closure of the animals' ancient migration routes through the continent—either by fences or other man-made barriers, human settlements, and danger zones created in times of civil unrest. To this end, the Kavango Zambezi Transfrontier Conservation Area (KAZA) opened in March of 2012. Encompassing no fewer than 37 protected areas in five countries, including Chobe National Park and Moremi Game Reserve in Botswana, Kafue National Park in Zambia, and Hwange National Park in Zimbabwe, the international sanctuary will create "safe corridors" for elephants throughout its 150,000 square mile area. The hope is that if the animals can migrate great distances when their resources are depleted, they will—thereby reducing overpopulations in strained areas like Chobe. While it's too early to determine whether the theory is correct, success would be a win-win situation for both the elephants and the humans who share the land with them.
On a much smaller scale, conservation groups are working with farmers on a humane and inexpensive—yet surprisingly effective—elephant repellent. As it turns out, elephants and humans share a particular aversion that can render even our favorite foods completely unpalatable: massive amounts of chili peppers. Rather than relying on electric fences to keep elephants out of their fields, farmers are coating fences with a mixture of hot pepper and engine oil to keep would-be grazers at bay. Another option is to burn elephant dung laced with capsaicin, which can repel herds of elephants for miles. An elephant's sense of smell is actually 100-200 times better than a human's, so we can only imagine how powerful a deterrent this must be. And to those who consider this method cruel, conservationists have only one response: Just consider the alternatives.
Kindred spirits
They say an elephant never forgets, but of all the characteristics humans and elephants share, perhaps the most powerful is the ability to mourn. Scientists have observed both vigils and burial rituals in elephant communities—and not just for their own kind. Elephants have also been known to grieve over humans. Most famously, just a few months ago, they did so elaborately after the death of a so-called "elephant whisperer" in South Africa. Yet both researchers and local people have recorded stories of elephants covering deceased or sleeping humans with branches—as if to acknowledge a kindred spirit, and pay respects to a departed soul.
So long as we, too, return the favor, perhaps we can once again find the balance we destroyed so long ago—and man and beast can live in harmony, with no reason to fear one another.
The tenuous future of Southern Africa's elephants
Under the Baobab Tree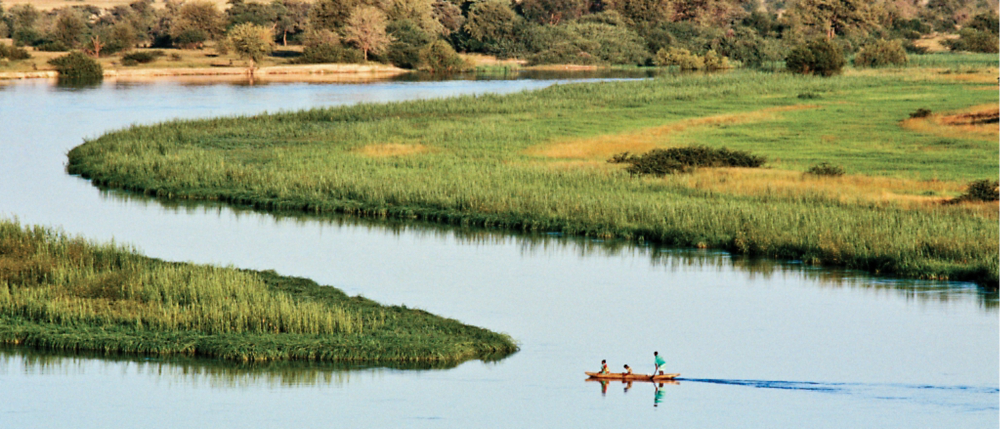 A Typical Day on Impalila Island
David Valdes Greenwood, from Dispatches
Morning comes to Impalila, the first gold of the day gleaming on the island's skyscraper: a 2,000-year-old baobab tree which first rose from the dark soil when Tiberius was emperor of Rome, Ovid was writing in Greece, and the Xin Dynasty ruled China. While empires rose and fell, the world spinning forward across the millennia, this same tree simply went about the business of living and growing. With its trunk now the size of a small house, its arms flung 70 feet heavenward, it is a giant among living things on an island ripe with life.
From the very top of the baobab, a quizzical Trumpeter Hornbill calls out its first song of the day. Its babies are nestled in a deep knot in the bark, too young to climb up and catch the view: a confluence of rivers and wetlands as far as the eye can see. The Zambezi and Chobe rivers come together here, their tributaries and overflow yielding 60 miles of waterways that link Botswana, Zambia, Zimbabwe, and Namibia. It's the only place on Earth where four nations come together at a single point, but that's a detail of interest only for humans. The hornbill has more immediate concerns: searching for food for its chicks. It flies off for the hunt, and a new day has begun.
Share and share alike
Less than seven miles long and three miles wide, Impalila Island is something of an anomaly in Namibia: a setting defined by water in a nation famed for desert. All this moisture means it is an incredibly lush,
fertile ecosystem, home to some of Africa's best birding and fishing, as well as some of its most welcoming—and generous— people. For such a small island, Impalila surprisingly nurtures more than three dozen villages, together home to more than 2,000 people, mostly of the Subia tribe. As the day begins, they prepare for the tasks ahead.
The grandmothers gather to weave sleeping mats from golden reeds and pat clay pots into shape, and they chat about their families as they work. Many of the young adults are stepping into the uniforms they wear to work at local houseboats or lodges, while others don pale nursing scrubs and ready the medical clinic to open for the day.
Schoolchildren in their vivid blue shirts make their way by foot and canoe to Impalila Combined School, where they will study from the equivalent of kindergarten all the way through their secondary schooling. Some will pass Tommy, the island's only carpenter, who makes most of the furniture here; he will be hard at work already, building pieces that he will sell on credit, knowing that his fellow islanders live simply and that income trickles in slowly.
Down by the water, fishermen ready their hooks in hopes of a hearty catch that they can bring to Kasane, across the river in Botswana. Women in vividly colored chitenge wraps fan out into fields to check on the progress of the maize and beans they are growing in the rich red-brown soil, while a few board boats to Kasane to buy cooking staples and supplies not carried in the village market. They carry lists to shop for their families and for others, knowing the favor will be returned.
Neighborliness is not just a habit; it's the way of life. The island has a chief (always chosen from among the five oldest men) who presides over all disputes and sees to it that everyone is taken care of. One task is to give land to those who have none, even if it means taking a bit away from another person's parcel. In this way, no one is ever as invested in their own property as they are in seeing that no one is made homeless or left out of the shared bounty.
This tradition also promotes a generosity of spirit that can be seen in the warm welcomes that the islanders give to visitors. As the day's first group of bird-watchers sets off on a stroll, they are sure to find themselves greeted by sincere smiles around each bend—Impalila is that kind of place.
On the wing
Birdwatchers know they have hit pay dirt on Impalila, where it is pretty much impossible to miss the birdlife. In this tiny ecosystem, 450 species of birds wing among jackalberry trees, tip-toe across water lilies, and rest among the reeds on the Chobe River. In the morning light, the island is alive with flight and song, from the call of the white-plumed Heuglin's robin to the preening of the coucals, as they strut their brick-red wings.
Starting along the riverside, the birders have no trouble spotting White-crowned Lapwings taking long steps on skinny legs among the herons and egrets. And what's that down in the riverbanks? An African Skimmer watching over eggs it has buried in the exposed sand, its orange beak parting to let out a kip-kip cry at anyone who dares encroach.
Inland, Blue-cheeked Bee-eaters pursue tasty dragonflies while pairs of Tropical Boubous stage fighting matches, the losers winging away as the winners sing their victory song. Chirping Cisticolas keep up a steady stream of patter, while Hartlaub's Babblers by the dozen chatter on like old gossips.
Returning to water's edge, the birders may notice that not all birds like to make such a noisy display. The Western Banded Snake-Eagle, eyes narrowed to slits among feathers, just watches and watches, quietly waiting for a tasty reptile to come along. And Fish Eagles turn the tables on the birders completely, as if human-watching. Perched in trees overhanging the shore, the Fish Eagles keep an eye on the humans, with whom they compete for their favorite prey, the abundant fish swimming in the river.
Careful: sharp teeth
Between the mighty Zambezi and Chobe rivers, the Mambova Rapids, and the smaller Kwando and Kasai rivers, the Impalila area is a treasure trove for fishing enthusiasts. After the heat of the mid-day sun has given way to more moderate temperatures in the afternoon, the boats head out. Guests of the lodge and villagers alike take to the water to see what they can hook.
Though there are 70 species of fish in these waters, including broad-headed catfish and tasty bream, it's really only one that lures eager fisherman to try their luck. The star of these waters is the Tigerfish, which takes its name from its striped flanks and its double rows of sharp, pointy teeth. The teeth don't just make a Tigerfish look fierce—it is fierce, using its fangs to seize prey and then tear the flesh to shreds. Only baby Tigerfish ever bother with insects; from adolescence onward, they eat only other fish, including ones larger than themselves, which they devour in packs—the Caprivi Strip's answer to the piranha.
As fisherman cast their flies in hopes of snagging these brutes, they never know what to expect. The Tigerfish they reel in could be a modest five or six pounds or a hefty 18 to 20—but they won't come easily at any size. Considered among the aquatic world's best escape artists, they'll use speed, weight, and sheer ferocity to avoid being hauled ashore. For many fishermen, that's part of the fun—in fact, you could argue that it's the humans who are hooked, in this case on the sheer drama of the struggle.
While islanders do eat the fish, most of the leisure fishermen here practice catch-and-release, freeing the fish in the end. The tale of the catch itself will make a good enough story over drinks later.
Sunset on the Zambezi
As late afternoon light begins to cast long shadows, the river banks are busy with a new cast of characters. Elephants come to the edge of the Kasai, drinking their fill after a hot day, while crocodiles splash into the water from their resting places on the muddy banks, their skin leaving behind tracks like tire treads. Hippos submerge themselves to cool off for the evening, eyes and snouts appearing among the flat pads of the waterlilies as if they too are floating.
The sound of lions arguing is borne on the air across the Chobe River. Buffalo and puku quietly lapping at the water raise their heads in unison, ears cocked at the sound of predators. A nearby splash—a mother elephant has decided to swim across the river—doesn't worry them at all. Unlike a lion, she has no interest in them. But when the lion's roar fades, the animals return to their drinking.
Boats from Kasane pull ashore and the islanders look pleased. Some are happy with the money they made from their crops and fish, others for the bargains they got on big bags of maize meal for cooking, and a few pleased to have brought home sweets for their children, who have been playing outside since school ended. (There's no TV to distract them here!) The voices of the new returned villagers track their path as they head through forest into the island and home.
Dr. Livingstone slept here, I presume
When the last rays of sunlight are tucked away beneath the horizon, you can hardly see the painted reed frogs, their mottled skin blending in with the slender grasses they cling to, but you can hear them. Their voices rise on the air like small bells, joining the chop chop chop cry of a Natal Nightjar just starting the busiest hours of her day.
Moonlight makes the baobab glow silver, a spectral beauty that adds to the magic that bushmen credit the trees with. Local legend says that bush people do not believe that baobabs grow from the earth; because the saplings look so different from the fully grown trees, it is said that the giant adult trees must come from above. The gods, they say, fling the baobabs whole from the heavens and the trees embed themselves in the earth wherever they land.
When David Livingstone hiked and boated through Namibia on his way to Victoria Falls 160 years ago, he had a different take on baobabs. Where others saw magic, he saw silliness, joking that the trees look like carrots plucked from the earth and planted again nose down, their roots left to flail in the sky. Laugh as he might, he also trusted baobabs to provide excellent shelter. Some say he slept beneath this very tree when he crossed Impalila and some say he slept beneath the second-biggest tree on the island, closer to the water where the lodge is now.
Either way, the sounds that lulled him to sleep— the shooshing tumble of the Mambova Rapids, the
rhythmic call of the crickets, the frogs and birds and breezes—still echo tonight. Their song will only fade when morning light returns again, illuminating the ancient tree for another day in its third millennium on Earth.
A Typical Day on Impalila Island