Forgot Your Username
If you have forgotten your username, please provide your email address in the box below. We'll send you an email with your requested username. If you are having trouble, please call us toll-free at 1-800-221-0814.
Email Sent
You'll receive an email in a few minutes. Please check this email to find your requested username.
If you do not receive an email or you are having trouble logging into My Account, please call us at 1-800-221-0814.
New Zealand: Auckland, Rotorua, Queenstown, Fox Glacier, Hokitika, Wellington
16 Days from only $5895 including international airfare
FROM
$5895
16 DAYS
$369/DAY
including international airfare
14 DAYS FROM $4395 Small Group Adventure Only
Itinerary Overview
Travel to New Zealand, where hot springs contrast with icy glaciers and snowcapped peaks pierce the sky. There's no better way to experience this beauty than in the pure open air—O.A.T.'s New Zealand adventure helps you do just that. We'll immerse ourselves in this magnificent setting from North Island to South, as we discover treasures as distinct as they are unforgettable. Along the way, we'll experience firsthand the Kiwi spirit of adventure as only small group travel allows.
Make It Your Adventure
Personalize your trip to meet your individual needs, from preferred flights and air routing, to "breaking away" to spend more time in a destination.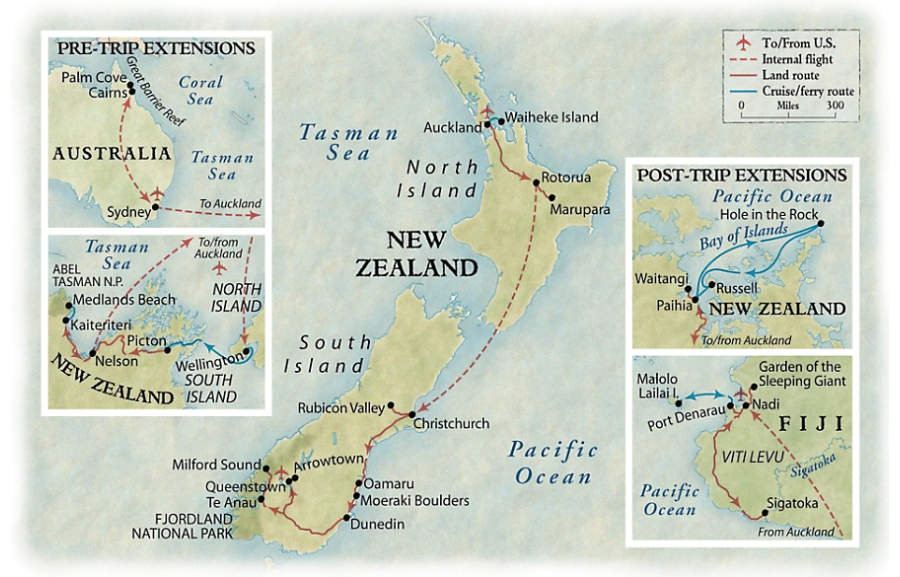 Day-to-Day Itinerary
PRE-TRIP EXTENSION:

New Zealand's Bay of Islands

3 nights from only $1295

Whet your appetite for New Zealand travel in the exotic Bay of Islands: the historical crossroads of European and Maori cultures. Explore one of New Zealand's most unique ecosystems in this subtropical archipelago of nearly 150 islands. Revel in the pristine natural environment and stunning coastal scenery as we cruise along crystal-clear turquoise waters, keeping watch for whales, dolphins, marlins, and penguins.

View Extension Itinerary
You depart today on your flight to New Zealand.

Day 2

Cross International Date Line

You continue your flight from Los Angeles to Auckland, losing one day en route as you cross the International Date Line. You regain this day when you fly back to the U.S. at the end of the trip.

Day 3

Arrive in Auckland, New Zealand

Your O.A.T. Representative will greet you at the Auckland Airport (on New Zealand's North Island), and transfer you to your hotel. There, you'll be joined by fellow travelers who took our optional pre-trip extension, New Zealand's Bay of Islands.

This afternoon, we'll meet our Trip Leader who will lead us on an orientation walk, then we'll take a ferry across the harbor to Devonport for a Welcome Dinner.

This morning, we'll embark on a Tamaki Hikoi—a walking tour led by a Maori guide from the Ngati Whatua tribe, who will provide us with a uniquely Maori perspective. During this fascinating tour, we'll learn about the early settlement of New Zealand, ancient tribal traditions, and controversial issues confronting modern-day Maori.

The afternoon is yours to make your own discoveries. Perhaps you'll visit the War Memorial Museum, which houses the largest collection of Polynesian artifacts in the world, and a volcano exhibit that explores these wondrous landscapes that have existed for more than 250,000 years. Additionally, Auckland also has many beautiful parks, trendy restaurants, and a revitalized waterfront area that contains the America's Cup Village for visitors to enjoy.

Dinner is on your own this evening, and your Trip Leader will be able to provide plenty of restaurant recommendations.

Day 5

Overland to Rotorua • Home-Hosted Lunch

After breakfast, we drive to Rotorua. Our journey takes us through lush green pasturelands in the center of the North Island.

Along the way, we'll stop in the town of Cambridge to join a local family for a Home-Hosted Lunch. This is a great opportunity to ask our hosts about what it's like to live in the "town of trees and champions" (the champs being thoroughbred horses).

We continue on to Rotorua, arriving before dinner. Rotorua is still a center for Maori culture. It's believed that New Zealand's Maori people settled on the North Island about a thousand years ago, and they have held on firmly to their identity and traditions. Nearly a quarter of a million indigenous Maori still maintain their unique lifestyle and culture, adding to the rich heritage of New Zealand.

We'll get the chance to relax this evening with an included dinner at our hotel.

Day 6

Explore Waimangu Volcanic Valley • Optional Maori Cultural Experience

Rotorua is often called a thermal wonderland because of its volcanic activity. The region is replete with bubbling mud pools, geothermal geysers, and steam vents—a place where it's not at all unusual to spot the occasional small vapor stream rising from a crack in the pavement. Here, on the Volcanic Plateau, it simply comes with the territory.

After breakfast, we transfer overland to the Waimangu Volcanic Valley. This relatively young geothermal site was created by nearby Mount Tarawera's last eruption in 1886. We take a leisurely hike, descending into the lush valley of green vegetation, pink silica terraces, and blue waters. We'll discover the Inferno Crater, filled with brilliant turquoise water, and Frying Pan Lake, the world's largest hot spring. We'll also embark on a cruise of Lake Rotomahana, where our captain explains more about the history of Rotorua and shows us more geothermal sites that aren't accessible by land.

Early this afternoon we'll return to our hotel, enjoying lunch en route. Upon arrival, you may choose to relax or set off to do some exploring, and dinner will be on your own.

Or, you may join our optional Maori Cultural Experience. Understanding Maori culture is essential to knowing New Zealand, and this enlightening tour will take place in the Maori village of Mitai. Upon arrival, we'll be greeted by a welcome ceremony and the unveiling of a hangi, a traditional Maori feast that's cooked underground. Next we'll be seated for a lively cultural performance that will showcase Maori heritage, and then we'll get to sample the hangi for ourselves. Afterward, we'll take a guided walk in the bush where we'll witness local fauna, like glow worms lighting the night.

Day 7

Rotorua • Fly to Queenstown

The pristine beauty of New Zealand

Explore the wild beauty of Queenstown with a local mountain biker, and dive into its culinary delights with a winemaker.

Today we set off for New Zealand's South Island, flying to Queenstown via Christchurch.

Upon our arrival in Queenstown this afternoon, one of the first things you may notice is that its scenery is spectacular—from the town's tranquil shoreline of Lake Wakatipu, to the majestic mountains in the distance which are aptly named The Remarkables. Queenstown has gained notoriety for being the "adventure capital of the world," attracting skiers, white-water rafters, and other thrill-seekers who are drawn to its rapids and peaks. Yet it can also be seen as a rejuvenating retreat for those in need of some fresh mountain air.

This evening we'll stroll to dinner at a local restaurant.

Day 8

Travel to Milford Sound • Cruise Milford Sound

We rise early this morning for a full day of adventure. Today we travel to Milford Sound—dubbed the "Eighth Wonder of the World" by Rudyard Kipling—situated in the heart of Fiordland National Park.

Dense forests, shimmering Lake Te Anau, and the Homer Tunnel, a 1.2-kilometer engineering wonder drilled through pure rock, mark our route. In the early afternoon, we'll board our tour ship for an unforgettable cruise of Milford Sound. We'll marvel at towering cliffs and the stunning perfect cone of Mitre Peak, and view thundering waterfalls, impressive beech forests, and unique flora and fauna as we cruise along the sound's famous fjords. A picnic lunch is included onboard.

We end our cruise in the late afternoon and return to our hotel. Dinner is included this evening.

Day 9

Day at leisure • Optional Dart River Jet-Boat Safari

Spend today at leisure, or join a half-day optional tour for a jet-boat ride on the Dart River. We begin by traveling overland along the shores of Lake Wakatipu to Glenorchy, a frontier town at the base of the Southern Alps. Here we board a mini-coach for a journey through forests with huge snow-capped mountain backdrops made internationally famous by movies such as The Lord of the Rings. When the road comes to an end, we take a short walk through the forest and board our jet-boat. The Dart River wends within a historic valley that has fascinated explorers for centuries, and as we head upstream, we'll enjoy spectacular views in an area so remote that few ever get a chance to experience it. On the downriver journey, our driver will demonstrate the maneuverability of the New Zealand-designed jet-boat and show you how this unique craft can spin and turn.

After returning to Glenorchy we ride back to Queenstown. This evening, you are free to explore its quaint streets and discover a local eatery on your own.

Day 10

Traverse Haast Pass • Overland to Fox Glacier

After breakfast at our hotel, we'll set off for Fox Glacier village. Along the way, we'll stop to discover some of New Zealand's famous wines and learn about the country's fine vineyards.

We'll then travel over the Haast Pass, which is the only way to see and experience the west coast of New Zealand's South Island. The mountain pass takes its name from the geologist Sir Julius Von Haast, who—incredibly—explored the region on foot. The pass will take us along the longest single-lane bridge in New Zealand, taking us across the Southern Alps from the Wanaka District to Haast on the west coast. This remains a rugged, isolated, and harsh terrain, with remote farmhouses and sparse settlements tucked into the hillsides.

After a stop for lunch en route, we continue along the west coast before arriving in Fox Glacier village by late afternoon. We'll have dinner at our hotel, with the rest of the evening at leisure.

Day 11

Explore Franz Josef Glacier • Optional Helicopter Flight Over Mount Cook Region • Overland to Hokitika

This morning, if weather permits, you may choose to take in the region from a unique vantage point—the air—on an optional helicopter flight excursion. You'll enjoy a bird's-eye view of the Mount Cook region, with its pristine alpine scenery and the Franz Josef and Fox glaciers.

We don't usually think of glacial movement as something we can watch "in action." In general, a snail's pace is considered faster. But then, most of us have never had the chance to experience the Mario Andretti of glaciers—Franz Josef Glacier. This fast-moving mass of ice is the centerpiece of Westland National Park, a section of the UNESCO World Heritage Park on New Zealand's South Island.

Today, after breakfast, we journey to neighboring Franz Josef Glacier Valley and take a tour of the valley with an expert naturalist guide. Located about 75 miles north of Haast, Franz Josef, as the locals refer to the glacier, is a world-famous site made all the more interesting by its recent history. After steadily advancing down the valley since 1982—at the astonishing rate of about 17 feet per week—the Franz Josef Glacier reversed course in 2003 and is now in a slow retreat. The glacier has advanced to the point where the glistening ice can be seen from the rooftops of Franz Josef township. As you tour near the glacier, look back toward the ocean where several lines of low hills stand between the glacier and the water, moraines left by previous advances of the glacier.

And because glaciers are among the planet's key indicators of global warming, it's no wonder scientists pay special attention to the action of Franz Josef. For climatologists and geologists (and visitors like us) this glacier is a marvel to study and learn about. We'll view the glacier from ground level and learn about its geology and history from a knowledgeable guide.

Afterward, we'll make our way to Hokitika, a small farming community with a rich history. It boomed in the 1860s with the gold rush, and was, at that time, the busiest port in the country. A sandbar at the mouth of the Hokitika River proved a dangerous impediment, claiming many ships and lives, but still the port bustled and was a major point of entry during the gold rushes of the 1860s and 1870s. Today, it's home to a coastal community, and author Eleanor Catton recently used the town as the setting for her Man Booker-award winning novel, The Luminaries.

We'll arrive in Hokitika early this afternoon, and tonight, we'll gather for dinner at our hotel.

Please note: The hotel for some departures is in Hokitika, while for others we stay in Greymouth or Punakaiki. The order of activities on Days 11, 12, and 13 will vary slightly depending on the hotel's location.

Following breakfast this morning, we'll meet local artists and craftspeople in Hokitika. We'll see how they use natural materials and draw inspiration from the surrounding landscape as they create works in a variety of media. Then we'll enjoy an included lunch featuring local produce and regional specialties. In the afternoon, our Trip Leader will take us on a walk through one of the numerous scenic areas on this part of New Zealand's west coast. Afterwards, we return to our hotel. Dinner is on your own this evening.

Day 13

Discover a local farm • Christchurch tram tour • Fly to Wellington

After breakfast at our hotel, we experience rural New Zealand life with a visit to Toby Hill, a working sheep station (ranch) in the Southern Alps. Here, we'll see the impressive teamwork of sheepdogs and sheep.

Afterward, we'll travel overland to Christchurch with a stop for lunch en route. When we arrive, we'll explore Christchurch's Central City—both its geographical center and cultural heart—on a tram tour. As we'll learn, this section of the city sustained heavy damage during earthquakes in 2010 and 2011, and resilient locals are still striving to return the area to its former glory.

Later in the day, we'll fly to Wellington, New Zealand's cosmopolitan capital, where we have the evening at leisure and you get dinner on your own.

Day 14

Explore Wellington

After breakfast we'll embark on a half-day city tour of Wellington. This bustling capital city, which locals affectionately call "Welly," is situated at the crossroads of the two islands, on North Island just across the Cook Strait from South Island. Wellington offers an energetic, big-city feel and a beautiful harbor surrounded by steep hills. A true walking city, downtown Wellington packs a lot into a small area. It is divided into four quarters. Willis Street and Lambton Quay are the main business and commercial districts. Courtenay Place and Cuba Quarter are the hubs for entertainment and nightlife, where we'll find a dynamic cultural scene and a variety of bars and restaurants.

After lunch on your own, the afternoon is free for you to make your own discoveries. You can take a cable car to the Botanical Gardens, where the exhibits of flora and fauna span 67 acres; visit the Museum of City & Sea (free of charge); or take a relaxing stroll along the waterfront. Tonight, we'll enjoy dinner at a local restaurant.

Day 15

Wellington • Visit National Museum of New Zealand

After breakfast, we'll walk to Te Papa Tongarewa, the National Museum of New Zealand, where we'll enjoy a guided tour. This innovative museum offers a variety of exhibits on the country's art, history, natural environment, and Maori culture. We'll also learn how this museum focuses on education about community development and cross-cultural interaction.

Enjoy an afternoon at leisure to further explore Wellington. Perhaps you'll visit bohemian Cuba Street and browse eclectic shops and art galleries. Or take part in Wellington's popular café culture by relaxing and people-watching at one of the many coffee shops. We'll enjoy a Farewell Dinner together tonight.

Day 16

Return to U.S. or begin your trip extension to the Great Barrier Reef & Sydney

Later this morning, we have breakfast and then check out of the hotel. We then transfer to the airport for your flight home, or, if you are taking the Australia's Great Barrier Reef & Sydney post-trip extension, to Palm Cove and Sydney, Australia.
POST-TRIP EXTENSION:

Australia's Great Barrier Reef & Sydney

6 nights from only $2345

A visit "Down Under" isn't complete without the natural splendors of Australia's Great Barrier Reef and the gems of cosmopolitan Sydney. Revel in the myriad colors and vibrant life of the Great Barrier Reef … Stroll along iconic Sydney Harbour and discover its fascinating history … This trip combines the best of both worlds.

View Extension Itinerary